FloridaTodayAn argument over a pizza slice was the catalyst behind a physical altercation between two friends Monday afternoon that involved a golf club, a mop handle and a 5-inch buck knife, police say. Drew Cywinski, 25, told police he became enraged when his friend ate a slice of pizza that Cywinski wanted for himself, according to arrest reports. He was so angry, he struck the man in the head with a golf club — breaking the club — then pulled out a knife and cut the man on his chest several times, Melbourne police say. The altercation unfolded like this, according to arrest reports: Earlier in the day, Cywinski and the friend were smoking a drug called K2, a synthetic marijuana, on Garfield Street in Melbourne, where Cywinski lives. When the two were done, they parted ways, but planned to meet later. Cywinski invited the man to his home in the afternoon, and they hung out on the back porch. Then, the man went inside and started eating a piece of pizza that was on the kitchen table. But Cywinski told his friend that slice was for him, according to the police report. A verbal argument started between the two. Police noted on the report the two were "at odds over recreational drug use." The friend got his backpack from the porch, grabbed his bike and started to leave. But Cywinski followed him, picked up a golf club and said, "I'm gonna kill you," according to police. Cywinski struck the man in the head. The club broke. The man then armed himself with a metal mop handle and hit Cywinski on the arm. That's when Cywinski pulled out the 5-inch knife and began to "carelessly swing" it at the man, police report. Cywinski slashed the man on the chest more than once. Cywinski was arrested on charges of aggravated battery with a deadly weapon and battery. Police determined he charged at the man over 40 feet to intentionally harm him. He is being held at the Brevard County Jail on $20,000 bond.
If you ruin the munchies of one of your stoner friends after smoking marijuana by eating their food, you might totally kill their buzz, and they might be annoyed with you. However if your friend smoked synthetic marijuana which makes people crazy instead of organic marijuana, and you ruin his munchies, your friend might try to kill you. After smoking K2, or synthetic marijuana with Drew Cywinski, a man ate a slice of pizza. But Drew Cywinski was expecting to fill his stoner munchie urges with that slice of pizza, and he became so enraged that he beat his friend with a golf club until the golf club broke. The man tried to defend himself with a mop handle, but Drew Cywinski pulled out a knife, and slashed the man in the chest. Cywinski was arrested on charges of aggravated battery with a deadly weapon, all over a slice of pizza, so remember marijuana is mellowing and you might say things like "hey bro! That was my slice! Not cool, bro! Not. Cool!" but synthetic marijuana makes you nuts and you might end up doing hard time over a slice of pizza.
Only in Florida: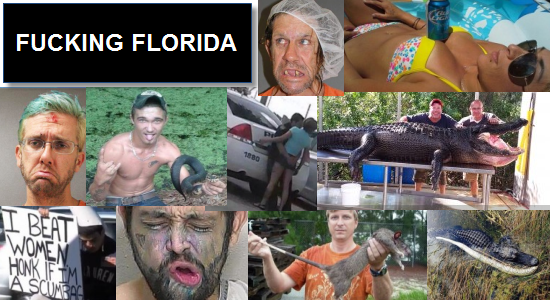 This concludes another chapter of "Fucking Florida: Tales From America's Most Fucked Up State" for more, click the ""Fucking Florida" tag on this page.