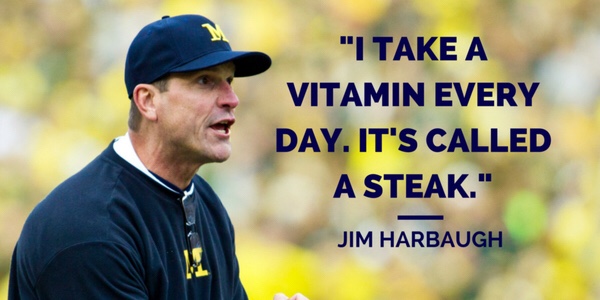 BleacherReportHow do you explain the Harbaugh Experience? Former Michigan (and current UCLA) quarterback Wilton Speight tells a story to sum it up nicely. Early in his Michigan tenure, Harbaugh pulled Speight aside and told him not to eat chicken, a protein that is considered fairly safe by nutritionists. When Speight asked why, Harbaugh said, "because it's a nervous bird." "He thinks some type of sickness injected its way into the human population when people began eating white meats instead of beef and pork," Speight says. "And he believes it, 100 percent."
We here at SportSmasher.com absolutely love University Of Michigan head coach Jim Harbaugh, and it's because of stories and quotes like this one, which add to the Harbaugh legend. Former Michigan and current UCLA quarterback Wilton Speight was asked what it was like playing for Jim Harbaugh, and he told a story about Harbaugh catching him eating chicken one day, which made Harbaugh upset. Harbaugh warned Speight to be careful while eating chicken, because the chicken is "a nervous bird", and according to Speight his former coach believes people caught a disease when they began eating chicken instead of beef and pork. I guess Jim Harbaugh truly believes that you are what you eat, and if you eat a nervous bird like chicken, you will play nervous. You cannot have your quarterback nervous in the pocket because he is eating chicken. You need your quarterback eating sturdy animals, like cows and pigs, which are never nervous in the face of pressure. After reading these quotes, I am shocked that Jim Harbaugh is not feeding his players a strict diet of moose and cape buffalo wild game meat, if you give your players more aggressive animal protein they will take on those animals traits if you follow Harbaugh's logic.
We know the Harbaugh diet and we've talked about it before, every day Jim Harbaugh eats a nice piece of steak and washes it down with a cool glass of milk, all cow all the time.