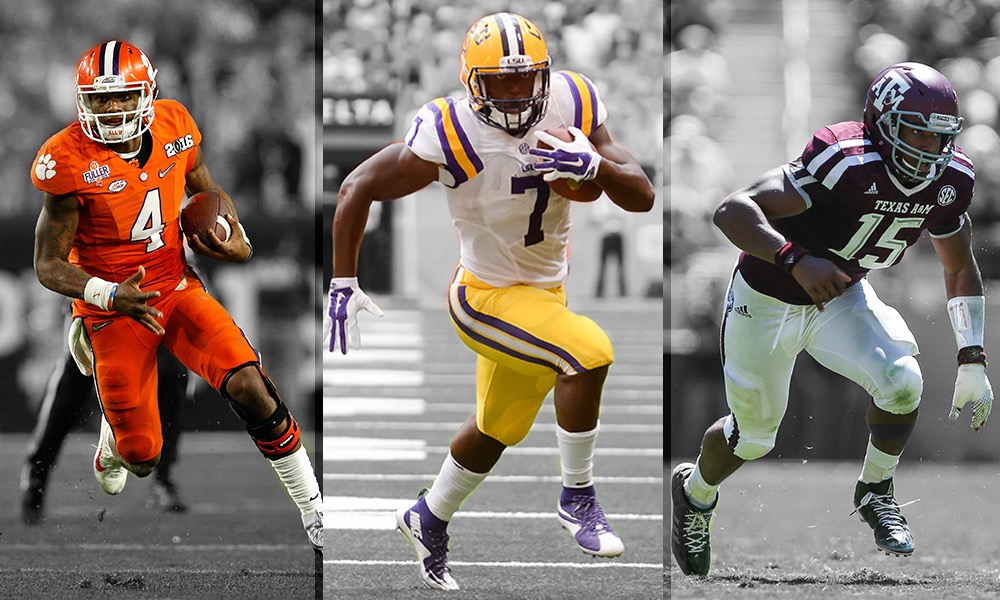 The 2017 NFL Combine is in the books and we now have a better feel for each prospect, their strengths and weaknesses, and where they might be drafted on April 27th through April 29th. This draft has strengths (defensive line, defensive backs, running back), and weaknesses (quarterback, offensive line), but if there is an area in which your favorite team needs an upgrade, talent is available at all positions. Without further delay, let's project the 2017 NFL Draft, it's mock draft time:
1) Cleveland Browns – Myles Garrett, DE (6'4 272lbs) Texas A&M – This is a no brainer for the Cleveland Browns, who need talent roster-wide, they select the best player available in Texas A&M defensive end Myles Garrett. A player that certainly looks the part, Garrett also backed it up with jaw dropping numbers at the NFL Combine this week, and while it had been previously reported that the Browns had an "astronomical grade" on Garrett they were still blown away by his performance at the combine. Garrett needs to be more consistent with his effort, however, he has all the tools to be a superstar pass rusher capable of notching double digit sacks for the next decade in the NFL. In this class, there is Myles Garrett, and then there is everyone else from a grade standpoint.
Alternate Pick: Browns head coach Hue Jackson apparently likes North Carolina quarterback Mitchell Trubisky, due to his quick release, and the fact that his measurables were solid at the NFL combine when many scouts predicted Trubisky would measure small. The Browns also have the 12th pick in the first round, and plenty of picks in the later rounds, so if Trubusky begins to slide and Jackson really loves him I could see the Browns making a trade to get both Trubisky and Garrett on the roster. If I am running the Browns, I would not select Trubisky, the Browns are not talented enough to win now and the 2018 quarterback class (Sam Darnold, Josh Rosen, Josh Allen) trumps the 2017 quarterback class. The Browns are armed with three first round picks and five second round picks across the next two NFL Drafts, so I expect them to make a run at New England Patriots quarterback Jimmy Garoppolo on the trade market, which would make any quarterback buzz go away.
2) San Francisco 49ers – Mitchell Trubisky, QB (6'2 222lbs) North Carolina – 2017 is not a good year to need a quarterback, the draft is weak, and the free agent crop which gave the 49ers Matt Barkley and Bryan Hoyer was terrible. You could focus on other areas, and wait until the 2018 NFL Draft, when the quarterback class is much deeper. However, in this scenario, new head coach Kyle Shanahan finds his quarterback, and drafts Mitchell (don't call me Mitch) Trubisky. The 49ers currently have zero quarterbacks on their roster, and unless they can swing a longshot trade for Kirk Cousins, they need to find a quarterback who can play right away. The 49ers will draft a quarterback, unless something miraculous happens and they can acquire a quality veteran, so in this scenario they talk themselves into Trubisky in the months leading up to the draft. A scout actually told me that Trubisky reminds him of Kirk Cousins, so instead of trading away future assets to get Cousins (if the Redskins will even part with him), in this scenario they try to develop Trubisky.
Alternate Pick: I personally would not draft Mitchell Trubisky early in this class, however it is very likely that some team will do just that, I am not sure that he will be better than another quarterback (DeShaun Watson, Pat Mahomes, Deshone Kizer) who can be drafted later. The 49ers could easily draft versatile Alabama defensive lineman Jonathan Allen, the consensus second best player available, and address quarterback later. The 49ers have recently drafted defensive linemen DeForest Buckner (2016) and Arik Armstead (2015) in the first round of the NFL Draft, and on a roster with so many holes, they have bigger needs to fill. The best case scenario for the 49ers would be another team falling in love with Trubisky, and trading up to the second pick to acquire him, which would give the 49ers plenty of assets in return. The other way of thinking is, the 49ers are not going to be good this season, strengthen other positions and draft a quarterback like Sam Darnold or Josh Rosen at the top of the 2018 draft. If that's the plan, I would advise them to try to trade down.
3) Chicago Bears – Jonathan Allen, DL (6'3 286lbs) Alabama – The Bears signed quarterback Mike Glennon in free agency to be their starter, so would probably focus on drafting the best defensive player available here. In this scenario, they get lucky, they land the second best player in the draft Alabama defensive lineman Jonathan Allen third overall. Some teams have concerns about Jonathan Allen's shoulders, which have each suffered injuries during his career, which make his status as the second best prospect in the draft a bit tenuous. However based on film, Jonathan Allen is a versatile defensive lineman who can lineup inside or outside, and who excels against both the run and the pass.
Alternate Pick: If the Bears are concerned about Allen's shoulders, other defensive linemen like Solomon Thomas or Taco Charlton could come into play, as well as safety Jamal Adams. The Bears have the makings of an offense now with Mike Glennon at quarterback, Jordan Howard at running back, Kevin White at the top of the wide receiver depth chart if he can stay healthy for once. They need to upgrade the defense, which should be the focus of the NFL Draft, expect the Bears to draft defensive players early and often.
4) Jacksonville Jaguars – Taco Charlton, (6'6 277lbs) Michigan – The Jacksonville Jaguars hired Tom Coughlin as their Executive Vice President Of Football Operations, and as Tom Coughlin proved when he won two Super Bowls as head coach of the New York Giants, you can never have enough pass rushers. Taco Charlton was one of the hottest names leading up to the NFL Combine, with one scout guaranteeing to me that he would be a top ten pick, who could easily sneak into the top five. The Jaguars do have some young pass rushers with potential, including Dante Fowler and Yannick Ngakoue, but Tom Coughlin is really going to want to pressure the quarterback with the addition of Taco Charlton will help the Jaguars do. Charlton is huge, is a great athlete, and showed the pass rush skills at Michigan that should make him productive right away in the NFL. The Jaguars did sign Calais Campbell in free agency, and while he is a great player, he does not offer much in terms of pass rush and will likely move inside on passing downs. Following the free agency period, the Jaguars look loaded on defense with the additions of Campbell, safety Barry Church and cornerback A.J. Bouye, so they will likely take the best player available on their board. I could see Coughlin looking at Taco Charlton and envisioning a young Justin Tuck.
Alternate Pick: The Jaguars could draft another defensive lineman here, such as Jonathan Allen or Solomon Thomas, or they could go with a defensive back such as safety Jamal Adams or cornerback Marshon Lattimore. You would think that the pick would be defense, especially with Tom Coughlin having influence, however the Jaguars could be one of the sleeper teams for LSU running back Leonard Fournette. While Coughlin was with the Giants, the team never drafted a running back early, so I think they will pass on Fournette. After trading Julius Thomas, the Jaguars are said to be targeting tight ends in this draft, but four is too early for O.J. Howard (who I love) and if Howard is the target the Jags should trade down. This is a deep tight end class, and the Jaguars can find one later, top five is too early to draft a tight end.
5) Tennessee Titans – Solomon Thomas, DE (6'3 273lbs) Stanford – The Tennessee Titans would have won the AFC South in 2016, and you can expect them to focus on upgrading their defense and receiving corps this offseason, so they can make a run at the division title in 2017. The Titans focused on upgrading their pass defense in free agency, when they signed cornerback Logan Ryan and safety Jonathan Cyprien, so in the early portion of the draft expect them to reap the benefits of a loaded defensive line class. Solomon Thomas was not only a very productive player at Stanford, but he was one of the stars of the NFL combine, the Titans are thin along the defensive line and Thomas can lineup inside or outside in different scenarios.
Alternate Pick: The Titans need to upgrade their wide receivers as well as their defense, however, there is no Calvin Johnson or Julio Jones type of talent in this draft who is worthy of a top five pick. The Titans could reach for a wide receiver like Mike Williams or John Ross or Corey Davis, but they have the luxury of two first round picks, so I would guess that they address their defensive holes first and focus on playmakers later in the draft. This draft class is loaded in the defensive trenches, and the Titans only have five defensive linemen on their roster at the time of this mock draft, so I expect them to address the defensive line early and often on draft day.
6) New York Jets – Leonard Fournette, RB (6' 240lbs) LSU – The New York Jets seem to be getting themselves ready for a complete rebuild, they are jettisoning veterans, and seem to be starting from scratch. In New York, you have to give the fans and the media a glimmer of hope, and in this scenario the Jets draft a potential superstar in Leonard Fournette. At 240lbs, Leonard Fournette ran a ridiculous 4.51 40-yard-dash at the NFL combine, and one scout remarked to me that he looked flabby. The scout remarked, just think about how explosive Fournette will be when an NFL team gets him in shape, the way the Steelers got Le'Veon Bell in shape. The Jets seem like they will be treating 2016 as a tank year, as they try to get themselves into position to draft a star quarterback at the top of the 2018 NFL Draft, and what is a young quarterback's best friend? A monster running back who can carry the load. Draft Fournette, sell some Fournette jerseys, and start your rebuilding process with a potential star.
Alternate Pick: The Jets need help everywhere, they need to rebuild their once strong offensive line, but in a weak offensive tackle draft no offensive linemen are worthy of that selection. The Jets could use a wide receiver, as Brandon Marshall is gone and the status of Eric Decker is in doubt, but again there is nobody worth reaching for at pick six. The Jets could draft a defensive back like Marshon Lattimore or Jamal Adams. I was told that the Jets are the top trade down candidate in the early portion of the draft, there are certain teams who are apparently in love with Leonard Fournette such as the Panthers and Bengals, would those teams surrender additional pick to the Jets to move up and secure Fournette?
7) Los Angeles Chargers – Jamal Adams, S (6' 214lbs) LSU – The Los Angles Chargers can put up points offensively, but they cannot stop anybody, they need to be focusing on rebuilding their defense in the 2017 NFL Draft. Jamal Adams is a great place to start, because he is not only gifted from an athletic standpoint, but he is also an incredibly smart football player who is highly regarded for his leadership skills. The Chargers need a defensive tone setter, both on and off the field, and the addition of Jamal Adams would give them a player who should make their whole defense better.
Alternate Pick: The Chargers are in a good spot here, they can sit back and add the best defensive player on their board, and I would think that player would be in the secondary. The pick could be the other top safety, Malik Hooker, as well as a cornerback like Marson Lattimore or Marlon Humphrey. I think that the leadership qualities of Jamal Adams, as well as his physical talents, set him apart. The Chargers drafted Joey Bosa at the top of the 2016 NFL Draft, and he looks like he is going to be a stud, but Bosa could use some help so another pass rusher here is not outside the realm of possibility. An area where the Chargers really need help is the offensive line, and they lessened that need by signing Russell Okung, but there is no offensive linemen worthy of a selection here. I expect them to address the line in round two.
8) Carolina Panthers – Marshon Lattimore, CB (6' 193lbs) Ohio State – The Carolina Panthers are rumored to have eyes for former LSU running back Leonard Fournette, to the point where they are considering trading up, but in this scenario Fournette is gone. The Panthers got shredded in the passing game in 2016, and have had issues since they smartly let cornerback Josh Norman leave as a free agent, and in this scenario they finally upgrade that position by adding Marshon Lattimore. While once cornerback that the Panthers drafted last year, James Bradberry, looks like a keeper they need a try number one cornerback and Lattimore would fill that need.
Alternate Pick: As mentioned, the Carolina Panthers are looking for a young workhorse running back, but with Leonard Fournette off of the board the rest of the running backs would be a major reach. The Panthers did sign offensive tackle Matt Kahlil in free agency, but he has major health concerns due to a serious hip injury, and the offensive line needs to protect Cam Newton so they could look for other upgrades. You can never have too many pass rushers, so if a talented pass rusher were to fall into their laps, the Panthers could snatch one up.
9) Cincinnati Bengals – Cam Robinson, OT (6'6 322lbs) Alabama – The Cincinnati Bengals lost two great football players - offensive guard Kevin Zeitler and offensive tackle Andrew Whitworth in free agency - and the Bengals love to run the football, so in this scenario they upgrade the offensive line and draft massive Alabama offensive tackle Cam Robinson. I have my doubts that Cam Robinson is quick enough to be a left tackle in the pros, however he should be an excellent right tackle, who may follow in the path that Laremy Tunsil took with the Dolphins in 2016 and start off at guard. There were questions about Cam Robinson off the field following an arrest, but those charges were later dropped, and Robinson apparently impressed scouts with his combine interviews to quell these fears.
Alternate Pick: The Bengals are said to like LSU running back Leonard Fournette, but he will not fall into their laps at nine, and the Bengals have too many other needs to trade up. The Bengals have needed a solid number two wide receiver since they lost Marvin Jones and Mohammed Sanu following the 2015 season, while they resigned Brandon LaFell and Tyler Boyd looks promising, a receiver like Mike Williams or John Ross would be terrifying lining up across from A.J. Green. I could see the Bengals adding another playmaker.
10) Buffalo Bills – John Ross, WR (5'11 188lbs) Washington – The Buffalo Bills need to address wide receiver early and often during the 2017 NFL Draft, behind the often injured Sammy Watkins on the roster, they only have two wide receivers under contract at the time of this mock draft. I have heard that the new regime in Buffalo wants to bring explosiveness to the passing game, and if that's the case, there is not a more explosive player in the draft than former Washington Huskies wide receiver John Ross who ran a ridiculous 4.22 40-yard-dash at the NFL combine. We have seen speed guys become busts in the NFL before, but John Ross is much more than a workout warrior, he is an incredible football player who caught 81 passes for 1150 yards and 17 touchdowns in 2016. The addition of the most explosive player in the draft would make the Bills offense frightening to face each and every week.
Alternate Pick: The Buffalo Bills get their 2016 first round pick defensive end Shaq Lawson (who was limited to 10 games due to a shoulder injury) and their 2016 second round pick inside linebacker Reggie Ragland (who missed the entire season with a torn ACL) back healthy in 2017, so they upgrade in the defensive front seven, prior to the draft. The Bills could use some offensive line depth, as well as adding players in a secondary that lost Stephon Gilmore to the Patriots in free agency, but these positions can be addressed in later rounds especially the secondary which is very deep in this class. In the first round, the Bills need to add a playmaker at wide receiver, so I would think this pick would come down to John Ross, Mike Williams or Corey Davis.
11) New Orleans Saints – Derek Barnett, DE (6'3 259lbs) Tennessee – The New Orleans Saints are tired of letting Drew Brees down from a defensive standpoint, it seems like the offense put up huge numbers every season, but the Saints stink because they cannot stop anybody defensively. One big problem with the Saints defensively has been that, other than Cameron Jordan who had 7.5 sacks in 2016, they get zero pass rush off the edge. In a loaded class, the Saints should select the best pass rusher available when they are on the clock, and in this scenario that player is Derek Barnett. While Barnett was hugely productive at Tennessee, some draft analysts questioned how well he would perform at the combine, well Barnett had a great combine and cemented himself as a top fifteen pick. Barnett fills a huge need for the Saints, and if I was running the organization, he would not be the only pass rusher I select in the 2017 NFL Draft. The position is just such a need.
Alternate Pick: The New Orleans Saints traded star wide receiver Brandin Cooks to the New England Patriots for first and third round draft picks, a trade which upset a lot of Saints fans, but it really does make sense. The Saints have a lot of weapons on offense, and while Cooks had some huge games in 2016, he did not produce consistently. There were several games last season where the Saints put up a lot of points, like when the Saints hung 49 points on the Rams on 11/27/2016, but Cooks had zero catches and sulked afterwards. Cooks is due a huge contract extension before he becomes a free agent in 2019, he was not an intricate part of the Saints success, and the Saints were not a good team with him. Since Cooks had a ton of trade value, and the Saints need to overhaul their defense if they want to contend again before Drew Brees retires, this trade makes sense. The Saints need so much help defensively, they could wait on a pass rusher, and select a cornerback at twelve.
12) Cleveland Browns – Marlon Humphrey, CB (6' 197lbs) Alabama – The Cleveland Browns continue to add youth to their defense by adding former Crimson Tide cornerback Marlon Humphrey, he is a long corner with great speed and athleticism, he held USC star wide receiver Juju Smith-Schuster to one catch for nine yards in their marquee matchup. The Bengals starting cornerbacks are Joe Haden and Jamar Taylor, adding Marlon Humphrey would not only improve their depth, but would also give them a long and physical corner who can match up with the NFL's larger wide receivers. In this scenario, the Browns have added defensive end Myles Garrett and cornerback Marlon Lattimore, two major upgrades for their defense.
Alternate Pick: The Browns have so many needs that they can really go many different directions here, I would like to add that I have loved the Browns offseason, especially their decision to rebuild the offensive line in free agency by adding guard Kevin Zeitler and center J.C. Tretter. I considered giving the Browns a quarterback in this slot, but I do not think that is going to happen, I hear that the Browns are trying to use their five second round picks over the next two drafts to pry backup quarterback Jimmy Garoppolo from the Patriots. The best player on the board in this scenario might be wide receiver Mike Williams, however the Browns signed Kenny Britt and drafted Corey Coleman in the first round last year plus they still have suspended star Josh Gordon, so they can afford to look to address a different position of need.
13) Arizona Cardinals – Mike Williams, WR (6'4 218lbs) Clemson – The Arizona Cardinals need to find a young star at wide receiver, longtime superstar Larry Fitzgerald will turn 34-years-old before the start of the 2017 season, and considered retiring after last season. In this scenario the Cardinals get lucky, the best wide receiver in the draft on paper is still on the board, and he falls into their laps with the thirteenth pick. Mike Williams is a tall wide receiver who missed the majority of the 2015 season with a severe neck injury, but who returned in 2016 to catch 98 passes for 1,361 yards and 11 touchdowns en route to a National Championship. Williams is not a burner in the open field, and he has had some issues with drops, but he is an elite red zone weapon who uses his size and leaping ability to consistently win matchups against elite defenders.
Alternate Pick: I considered having the Arizona Cardinals select a quarterback in this slot, however, it is rumored that they want a big pocket passer similar to Carson Palmer and in this draft the closest quarterback to Palmer's style is Notre Dame quarterback Deshone Kizer (6'4 233lbs). The Cardinals are rumored to like Kizer a lot, but the fourteenth pick is way too early for Kizer, who would sit for a year and develop behind 37-year-old Carson Palmer. If Mike Williams is on the board, as he is in this scenario, the Cardinals cannot afford to pass him up. If they like Kizer, there is a chance he is available with their second round pick (45 overall), however the smart move would be to trade back into the late portion of round one to secure Deshone Kizer.
14) Philadelphia Eagles – Dalvin Cook, RB (5'10 210lbs) Florida State – Before free agency, many Philadelphia Eagles fans were hoping that one of the top wide receivers in the draft would fall to them in this slot, but since they signed Alshon Jeffery and Torrey Smith wide receiver has become much less of a need. This is an excellent running back draft, and the Eagles do not have a great running back on the roster, except for diminutive Darren Sproles who is electric but more of a third down back. In this scenario, the Eagles land former Florida State Seminoles star Dalvin Cook, an explosive back who's biggest strength might be his incredible vision. Dalvin Cook compares favorably to former Eagles star LeSean McCoy, a player that the Eagles let go too soon, because Chip Kelly thought he was smarter than everybody (he was not). The Eagles invested in quarterback Carson Wentz during the 2016 NFL Draft, and he was impressive as a rookie, but a young quarterback's best friend is a good running game which the addition of Cook will bring to Philly.
Alternate Pick: The Eagles could use a lot of help on defense, I considered Washington Huskies cornerback Sidney Jones in this slot, until he unfortunately tore his Achilles during his Pro Day workout which obviously removed him from consideration. If the Eagles go a different route, I could see them addressing the secondary, so another cornerback like Gareon Conley or Jalen Tabor could be selected in this slot as well as a safety like Malik Hooker who is surprising still available in this scenario.
15) Indianapolis Colts – Malik Hooker, S (6'1 206lbs) Ohio State – It is surprising that Malik Hooker is still on the board in this scenario, but he is out for 4-6 months following shoulder and hernia surgery, which causes him to slide a bit on draft day. A ball hawking safety, Hooker had 74 tackles and seven interceptions in 2016, his first season as a starter for the Buckeyes. The Colts need game changers, their roster around Andrew Luck is devoid of depth and talent after some horrible personnel decisions by the previous regime, adding a centerfielder with the skill of Malik Hooker would be a huge upgrade to the backend of the Colts defense.
Alternate Pick: The Colts need to upgrade their pass rush, but they tried to do so in free agency, by signing a trio of outside linebackers in John Simon, Jabaal Sheard and Barkevious Mingo. The Colts also need to find a running back, the only players on their roster are the ageless Frank Gore and Josh Ferguson, however there is not enough talent on their roster to make a luxury pick on a running back in the first round. There is plenty of depth at running back in this draft, the Colts can find good players in the middle rounds, they have too many holes to fill to select one early. Also, as always the Colts need to upgrade their offensive line to protect Andrew Luck, unfortunately there is not an offensive linemen worth a selection here.
16) Baltimore Ravens – Corey Davis, WR (6'3 209lbs) Western Michigan – There are a number of routes the Baltimore Ravens could go with this pick, however quarterback Joe Flacco clearly needs more targets in the passing game, and the Ravens are lacking at wide receiver especially after the retirement of Steve Smith. The only wide receivers of note on the Ravens roster are promising Breshad Perriman and soon-to-be 31-year-old Mike Wallace, after that the Ravens have names like Chris Moore, Kenny Bell and Vince Mayle. In this scenario, the Ravens get Flacco a big target, and add the very productive Corey Davis. Davis is coming off an ankle surgery which is being called minor, but he went for over 1,400 yards receiving in three consecutive seasons and 46 touchdowns over that span at Western Michigan, he is not just big but an excellent route runner.
Alternate Pick: The Ravens have a number of routes they could go in the first round of the draft, they could use cornerbacks, and the 2017 draft is excellent at that position. The Ravens could also use another pass rusher, and they need to figure out what they are doing at right tackle, since Ricky Wagner signed with the Detroit Lions in free agency. However, the wide receiver depth chart is concerning due to the age of Mike Wallace and the injury history of Breshad Perriman, and there is no depth behind them on the roster. The Baltimore Ravens likely need to draft a few wide receivers in the early rounds of the 2017 NFL Draft.
17) Washington Redskins – Reuben Foster, LB (6' 229lbs) Alabama – In my opinion, no NFL team has had a worse offseason than the Washington Redskins, who went from playoff team in 2015 to a team in turmoil following the 2016 season. The Redskins fired their general manager Scot McCloughan and unnecessarily attempted to trash his reputation on the way out, they became the first team in NFL history to lose two 1,000 yard wide receivers in the same offseason (DeSean Jackson and Pierre Garcon), and the face of the franchise quarterback Kirk Cousins is so upset with the state of affairs he wants to be traded to the lowly 49ers. The Redskins rebounded a bit in free agency, by signing wide receiver Terrelle Pryor to a one year deal, but they also made two awful signings on the defensive line by overpaying Stacy McGee and Terrell McClain. In this scenario, the Redskins fill a need at inside linebacker, and select former Alabama Crimson Tide star Reuben Foster. A player that could have been a top ten pick, Rueben Foster was sent home from the NFL combine after getting into an argument with a hospital employee, which he later explained in an apology letter to all 32 NFL teams. The incident will cause Foster to slide a bit on draft day, but the Redskins need a sideline-to-sideline inside linebacker, and Foster is a big upgrade to the Redskins defense.
Alternate Pick: The Redskins have a lot of needs, they could use a safety so I considered UConn workout warrior Obi Melifonwu but this was a little too early. The Skins could also use depth at cornerback, they are thin behind Josh Norman and Bashaud Breeland, and could use some youth at the position. If one of the receivers were to fall into the Redskins laps, it could be a smart addition, as they are banking on second year receiver Josh Doctson to break out, as well as Terrelle Pryor producing on a one year "prove it" deal. Finally, Ryan Kerrigan is great, but the Skins could use a true speed rusher on the outside of their defense to harass opposing quarterbacks.
18) Tennessee Titans – Zay Jones, WR (6'1 209lbs) East Carolina – The need for a wide receiver is a glaring one for the Tennessee Titans, if the season started today, Marcus Mariota's top two wideouts would be Rishard Matthews and Tajae Sharpe, in this scenario the Titans grab Zay Jones who has been arguably the hottest prospect in the draft. If you want to talk about production, Zay Jones caught 158 passes during the 2016 season, the all-time record for receptions in a season. Jones also has the most receptions in a game (22), and the most receptions all-time (399), and he backed up his stats with an excellent showing at the NFL combine. Zay Jones comes from NFL bloodlines, his father Robert Jones played linebacker in the NFL for ten years winning three Super Bowls with the Dallas Cowboys, and his uncle is former NFL quarterback Jeff Blake.
Alternate Pick: The Titans could go in a number of directions with this pick, they could use help in the secondary, despite the fact that they signed cornerback Logan Ryan and safety Jonathan Cyprien among others in free agency. The Titans love using the tight end as a focal point of their offense, and while Delanie Walker is a great player, he will turn 33-years-old before the start of the 2017 season. This is an excellent tight end draft, with potential stars such as O.J. Howard and David Njoku still available, however the Titans do have decent depth at the position behind Walker. In a deep tight end class, the Titans can afford to wait, and draft a wide receiver here instead which fills a much greater need. I am still hearing that the Titans two first round picks will be wide receiver and defense, with defense likely to be addressed first, because of the wealth of defensive talent available at the top of the draft.
19) Tampa Bay Buccaneers – O.J. Howard, TE (6'6 251lbs) Alabama – Did you know the Tampa Bay Buccaneers were the only team in the NFL that did not have a pass play longer than 50 yards last season? They needed to upgrade Jameis Winston's offensive weapons, and they already added a big play threat when they signed DeSean Jackson in free agency, Jackson had four 50 yard plus pass plays on his own. I thought the Bucs made some excellent additions in free agency, the addition of Jackson and his speed should really help open op the offense, they also added two solid veterans in defensive tackle Chris Baker and safety J.J. Wilcox at reasonable price tags. Incumbent starting tight end Cameron Brate is coming off a very productive year, but in this scenario the Bucs select what would be a major upgrade, former Alabama star O.J. Howard. A big play threat at the tight end position, Howard is also an excellent blocker, he will allow the Bucs to be so much more versatile offensively. Howard has had an excellent offseason, he had an incredible Senior Bowl week and showed off his athletic gifts at the combine, if he is still on the board at this point it would be a mild surprise.
Alternate Pick: The Tampa Bay Buccaneers need an upgrade at running back, and I keep hearing that they love Christian McCaffery, which would make him an option at pick eighteen. McCaffery brings a lot to the table in terms of running the ball, the ability to line up at receiver, and a weapon in the return game. There are plenty of talented running back prospects available, and a prospect as highly graded as Howard does not come around very often, he too good to pass up. The Bucs offensive line could use some tweaking, and I still would like to see a consistent pass rusher on the roster, but the Bucs feel Noah Spence will develop into a star pass rusher next season. Other needs include depth at linebacker and in the secondary.
20) Denver Broncos – Garett Bolles, OT (6'5 297lbs) – The Denver Broncos offensive line was atrocious in 2016, and no matter if the quarterback is Trevor Siemian, Paxton Lynch or Tony Romo, the Broncos need to do a much better job in protecting their quarterback as well as opening holes in the running game. Garrett Bolles has some issues, he was kicked out of five schools growing up and will turn 25-years-old before the start of his first NFL training camp, however he impressed during interviews at the NFL combine and has convinced teams that he has matured as a person. He is a talented player who has a nasty streak to his game, he is ready to play now, and can step in right away to upgrade the protection of whoever is under center for the Broncos in 2017.
Alternate Pick: The Broncos need to get younger along the defensive front, after the excellent Derek Wolfe, there is not a lot of talent or depth there. Players like Caleb Brantley or Malik McDowell, who are still on the board in this scenario, could be very attractive to the Broncos. This is also an excellent tight end draft, and free agent star Virgil Green was supposed to be the breakout star of the Broncos offense in 2016, but that did not happen. A tight end like O.J.Howard or David Njoku could be an excellent addition to the Denver offense. The Broncos offensive line was just so bad in 2016, and while they added a talented guard in Ronald Leary and an offensive tackle that has struggled Menelik Watson, the tackle position still needs an upgrade.
21) Detroit Lions – Dawuane Smoot, DE (6'3 264lbs) Illinois – The Detroit Lions believe they are close to contending, and they made two huge additions to help protect quarterback Matthew Stafford in free agency, by signing guard T.J. Lang and tackle Ricky Wagner. The Lions defense has an elite pass rusher in Ziggy Ansah, but everyone else struggles to get to the quarterback, and they need to generate more pressure on the opposition. In this scenario, they grab Dawuane Smoot, an athletic and explosive edge rusher who would be a welcomed presence for the Lions defense. Smoot was more disruptive than his numbers indicate (56 tackles, 5.0 sacks, 2 forced fumbles), and he had an excellent week at the senior bowl, coupled with a strong showing at the NFL combine.
Alternate Pick: The Lions should look to upgrade at running back during the 2017 NFL Draft, the best back on their roster is Theo Riddick, who does his best work as a receiver. After that, the Lions have often injured Ameer Abdullah and Zane Zenner as their top two options. The Lions could also use another wide receiver, while Marvin Jones and Golden Tate were excellent in 2016, there is not much else on the depth chart. While Darius Slay and Nevin Lawson were standouts at cornerback for the Lions in 2016, they need depth at the position, and in an excellent 2016 cornerback class it would be smart to add depth.
22) Miami Dolphins – Charles Harris, DE/OLB (6'3 253lbs) Missouri – The Miami Dolphins think that they are close to being a playoff team, they believe they have elite skill position players, and feel that they made quality roster additions which should make them a playoff contender in 2017. A big issue for the Dolphins has been their lack of a pass rush, other than 35-year-old Cameron Wake, the Dolphins do not get much pressure on opposing quarterbacks. The Dolphins traded for defensive end William Hayes, and resigned Andre Branch, but they need to get consistent pressure on opposing quarterbacks in order to take the next step towards playoff contention. Enter Charles Harris, an explosive edge rusher who has racked up 16.0 sacks and four forced fumbles over the past two seasons, who has been compared to Shane Ray of the Denver Broncos who also went to Missouri. Harris will start his career as a situational pass rusher, who can play standing or with his hand in the dirt, then transition to an every down player as he develops. The Broncos need to add youth to their pass rush, who knows how much longer Cameron Wake will produce at an elite level, and there is not much else on the roster.
Alternate Pick: For the reasons I noted above, I believe that the Dolphins will be selecting an edge rusher with this pick, so players like Dawuane Smoot or T.J. Watt or Takkarist McKinley could get the call. The Dolphins could also use young cornerback depth, Xavien Howard looks like he is going to develop into a very good corner, but they need more youth at the position. The Dolphins did sign former Steelers star linebacker Lawrence Timmons, but linebacker is still an area of need, where the Dolphins can use an upgrade.
23) New York Giants – David Njoku, TE (6'4 246lbs) Miami – The New York Giants have lacked a true threat at tight end for years, and while they upgraded Eli Manning's wide receivers this offseason by signing veteran Brandon Marshall, they have reportedly made upgrading Manning's weapons in the passing game a priority. Njoku has an excellent combination of size and speed, he can stretch the field, as well as use his frame to overpower smaller defenders. In 2016, Njoku caught 43 passes for 698 yards and eight touchdowns, despite inconsistent quarterback play from Brad Kaaya. The Giants only tight ends on the roster are Will Tye, Jerell Adams, Matt LaCosse and newly signed Rhett Ellison, mostly blockers, who would not start for any other NFL team. David Njoku would give the Giants their most dangerous receiving threat at tight end since Jeremy Shockey was in his prime.
Alternate Pick: The Giants need a running back, as they do not have much on the roster other than Paul Perkins and Shane Vereen, both of who are better suited as change-of-pace or third down backs. They need to find a workhorse. The Giants biggest problems come from their offensive line, which struggled to protect Eli Manning, as well as open up holes in the running game. However, there are no athletic left tackle prospects available here, and that is what the Giants really need so they can slide Ereck Flowers to the right side. The Giants also need to get younger along the defensive line, while they have some depth behind Jason Pierre-Paul and Olivier Vernon (Owa Odighizuwa, Romeo Okwara) they could use a young situational pass rusher to bring heat off the edge. However, after committing to upgrading Manning's weapons in the passing game, a receiving tight end like O.J. Howard or David Njoku makes a ton of sense, it is a position that the Giants have neglected over recent years
24) Oakland Raiders – Zach Cunningham, LB (6'3 234lbs) Vanderbilt - The Oakland Raiders were one of the most improved teams in football last season, however their weakness was right up the middle of their defense, an area which you can expect them to address during the 2017 NFL Draft. In this scenario, the Raiders get the exact type of player they need, in highly productive Vanderbilt linebacker Zach Cunningham. Not only does Cunningham have all the measurables, but he led the SEC in tackles in 2016 and was selected to the All-SEC team twice (2015,2016), so he has a ton of high level experience to step right in an produce on a good Raiders team right away.
Alternate Pick: I had Malik McDowell or Caleb Brantley slated to be drafted here, but I hear that NFL teams view him only as a 3-4 defensive end, and that Brantley's poor interviews at the combine could cause him to slide into the second round. The middle of the Raiders defense has to be the area of focus during this draft, however the Raiders could use a true pass catching tight end, while Clive Walford has been decent they could use another target for Derek Carr in an excellent tight end draft. You can also expect the Raiders to draft a running back, the Raiders need a workhorse to pair with Jalen Richard and DeAndre Washington, and wide receiver depth can be upgraded behind Amari Cooper, Michael Crabtree and the newly signed Cordarrelle Patterson.
25) Houston Texans – Deshone Kizer (6'4 233lbs) Notre Dame – The Houston Texans have a loaded roster, they believe that they are a quarterback away from being a force to be reckoned with in the AFC, and they are desperately trying to be sure that they acquire Tony Romo when his time with the Dallas Cowboys comes to an end. The rumor is that the Cowboys would prefer that Romo leaves the state of Texas, and if they trade Romo instead of release him (which still seems far-fetched), then the only quarterbacks on the Texans roster are Tom Savage and Brandon Weeden. Everyone knows that Bill O'Brien likes tall pocket passers, and in this scenario he grabs the quarterback in this draft class who best fits that mold, Notre Dame signal called Deshone Kizer. A player with a strong arm and a ton of talent, Deshone Kizer needs a lot of coaching to cut down on some terrible mistake throws, but Bill O'Brien prides himself in his ability to develop quarterbacks so this match makes sense.
Alternate Pick: Other than quarterback, the Houston Texans seem to have their starting lineup pretty set, but they need to add youth behind pricey veterans. A player like defensive lineman Malik McDowell makes a lot of sense, he fits their defensive scheme perfectly. The Texans could also look the secondary, while they have solid veterans, but Houston should start adding some young players that they can develop into starters down the road. The Texans had concerns along their offensive line last season, mostly due to injuries, the Texans should look into upgrading the depth of this unit. One surprising area that the Texans could look to update is tight end, while they have Ryan Griffin and C.J. Fiedorowicz, this is a strong tight end draft and the Texans could add a threat in the passing game to stretch the field from the tight end position.
26) Seattle Seahawks – Ryan Ramcyzk, OT (6'6 310lbs) Wisconsin - In a weak offensive tackle class, one guy who has a chance to develop into a starting left tackle is Ryan Ramcyzk, the latest in a long line of excellent offensive line prospects out of Wisconsin. Ryan Ramcyzk is quick out of his stance and has good feet, I question if he will be quick enough to deal with NFL speed rushers, and it's probably better that he start on the right side to develop. Ramcyzk also had surgery for a torn hip labrum this offseason, which hurts his draft stock, and kept him out of the combine. There are other issues with Ramcyzk, he only played one season in Division I football and needs to improve his knowledge about the game, as well as focusing on consistent technique. Ramcyzk also stopped playing football after high school, and scouts believe that he returned to the game not because he loves it, but because it of the opportunities given to him for playing the game.
Alternate Pick: The Seahawks need to upgrade their offensive line, and while either Garett Bolles or Ryan Ramcyzk may to them due to certain concerns, they could take a safer route and draft guard Forrest Lamp from Western Kentucky who might be the best all-around offensive linemen in the draft if he is still available. The Seahawks have other needs, they could use youth in the secondary, and along the defensive line, they do not want their defense to age right as they fix the problematic offensive line.
27) Kansas City Chiefs –Deshaun Watson, QB (6'3 221lbs) Clemson – The Kansas City Chiefs are a good football team, but it appears to me that they need to come to the realization they are not going to win a Super Bowl with Alex Smith under center, they need to find a quarterback who can throw the ball down the field to open up the offense. In this scenario, they add that player, when they draft National Championship winning quarterback Deshaun Watson, who quarterback guru Andy Reid can develop behind Alex Smith before eventually handing over the reins. Watson is very talented, but he makes a lot of mistake throws and poor decision on the field that lead to turnovers, there is nobody better to teach him how to eliminate those mistakes than the combination of Andy Reid and Alex Smith.
Alternate Pick: While explosive playmaker Tyreke Hill was incredible last season, and the Chiefs have often injured wide receiver Jeremy Maclin on the roster, Kansas City could use a wide receiver upgrade if they plan on finally starting to throw the ball downfield. If one of the draft's better wide receivers falls into their laps at 27th overall, they should consider it, but only if they finally decide to open up the offensive playbook. The Chiefs have had a great pass rush for years, but Tamba Hali is now 33-years-old and Justin Houston has struggled with injuries, so while they have Dee Ford it would not hurt to add depth to the pass rush. Players Like T.J. Watt or Takkarist McKinley could be options.
28) Dallas Cowboys – Obi Melifonwu, S (6'4 224lbs) Connecticut – The Dallas Cowboys lost safeties Barry Church and J.J. Wilcox in free agency, so safety is a need that they need to address, and in this scenario they get an excellent prospect in Obi Melifonwu. You know that Jerry Jones is somewhere drooling while thinking about Obi Melifonwu, he has a ridiculous size and speed combination, he is exactly the type of freak athlete at Jones loves to draft and he happens to come at a position of need. At 6'4 224lbs, Melifonwu ran a ridiculous 4.40 flat 40-yard-dash, then had the top vertical jump at the entire combine (44"). The Cowboys need a safety, Obi Melifonwu is a freak athlete which Jerry Jones loves, so this pick makes sense.
Alternate Pick: The Cowboys lost defensive lineman Jack Crawford and Terrell McClain in free agency, so they could look to replace those players in their defensive line rotation, by picking a player like Caleb Brantley or Malik McDowell on the interior or a pass rusher like Takkarist McKinley or T.J. Watt on the edge. The Cowboys pass rush could really use an upgrade if they plan on contending, in today's NFL you cannot give opposing quarterbacks all day to throw, a pass rusher would make a lot of sense.
29) Green Bay Packers – Gareon Conley, CB (6' 195lbs) Ohio State – The Green Bay Packers have long needed to fix their troublesome secondary, their offense can put up points, but they have to be tired of being involved in shootouts every week. A fast rising prospect, cornerback Gareon Conley improved steadily over the past two seasons, and then produced excellent numbers at the NFL combine which included a 4.44 40-yard-dash and a 37" vertical jump. Conley has good size, and is an underrated prospect at this point of the 2017 NFL Draft evaluation process. I expect Gareon Conley to continue to rise as a prospect, to the point that if he is still available when the Packers are on the clock, they would be very lucky.
Alternate Pick: The Packers pride themselves in finding excellent offensive linemen in the middle rounds of the draft, but if Forrest Lamp is available, he could be very tempting as a replacement for T.J. Lang. The Packers should focus on the defensive side of the ball, the secondary being the biggest area of need, but defensive lineman Malik McDowell would fit perfectly in their system as a defensive end. Pass rushers Clay Matthews and Nick Perry are excellent, but both make a lot of money, and while Kyler Fackrell showed promise last year, the loss of Julius Peppers could leave Green Bay looking for a pass rusher.
30) Pittsburgh Steelers – Hasson Reddick, LB (6'1 237lbs) Temple – The Pittsburgh Steelers lost longtime inside linebacker Lawrence Timmons in free agency, and while they do have some depth on the roster, they do not have a standout inside linebacker to replace him next to Ryan Shazier. In this scenario, they keep Temple linebacker Hasson Reddkick in Pennsylvania, and make him the next great linebacker to wear black and gold. Hasson Reddick has been one of the stars of the draft evaluation process, he wowed scouts with his performance during Senior Bowl week, then had a stellar NFL combine to solidify his grade as a first round prospect. The Steelers are historically known for their linebackers, and in this scenario, they add another good one in Hasson Reddick.
Alternative Pick: The Steelers secondary has been a huge weakness for a few seasons now, and while the have added several young players to turn this unit around over recent drafts, those developing young players could still use help. A player like cornerbacks Gareon Conley or Adoree Jackson could be tempting. The Steelers also need consistency at wide receiver behind Antonio Brown, so they could look to fill that need, however they will likely do so in the later rounds when they consistently find great receivers (Mike Wallace, Emmanuel Sanders, Antonio Brown, Martavis Bryant).
31) Atlanta Falcons – Forrest Lamp, OG (6'4 309lbs) Western Kentucky – Obviously the Atlanta Falcons were extremely close to winning the Super Bowl last season, and due to a great mix of veteran talent and a young defense that is loaded with speed, they should be in the conversation as Super Bowl contenders next season. One key for the Atlanta Falcons is keeping Matt Ryan upright, they did a great job in 2016, but in this scenario they add potentially the top offensive lineman in the draft and select Forrest Lamp. A left tackle in college, Lamp kicks inside to guard in the pros, where he should excel. Lamp was excellent at the combine, and although he is best suited for guard in the NFL, his experience at tackle in college gives him some position versatility in the NFL should another lineman go down with an injury.
Alternate Pick: Vic Beasley was great last season, he led the NFL in sacks, but he could use some help and the Falcons could certainly use another pass rusher. Despite the fact that the Falcons added defensive end Jack Crawford in free agency, a young speed rusher to bring heat off the edge like Takkarist McKinley or T.J. Watt could make a lot of sense. The Falcons love speed on defense, so a fast rising cornerback like Adoree Jackson could be an excellent pick, he ran a 4.42 at the NFL combine, and would be an excellent addition as a nickleback/return man/special teamer.
32) New Orleans Saints – Jabrill Peppers, LB/S (5'11 213lbs) Michigan – The Saints are focusing on fixing their long terrible defense this offseason, and they need to add speed, and despite a few offseason additions they do not have much on the roster at outside linebacker. In this scenario, they add Jabrill Peppers, who is one of the best football players in the draft but who needs to find the right positon in the pros. I think Peppers settles in at outside linebacker and has an excellent career, he was very impressive at the combine in Indianapolis, and his physical skills are paired with knowledge of the game and instincts that will make him a perfect playmaker for the Saints rebuilding defense.
Alternate Pick: The focus of the Saints draft will be defense, so a cornerback could be an option, a player like Gareon Conley or Adoree Jackson could be an excellent fit. This is a deep cornerback drafts, players such as Jalen Tabor, Quincy Wilson, Ahkello Witherspoon, Tre'Davious White and Kevin King are still available in this scenario. Earlier in the first round, with their own pick, the Saints selected defensive end Derek Barnett in this mock draft. If the Saints go another route early, you can be sure they will draft a pass rusher here, they will use one of their first round picks to upgrade the pass rush.
Best Available Players Remaining (in no particular order):
Malik McDowell, DT (6'6 295lbs) Michigan State – I thought Malik McDowell had a chance to be a top ten pick entering the 2016 season, but he was nagged by an ankle injury for the majority of the season, and had only 34 tackles and 1.5 sacks in 2016. McDowell was still very disruptive, and he put a lot of pressure on the quarterback, he slides in this mock draft because he is prototypical 3-4 defensive end. A 3-4 team will snatch up McDowell quickly in the second round.
Caleb Brantley, DT (6'3 307lbs) Florida – Caleb Brantley is a quick and disruptive force to add to the interior of the defensive line, where he has the skill to make plays against the run and the pass. There were some concerns about Brantley at the NFL combine, he did not interview well, which could cause him to slide into the second round.
T.J. Watt, LB (6'4 252lbs) Wisconsin – The younger brother of Houston Texans superstar J.J. Watt, I wanted to slide T.J. Watt into the later portions of the first round, but could not find the right fit. T.J. Watt was impressive at the combine, and his best fit in the NFL is likely at outside linebacker in the 3-4 defense.
Takkarist McKinley, DE/OLB (6'2 250lbs) UCLA – An explosive edge rusher, I predict lots of early success for Takkarist McKinley in the NFL, where I think he will excel as a situational pass rusher early in his career. He needs work to become an every down player, but on passing downs, he will be able to get to the quarterback.
The deep cornerback class: If your team's pass defense has been struggling in recent years, you are in luck, the 2017 NFL Draft is absolutely loaded at cornerback. Since the cornerback class is deep, many teams will feel they can wait on a cornerback until the later rounds, so there will be some excellent corners available in the second round. For example, in this scenario Jalen Tabor (6' 199lbs) Florida, Quincy Wilson (6'1 211lbs) Florida, Ahkello Witherspoon (6'3 198lbs) Colorado, Tre'Davious White (5'11 192) LSU, Kevin King (6'3 200lbs) Washington, Jourdan Lewis (5'10 188lbs) Michigan, Desmond King (5'10 201lbs) Iowa, Adoree Jackson (5'10 186lbs) USC, Fabien Moreau (6' 206lbs UCLA), Cordera Tankersly (6'1 199lbs) Clemson and others are all still available which is ridiculous. It is just so much talent, so you can wait a bit on a cornerback, expect there to be several runs on the position during the draft.
Sidney Jones, CB (6' 185lbs) Washington – Sidney Jones deserves a special section of this mock draft, because he was going to be a top twenty selection in the 2017 NFL Draft, but he tore his Achilles at the Washington Huskies Pro Day during the last drill of the day, and will likely miss the entire 2017 NFL season. You have to feel bad for the kid, but for a rebuilding team that expects to struggle in 2017, you may was well draft Sidney Jones in the middle rounds and let him sit for a year to rehab his injury, you could get a starting cornerback for 2018 when your team is ready to contend.
Christian McCaffery, RB (5'11 202lbs) Stanford – In this scenario, McCaffery was not drafted in the first round, but he could start getting looks as early as the fifteenth pick to the Philadelphia Eagles. McCaffery is not going to be an every down back in the NFL, but he offers a ton of versatility as a receiver and a return man, in addition to being a skilled running back.
The deep running back class: There is a clear top running back in this class in Leonard Fournette, a clear second in Dalvin Cook, and a clear third in Christian McCaffery. However the running back class is loaded, and you can find a potential star running back in the middle rounds of the draft, including Alvin Kamara (5'10 214lbs) Tennessee, Corey Clement (5'10 220lbs) Wisconsin, T.J. Logan (5'9 169lbs) North Carolia, Maroln Mack (5'11 213lbs) USF, D'Onta Foreman (6' 233lbs) Texas, James Connor (6'1 233lbs) Pittsburgh, Joe Mixon (6'1 226lbs) Oklahoma, Jeremy McNichols (5'9 212lbs) Boise State, Wayne Gallman (6' 215lbs) Clemson and others available do not be upset if your running back needy team misses out on Fournette or Cook.
Curtis Samuel, RB/WR (5'10 196lbs) Ohio State – Is Curtis Samuel a running back or a wide receiver in the NFL? It does not matter, Curtis Samuel is one of the most explosive players in the 2017 NFL Draft, and he will not be on the board long on day two if he does not get drafted in the first round.
JuJu Smith-Schuster, WR (6'1 215lbs) USC – It sounds like there are wide receiver needy teams, who will address a different area of need in the first round, but have JuJu Smith-Schuster targeted for the second round of the 2017 NFL Draft. Smith-Schuster is hurt a bit by the fact that he only had one catch against Alabama, and by the recent performances of USC wide receivers in the NFL, but he is a talented player and the second round seems right.
The deep tight end class: The 2017 NFL Draft features the best class of tight ends in recent memory, with O.J Howard and David Njoku as obvious first round picks, but players like Evan Engram (6'3 234lbs) Ole Miss, Jake Butt (6'5 246lbs) Michigan, Gerald Everett (6'3 239lbs) South Alabama, Bucky Hodges (6'6 257lbs) Virginia Tech, Jordan Leggett (6'6 258lbs) Clemson, and sleeper Adam Sahaheem (6'6 278lbs) Ashland among others still available this class is loaded.
Dion Dawkins, OL (6'4 314lbs) Temple – In a weak offensive line class, Dion Dawkins should not have to wait long to hear his name called on the second day of the NFL Draft, he is a quality developmental prospect at either guard or right tackle.
Chris Wormley, DE/DT (6'5 298lbs) Michigan – A player who probably fits best at defensive end in a 3-4 defense, Wormley is likely to be a second round pick, he was a productive college player at Michigan who should make a nice transition to the NFL.
Tim Williams, OLB (6'3 244lbs) Alabama – Tim Williams was a very productive pass rusher at Alabama, and he probably has the talent to be a top ten pick in this draft, but he has major character concerns which have several teams terrified to draft him. Williams probably fits best as a pass rusher in a 3-4 defense, and he will get drafted, but due to his issues off the field he can expect a major slide.
Pat Mahomes, QB (6'3 219lbs) Texas Tech - It all depends on preference when it comes to quarterbacks in this class, because the rumor is that some teams have a high grade on Mahomes and think he can be a steal with some development, while others have no interest. Mahomes has a good arm, and he is a good athlete, however he needs to work on his ability to read the defense and decision making.