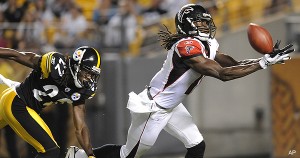 At the bottom of our two most recent Fantasy Football related posts, we included our twitter and email (contact info is on the bottom of this post as well) and offered to answer any fantasy football questions that the unwashed masses may have, and the results have been outstanding. Keep them coming, and we will continue to provide answers on twitter or on sportsmasher.com . That's right, we are answering fantasy football questions, in mailbag format:
If you had to pick just one, who is your favorite deep sleeper at running back?
-Fast Eddie
Well "Fast Eddie" (what's your 40 time?) there are a lot of good sleeper running backs out there, but if I had to pick just one, I would target Taiwan Jones of the Oakland Raiders. The Raiders are very high on Jones' upside and he showed speed and burst in limited touches as a rookie in 2011. Starter Darren McFadden is always an injury risk, and Jones was in competition with veteran Mike Goodson for the backup running back job, but Goodson suffered an unfortunate injury in training camp which pretty much makes Jones the primary backup running back in Oakland. He will definitely see an increased number of touches in 2012, so do not count on Jones to produce right away, but try to steal him late in drafts to see if he develops into the player that the Raiders think he can become.
Which Wide Receivers do you see "Breaking Out" in 2012? Who jumps from "good player" to Pro-Bowl caliber that can help my fantasy team?
-Jung
The easy answer is Atlanta's Julio Jones, he is entering his second year, and really seemed to "get it" at the end of the 2011 season when he caught six touchdowns in the final four games. I also think Green Bay's Jordy Nelson has another huge year in 2012 after catching 15 touchdown passes in 2011, which was the third most in the NFL. Both of these players are ranked correctly though, so if you are looking for deeper sleepers, I have some of those for you as well. Tampa Bay's Mike Williams is currently the 41st receiver being selected, however I think he will be better this season, as defenses will be focused on stopping new number one receiver Vincent Jackson. My personal favorite wide receiver sleeper is Chiefs Jonathan Baldwin, who was drafted in the first round of the 2011 NFL draft out of Pittsburgh, but did not play much as a rookie for various reasons. With number one receiver Dwayne Bowe holding out, Baldwin has looked impressive in training camp with the additional repetitions and he could have a much better 2012 season than most people think. He is being drafted 133rd overall, and might be a steal in the last few rounds of your draft.
How Many STDs do you have?
-Larry
Zero now, so none that were incurable.
Which rookies could have an impact in fantasy?
-Todd D
Hi Todd, I usually try to avoid rookies in fantasy football, and this season is no different. I do not recommend drafting them too early, I usually allow someone else to reach for rookies and deal with their growing pains as they transition from the college level to the NFL. The first rookie that could have an impact is Browns running back Trent Richardson, however he is being selected early and has a knee injury, so I would stay away from him. I would stay away from the quarterbacks and go with more established players at that position. I think that Tampa Bay running back Doug Martin is clearly the rookie with the most fantasy value, and he could be a steal if you can get him, he is close to being named the starter for the Bucs. Running back David Wilson or wide receiver Ruben Randle of the Giants could have some value later in the season, but Tom Coughlin usually does not play rookies early unless injuries force him. I could see wideout Alshon Jeffery making an impact in Chicago by season's end, especially in the red zone, there are rumors he may start opposite Brandon Marshall. I would say to avoid most of the rookies early on (Martin or a late flier on Jeffrey being the exceptions) unless you are in a keeper or dynasty league, where rookies become much more valuable.
How The HELL Is Norv Turner Still A Head Coach In The NFL?
-Tommy
Nobody can explain that to me. The Chargers come out slow and unmotivated out of the gate every single year, but there division has been so bad under Turner's regime that they win it by default. The last two years the team finally couldn't recover from their slow starts causing them to miss the playoffs, and everyone thought it would cost Turner his job. Somehow it didn't. I can't believe he is still employed.
Which quarterback do you think is the most underrated?
-Dingbat
Jay Cutler of the Chicago Bears. He was playing at a high level in 2012, and the 7-3 Bears were playoff bound, until an injury forced him out for the remainder of the season. The Bears imploded and finished at 8-8 without Cutler, and people seem to forget about him this year, he is currently the 14th quarterback being drafted. This offseason the Bears overhauled their offensive weapons, trading for a true number one receiver in Brandon Marshall and drafting Alshon Jeffery, so I think that Cutler will have an excellent year for a much improved Bears squad that makes the playoffs. He won't be on the level of Aaron Rodgers, but I would take Cutler ahead of players like Matt Ryan or Ben Roethlisberger.
If I miss out on the elite tight ends (Gronkowski, Graham, Gates, Witten) can I find value later in the draft?
-Lance
Of course, tight end is pretty deep this season, and there are plenty of sleepers that can be found in the later rounds of fantasy drafts. My three favorite are 1) Greg Olsen of the Carolina Panthers, who had a good season and is one of the primary targets for Cam Newton, yet his is inexplicably being drafted extremely late in some leagues. 2) Kyle Rudolph of the Minnesota Vikings, who has supposedly been the MVP of their training camp and is posited to have a huge year, yet is currently the 17th tight end being drafted. 3) Jacob Tammee, who is familiar with his quarterback Peyton Manning from their time with the Colts and should be an integral part of Denver's passing game. Other tight ends that you can draft later include Jared Cook, Brett Celek, Owen Daniels or Jermaine Gresham.
Have A Question? About Fantasy Football Or Anything Else? Hit us up!!!
QUESTIONS, COMMENTS? Write in the Comments field below, or email to [email protected], or hit me up on twitter @sportsmasher or FACEBOOK (Links  Above)

Fantasy Football Bargain Bin Based on Average Draft Position
Running Back By Committee: How It Alters Fantasy