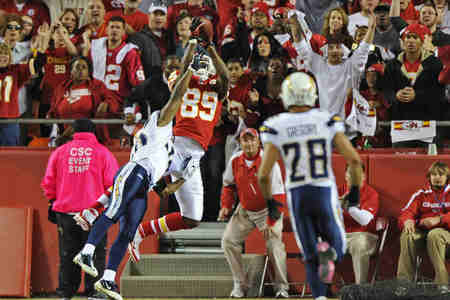 The 2012 NFL season is right around the corner as teams are currently in training camps and football fans worldwide are beginning to prepare for their fantasy football drafts. I found myself looking at rankings for the first time and as always, I am particularly intrigued by their average draft position (ADP) rankings, because in the modern information era every fantasy owner enters the draft with essentially the same information. Winning a fantasy football league is all about your team staying healthy and finding value in the later rounds, so I have created a team out of players that I think are far more valuable than their current ADP:
Jay Cutler - Quarterback, Chicago Bears (ADP 102.0, 15th QB) - I have wrote about this before LINK , but I expect a huge season out of Bears quarterback Jay Cutler, if he is able to stay healthy behind a shaky Bears offensive line. Cutler was playing at a high level last season before he was injured in week 10 game against the San Diego Chargers, and his Bears were 7-3 and playoff bound, but he was forced to miss the rest of the season and the Bears predictably collapsed. This offseason, the Bears added several weapons to their offense, including number one wide receiver Brandon Marshall (who was Cutler's favorite target when the two were teammates in Denver from 2007-2008), plus four other wide receivers: rookie Alshon Jeffery, and veterans Devin Thomas and Eric Weems, along with running back Michael Bush. The fact that Cutler is the fifteenth quarterback off of the board is mildly shocking and seeing him get drafted after rookie Robert Griffin III (ADP 81.9, 13th QB) and Matt Ryan (ADP 73.1 11th QB) is laughable. If Cutler stays healthy I guarantee he is a top ten fantasy quarterback by the end of the 2012 season.
Doug Martin - Running Back, Tampa Bay Buccaneers (ADP 80.0, 31st RB) - Rookies are always risky when it comes to fantasy football, because you never know how they will adjust to playing at a high level, however running backs are often the exception to this rule. The early word out of training camp in Tampa Bay is that the rookie back from Boise State has is wowing the coaching staff and teammates with his play, and is close to supplanting LeGarrette Blount as the starting running back, if he hasn't already. New Tampa head coach Greg Schiano loves to run the football and he handpicked Martin during the first round of the 2012 NFL draft to be a future workhorse back, and comparisons to Ray Rice are not as ridiculous as they seem. Add an improved offensive line (added Pro Bowl guard Carl Nicks) and a true number one wide receiver (added Pro Bowler Vincent Jackson) and Martin could have a huge rookie year in Tampa. He should easily outplay his current average draft position.
James Starks - Running Back, Green Bay Packers (ADP 95.5, 37th RB) - The Green Bay Packers love to throw the football, and with good reason, their quarterback Aaron Rodgers is right at the top of the quarterback draft board for the upcoming fantasy football season. However, James Starks enters the 2012 season as the unquestioned starting running back in Green Bay, as they let his former platoon mate Ryan Grant walk in free agency. Starks is talented and possesses a nice combination of size and speed, and although Green Bay prefers to run the ball, Starks is still the clear number one option at tailback for one of the best offenses in the NFL. I expect Starks to be ranked much higher than the 37th running back in the league by season's end, his stats should improve with Ryan Grant no longer in the picture and unproven backs behind him on the depth chart.
Taiwan Jones - Running Back, Oakland Raiders (ADP 170.0 (undrafted), 73rd RB) - The Raiders are very high on Jones, the small but explosive running back, who they selected in the 4th round of the 2011 NFL Draft. Jones only touched the ball 18 times on offense last season and produced just 98 yards of offense, but did not debut until week seven of last season, and flashed his big play ability on kick returns. Jones is currently the third back on the Raiders depth chart behind starter Darren McFadden and Mike Goodson, however McFadden has a well documented injury history, and if anything were to happen to him this season Jones would see a major increase in touches. In deeper leagues, Jones is definitely worth a flier in the later rounds of the draft, I expect him to generate much more offense with increased opportunities this season.
Eric Decker - Wide Receiver, Denver Broncos (ADP 72.8, 27th WR) - With Peyton Manning now under center in Denver, the value of both Decker and fellow wideout Demaryius Thomas should skyrocket in Denver, and word out of Broncos training camp is Manning has found his favorite receiver already in Decker. While Thomas may produce more big plays and score more touchdowns, Decker should catch a ton of balls early and often this season in Denver, and in Point-Per-Reception league he will have enormous value. I see Decker as far out producing many of the 26 receivers currently being drafted ahead of him, and I expect his stock to continue to rise as we get closer to the start of the season.
Jon Baldwin - Wide Receiver, Kansas City Chiefs (ADP 148.3, 51st WR) - Baldwin's NFL career got off to a rough start in 2011, as a rookie he got into a fight with respected veteran running back Thomas Jones in training camp, injuring his wrist. Due to this injury, Baldwin did not make his first NFL reception until week seven, and finished the year with just 21 catches for 245 yards and 1 touchdown. However, Baldwin has been very impressive during the early part of Chiefs training camp this season and is currently working as the number one wide receiver, as Dwayne Bowe is sitting out camp to dispute his franchise tag. Baldwin was drafted 26th overall by the Chiefs in the 2011 draft for a reason, he is big (6'4 230lbs) and has speed, he could be a steal if drafted at his current draft position. The Chiefs coaching staff has been impressed with Baldwin's development and expect big things out of the wideout this season.
Vincent Brown - Wide Receiver, San Diego Chargers (ADP 170.0 (undrafted), 70th WR) - Vincent Jackson left the Chargers in free agency to sign a huge contract with the Tampa Bay Bucs, and Philip Rivers is now in the market for a new number one receiver, Vincent Brown will clearly get many more looks in the passing game in 2012. San Diego drafted Brown in the 3rd round of the 2011 NFL Draft, and he played sparingly as a rookie, catching just 19 passes for 329 yards and 2 touchdowns. The Chargers still have Malcolm Floyd on the roster and signed Robert Meachem, Eddie Royal and Roscoe Parish in free agency, but I think that Brown will get plenty of opportunities to produce in San Diego this season. If you can grab Brown in one of the late rounds of your fantasy football draft, he should produce early and should provide solid roster depth during the 2012 season, with the added possibility of being a breakout player.
Greg Olsen - Tight End, Carolina Panthers (ADP 149.4, 19th TE) - There is little doubt that Olsen is one of the most physically gifted tight ends in the NFL, he has the ability to stretch the field and is a major receiving threat in the red zone. Although he only caught 45 passes for 540 yards and 5 touchdowns last season, his first in Carolina, he was playing with a rookie quarterback in Cam Newton. A young quarterback's best friend is the tight end and Cam Newton has supposedly developed by leaps and bounds as a passer this offseason, so I could see Olsen's numbers increasing in a big way during the 2012 season. With a lack of dangerous receiving options on the Carolina roster, Newton will need to find a target he can rely on, and Olsen should be able to produce big numbers. If you miss out on the top flight tight ends in your fantasy football draft, do not panic, there is plenty of depth available at the position.
Josh Scobee - Kicker, Jacksonville Jaguars (ADP 170.0 (undrafted), 24th K) - I do not understand why Scobee is so far down the list of kickers, the Jaguars offense should struggle in 2012, and he should have plenty of opportunities for field goals (though few extra points, an easy fantasy point). He showcased a huge leg during the 2011 season, hitting five field goals of 50+ yards, the most in the NFL, and making 23/25 field goals (92.0%) on the season. This proves a long standing fantasy rule, never, ever reach for a kicker. Draft a kicker in the final round of your fantasy draft, period.
Cincinnati Bengals - Defense/Special Teams (ADP 159.8, 18th DEF) - The Bengals have an underrated defensive unit that got even better this offseason, as they added some nice rotational players (defensive linemen Brandon Thompson and Devon Still, cornerback Dre Kirkpatrick, safety George Iloka) in the 2012 NFL Draft and added experienced depth in free agency. They could be a sleeper unit this season, as they have several emerging young players on the roster, lead by defensive tackle Geno Atkins. Much like kickers, I do not draft a defense until the final two rounds, instead loading up on sleepers at other positions in the middle rounds. The Bengals should be just fine as a defense during the 2012 season if you miss out on the top flight defensive units.
QUESTIONS, COMMENTS? Write in the Comments field below, or email to [email protected], or hit me up on twitter @sportsmasher
2012 Fantasy Football Thoughts on Running Back By Committee Situations