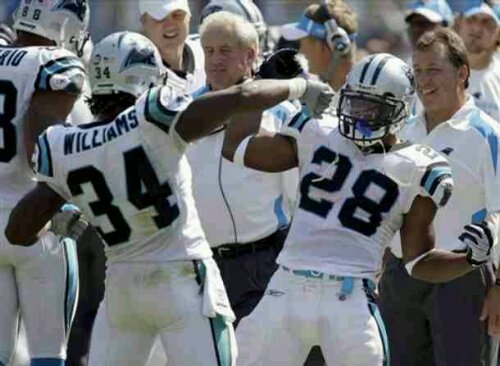 It's August which means NFL training camps are in full swing and your fantasy football drafts are quickly approaching. The members of sportsmasher.com's expert staff are regularly dominant in their fantasy football leagues, and are willing to provide tips and pointers as we prepare for our own fantasy drafts this coming month. Running back can be a dicey position for many reasons, but one of the worst feelings is when the reality hits you that your running back is in a "running back by committee" situation, and may be losing carries to another member of his team while losing you fantasy points in the process. Here are my thoughts on a few of these platoon situations, which players to draft and which teams to avoid entirely.
Carolina Panthers - DeAngelo Williams, Jonathan Stewart, Mike Tolbert: A few years ago, it seemed that talented young back Jonathan Stewart was poised to take carries away from starting tailback DeAngelo Williams and become the team's featured back, but multiple injuries have stalled Stewart's development. This offseason, the Panthers added a well-known "Touchdown Vulture" former San Diego Charger Mike Tolbert into an already cloudy backfield situation, making Stewart and Williams less desirable. This combined with the fact that their quarterback, reigning rookie of the year Cam Newton, scored the most single season rushing touchdowns by a quarterback in league history (14) in 2011 has me staying away from all of Carolina's running backs in my fantasy drafts this fall. ADVICE: STAY AWAY.
Washington Redskins - Tim Hightower, Evan Royster, Roy Helu: Redskins head coach Mike Shanahan was notorious in fantasy football circles during his tenure as head coach of the Denver Broncos (1995-2008) for falling in love with a random running back, who was sometimes projected far down the depth chart, and succeeding at racking up the rushing yards and fantasy points with that player (Terrell Davis, Olandis Gary, Reuben Droughns, Clinton Portis, Tatum Bell, Mike Anderson). Tim Hightower is currently at the top of the Redskins depth chart at running back, however, he is recovering from a torn ACL and I would not be surprised if Evan Royster or Roy Helu was the opening day starter. With Mike Shanahan as the head coach, you are always taking a gamble when drafting his tailback, and this season is no different. If you can get one of the three backs late in your fantasy draft as the fourth or fifth tailback on your depth chart, and can afford to stash them for depth, there is a chance you catch lightning in a bottle. ADVICE: IF YOU CAN GRAB ONE IN THE 12TH ROUND OR LATER AND CAN STASH THEM IT MAY PAY OFF. ROYSTER IS A SLEEPER.
Minnesota Vikings - Adrian Peterson, Toby Gerhart, Lex Hilliard: This all depends on the health of the best running back in the NFL, Adrian Peterson, who is returning from a torn ACL and MCL I December, and may very well miss the early part of the season. Peterson currently claims that he is getting healthy and on target to play in the opener, however, he has not started practicing with the team and is currently on the physically unable to perform list. Peterson's backup Toby Gerhart, showed promise in limited action last season, however how much of a load will he really carry if Peterson can play? I think the Vikings will be one of the worst teams in the NFL during the 2012 season, and think they will be playing from behind a lot, they may shut down Peterson early even if he is able to play if this is the case. This situation is just a mess right now, and while you may get lucky if Peterson is playing at full strength at any point of the 2012 season, it is simply too big of a gamble for me. ADVICE: STAY AWAY FROM PETERSON, LET SOMEONE ELSE GAMBLE, MAYBE GAMBLE ON GERHART LATE (10th round or later).
Kansas City Chiefs - Jamaal Charles, Peyton Hillis, Cyrus Gray: All reports are have been glowing regarding the health of starting tailback Jamaal Charles, who tore his ACL early on his second carry of a week two game in 2011, and missed the remainder of the season. Unlike Adrian Peterson, Charles' injury happened early enough that he will have almost a full year of rehabilitation by the time the 2012 season kicks off, and he should be one of the more productive backs in the league. I still think Hillis is very draftable, he has put up big numbers in the past, and will likely split carries with Charles (even in Charles' peak he only average 17 carries per game). ADVICE: JAMAAL CHARLES CAN BE DRAFTED AS EARLY AS THE LATE SECOND/EARLY THIRD ROUND, HILLIS CAN BE DRAFTED AROUND ROUND TEN.
New England Patriots - Stevan Ridley, Shane Vereen, Brandon Bolden: Much like Mike Shanahan (mentioned above) Patriots head coach Bell Belichick is also notorious for making fantasy owners believe that one of his running backs will put up big numbers and then playing another back who projects further down the depth chart instead. Early in training camp we heard that Ridley may be ready to make the leap into an every down back, then today reports came out how impressive the rookie out of Ole Miss, Bolden has looked and that he will be a special player. Fantasy owners do not forget, as long as Tom Brady is in New England, they will be a pass first offense. Do not reach for any of these players despite what preseason reports say, in all likelihood none of these players will become a solid contributor that you can count on for your team. ADVICE: DO NOT DRAFT ANY OF THESE PLAYERS BEFORE ROUND 12.
New Orleans Saints - Darren Sproles, Mark Ingram, Pierre Thomas, Chris Ivory: This is probably the most crowded backfield in the NFL and it is a very annoying situation for a fantasy owner. No matter what, Sproles has value (especially in PPR leagues) because they get him many touches per game. Ingram is a former first round pick who is entering his second year as a pro, so you would think the Saints would like to get him the ball more, however they also enjoy mixing in Pierre Thomas and Chris Ivory. ADVICE: SPROLES BECOMES DRAFTABLE IN THE FOURTH ROUND, INGRAM IN THE 7TH OR 8TH BASED ON POTENTIAL, THOMAS LATE AS A SLEEPER, IVORY IS UNDRAFTABLE UNLESS ONE OF THE THREE AHAD OF HIM ON THE DEPTH CHART GETS INJURED.
QUESTIONS, COMMENTS? Write in the Comments field below, or email to [email protected], or hit me up on twitter @sportsmasher or Facebook

Fantasy Football Bargain Bin Based on Average Draft Position