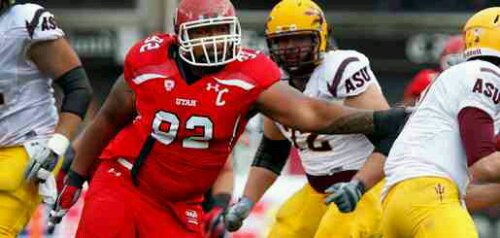 In the NFL, many teams are currently running 3-4 defenses, and one of the hardest positions to fill is a solid nose tackle that you can build the defense around. NFL teams are in luck, because there are a ton (actually several tons) of space eating defensive tackles who are top prospects going into the 2012 NCAA football season. Here are the best defensive tackles in the country as we approach the 2012 season:
2012 NCAA Football Preview: Top Quarterbacks
2012 NCAA Football Preview: Top Running Backs
2012 NCAA Football Preview: Top Wide Receivers
2012 NCAA Football Preview: Top Offensive Linemen:
2012 NCAA Football Preview: Top Defensive Ends:
2012 NCAA Football's Top Defensive Tackles:
Star Lotulelei, Senior, Defensive Tackle (6'4, 320lbs) Utah - If you have not heard the name Star Lotulelei yet, it will not be long before you do, because Star is going to be a star for the Utes this season. The massive Lotulelei is not a pass rusher, registering just 1.5 sacks in 2011, but dominates the line of scrimmage with a combination of strength and quickness. He did contribute 45 tackles and is one of those defensive tackles with great initial burst who simply collapses the pocket, and makes things easier for this teammates by demanding attention. You will hear his name a lot this fall and expect to hear his name called early in April's draft.
Jonathan Hankins, Junior, Defensive Tackle (6'3 330lbs) Ohio State - Hankins is just so physically powerful, plays with good burst, and packs a violent punch. He is still young and looked a little lost at times last season, but also showed flashes of brilliance, blowing plays up in the backfield. If Hankins improves his technique and effort to the point where those flashes of brilliance become the way he plays consistently, he will be a force for the Buckeyes this season.
Kawann Short, Senior, Defensive Tackle (6'3 310) Purdue - Short is more of a traditional defensive tackle than the first two players on the list and would probably have a higher ceiling in a four man defensive front. Short registered 54 tackles and 6.5 sacks in 2011 and has a great initial burst off of the line of scrimmage and wreaks havoc by playing low to the ground and keeping a wide base. His explosion off of the line of scrimmage is what makes the entire Purdue defense tick.
Jonathan Jenkins, Senior, Defensive Tackle (6'3 351lbs) Georgia - One of the main reasons I picked Georgia to win the 2012 BCS Championship is because of their outstanding returning defensive players, including their two 350+lb defensive tackles. Jenkins will never penetrate the line of scrimmage or bring pressure on a regular basis but he is huge, and his work ethic has reportedly improved, as he was a monster during Georgia spring practice. If Jenkins is in better shape and keeps his effort up consistently, teamed with Kwame Geathers (mentioned below) it will be nearly impossible to run the football up the middle on the Bulldogs.
Jessie Williams, Senior, Defensive Tackle (6'4 320lbs) Alabama - Many college football fans have asked me this season if I expect Alabama to take a step back and rebuild following an offseason where they lost so many players to the NFL. I tell them the same thing every time, Nick Saban and Alabama do not rebuild, they reload. Williams will be a major part of the Crimson Tide defense, the massive Aussie nose tackle is experienced and knows his responsibilities in the middle of the Alabama defensive front.
Bennie Logan, Junior, Defensive Tackle (6'2 287lbs) LSU - The Bayou Bengals are always cranking out top flight defensive linemen, and the 2012 season will be no different, as they expect to have a dominant defensive line. Logan was very productive as a sophomore, registering 57 tackles and 3.0 sacks, on one of the best defenses in the country. Logan needs to bulk up and add strength, but he is quick off of the line and has a nose for the football, he will be an impact player for LSU.
Sharrif Floyd, Junior, Defensive Tackle (6'3 305lbs) Florida - The former number one defensive tackle recruit in the country out of Philadelphia has a nice blend of size, strength and quickness that makes him the key of the Gators defensive front. He has developed nicely, but 2012 will be the year where he puts it all together and dominates the front line.
Kwame Geathers, Junior, Defensive Tackle (6'6 350lbs) Georgia - As I said before, two of the big (literally) reasons that I picked Georgia to win the National Title and Geathers and fellow defensive tackle Jonathan Jenkins (mentioned above). With these two massive defensive tackles playing alongside each other coupled with their excellent linebackers, it will be extremely difficult to run the ball on the Bulldogs this season. This entire Georgia defense should be very fun to watch during the 2012 season.
Honorable Mention: Akeem Spence, Junior - Illinois, Jordan Hill, Senior - Penn State - Sylvester Williams, Senior - North Carolina, Timmy Jernigan, Sophomore -Florida State, Cassius Marsh, Junior - UCLA, Baker Steinkuhler Senior - Nebraska, Joe Vellano, Senior - Maryland, Sheldon Richardson, Junior - Missouri, Mister Cobble, Junior - Kentucky (possibly my favorite name of all time).