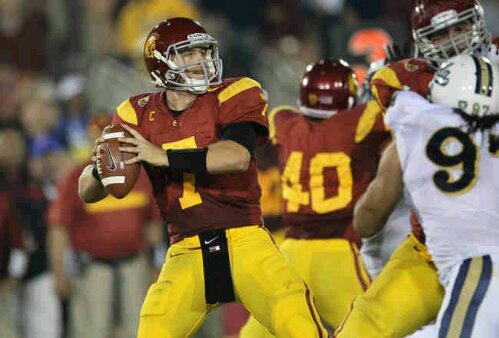 For The Top Running Backs: CLICK HERE
For The Top Wide Receivers: CLICK HERE
2012 NCAA Football Preview: Top Offensive Linemen
2012 NCAA Football Preview: Top Defensive Ends
2012 NCAA Football Preview: Top Defensive Tackles

I love college football. With the 2012 NFL Draft in the books, being a crazed college football fan and NFL Draft fanatic, my sick mind naturally went to which players I will have the honor of scouting and picking apart during the 2012 NCAA football season. Listed below are the players that I am looking forward to watching the most during the upcoming college football season, and the players who we will be discussing at length as the 2013 NFL Draft approaches, if the Mayans were wrong and mother earth continues to spin. As a football fan, I naturally started with the most important position on the field, here are the top quarterbacks returning for the 2012 College Football Season:
2012 NCAA Football's Top Quarterbacks:
Matt Barkley, Senior (6'2 220lbs) USC - The runaway favorite to win the 2012 Heisman Trophy is USC senior quarterback Matt Barkely, who finished sixth in the Heisman Trophy voting as a junior last season. Barkley will be highly scrutinized under the microscope of NFL Scouts this season, and there are some knocks on him already starting with his height, which is shorter than prototypical NFL quarterbacks. With his top two targets returning (Lee, Woods) expect Barkley to put up huge numbers at USC during the 2012 season, far eclipsing his 2011 stats (3628 yards, 39 touchdowns (a PAC 10 record), 7 interceptions, 69.1% completions) and expect him to be in the conversation as the first overall pick in the 2013 NFL Draft.
Tyler Bray, Junior (6'6 215lbs) Tennessee - If Matt Barkley does not have the build of a successful NFL quarterback, Tyler Bray certainly does, at 6'6 with a huge arm and the ability to make every NFL throw he clearly looks the part. However Bray has been inconsistent at Tennessee, both he and his receivers have missed many games due to injuries, and he needs to show that he can stay on the field if he considers leaving for the NFL after his Junior year. In just seven games last season (missing five), Bray threw for 1983 yards and 17 touchdowns to 6 interceptions. He has all of the physical tools and he is a player to keep an eye on if he can put together a full season, his draft stock could skyrocket in 2012.
Tyler Wilson, Senior (6'3 220lbs) Arkansas - Tyler Wilson strongly considered entering the 2012 NFL Draft, and following his head coach Bobby Petrino getting fired after a motorcycle crash while cheating on his wife with a 26 year old grad student, I bet he wishes he had. Wilson likely would have been the third quarterback selected in the 2012 Draft, ahead of Ryan Tannehill, if he did not decide to return to Arkansas for his senior year. Even without Petrino, and after losing three of his top receiving options in the NFL Draft, Arkansas still returns a loaded squad and Wilson should best his 2011 numbers (2828 yards, 25 touchdowns, 6 interceptions) in a once again loaded SEC.
Landry Jones, Senior (6'4 229lbs) Oklahoma - Entering the 2011 NCAA football season there was some talk that Landry Jones would win the Heisman, following an amazing 2010 campaign (4718 yards, 38 touchdowns, 12 interceptions 65.6%). However early in the 2011 season, Oklahoma's best receiver Ryan Broyles blew out his knee, and Jones took a major step back without his go-to-guy. Jones threw for 4463 yards and 29 touchdowns to 15 interceptions completing 63.2% of his passes, still good numbers but worse than where he was a year before. If Jones can step up and put together a season closer to (or better than) his 2010 campaign than in 2011, he could find himself at the Heisman ceremony in New York City.
Logan Thomas, Junior (6'6 262lbs) Virginia Tech - When I discuss the top NCAA football prospects going into the 2012 season, people often ask me why I include Logan Thomas on my list. His numbers, though solid (3013 yards, 19 touchdowns, 10 interceptions, 59.8), do not jump out at you like Barkley's or Wilson's. However, Thomas also ran for 469 yards and 11 touchdowns, has a live arm, and is built like a tight end (6'6 262lbs). If he has improved marginally over the offseason, the junior will become a household name quickly in 2012, and I expect Virginia Tech to turn heads this Fall. Expect the Hokies, who not many are discussing as a top program right now, to become a major player on the national title scene.
Geno Smith, Senior (6'3 215lbs) West Virginia - Smith is a very athletic quarterback, and there is a chance he develops into a RGIII type prospect this year, without the world class sprinter's speed. Going into the 2012 season I have Smith ranked ahead of where I had Griffin ranked a year ago at this time as a pure passer. Smith completed 346-536 passes (65.8%) for 31 touchdowns to just 7 interceptions, while adding two rushing touchdowns. Make no mistake, Smith is athletic, but he us nor a running quarterback. His best attribute is his lightning quick release, that is what has NFL scouts focused on him. Keep your eyes on Smith, he has a very good chance to being invited to the Heisman ceremony in New York, and is a darkhorse to win the trophy.
Mike Glennon, Senior - (6'6 225lbs) NC State - A player who is very quietly flying under the radar as we march towards the 2012 college football season is NC State signal caller Mike Glennon, who has prototypical NFL size and had a great 2011 season (3054 yards, 31 touchdowns, 12 interceptions, 62.5%). He has drawn comparisons to the Matt Ryan of the Atlanta Falcons, because Ryan was recruited by then Boston College coach Tom O'Brien, who is now the head coach at NC State. Glennon is another player who is not yet a household name, however, he will be before long. Scouts are drooling over his NFL potential.
Jordan Rodgers, Senior - (6'2 205lbs) Vanderbilt - The main reason Rodgers makes this list is because he is the little brother of Green Bay Packers quarterback Aaron Rodgers, the 2011 NFL MVP, and has some similarities to his brother's game. Much like his brother he started his career at Butte Community College, nearby the Rodgers family home in Chico, California. After transferring to Vanderbilt, he started last season as the backup to Larry Smith, but took over as the starter on October 22nd. Rodgers numbers were relatively unimpressive in 2011 (Passing: 108 of 216 1524 yards 9 TDs 10 INTs Rushing: 117 attempts 420 yards 4 TDs), however he did improve throughout the year with each game, and the coaching staff has been raving about the strides he has made during the offseason.
Collin Klein, Senior (6'5 230lbs) Kansas State - The big quarterback accounted ended up receiving a few votes for the Heisman Trophy during the surprising Kansas State 2011 campaign, which saw the team win 10 games, when he accounted for 3,059 yards (1918 passing, 1141 rushing) and 40 touchdowns (13 passing, 27 rushing) total. In 2012 the Wildcats, lead by legendary head coach Bill Snyder, return 17 starters and will not be sneaking up on anybody. There is little doubt that Kansas State will look to throw more in 2012, and during their spring game Klein showed off his arm, completing 47 of 56 passes for 480 yards and 6 touchdowns. Could this be a sign of things to come for the Kansas State Wildcats?
Denard Robinson, Senior (6'1 190lbs) Michigan - Definitely one of the most exciting players in college football, Robinson will probably never play quarterback in the NFL (unless trick plays count), so enjoy his final season as an explosive quarterback in Ann Arbor. Robinson battled some injuries in 2011, but battled through, completing 142 of 258 passes (55%) for 2173 passing yards and 20 touchdowns (with 15 INTs) and 1170 yards rushing with 16 TDs. This was a regression from his outstanding 2010 numbers, but if he can have his best season as a senior, he may be able to convince some NFL teams that he can play quarterback after all. He will be electrifying and exciting to watch no matter what.
Aaron Murray, Junior (6'1 205lbs) Georgia - Although he lacks the prototypical build of an NFL quarterback, Murray is accurate in the pocket and knows how to manage a game, and I am starting to think that Georgia is a sleeper to contend for the 2012 BCS title. Murray put up impressive numbers as a sophomore last season, throwing for 3149 yards and 35 touchdowns with 14 interceptions, and he is experienced as he enters his third year as Georgia's starting quarterback in the toughest conference in college football. UGA is a deep team that should be absolutely loaded on defense and has a plethora of offensive weapons for Murray, with my one question being the offensive line. The SEC is tough but look out for Murray and the Bulldogs in 2012.
James Franklin, Junior (6'2 225lbs) Missouri - I can tell you one thing about James Franklin and the Missouri Tigers, they will absolutely be fun to watch in 2012. There are times when Franklin looks like the next great athletic quarterback, with his combination of arm strength and his ability to make plays outside of the pocket. There are other times when he makes mistakes so bad that you are shocked he hasn't been benched. As a sophomore, Franklin passed for 2856 yards and 21 touchdowns with 11 interceptions, he also ran for 981 yards and 15 touchdowns. Missouri has added the top incoming freshman wide receiver in the country, Dorial Green-Beckham, a 6'6 225lb Calvin Johnson clone, who should instantly become a college football superstar. If Franklin can improve on his decision making and cut down on forcing throws and making unnecessary turnovers, beware of Mizzou.
Danny O'Brien, Junior (6'3 215lbs) Wisconsin - You may remember the name Danny O'Brien, he once attended the University of Maryland where as a (redshirt) freshman he threw for 2438 yards and 22 touchdowns, and was named ACC Rookie of the Year and a NCAA Freshman All-American. As a redshirt sophomore, coach Ralph Friedgen was fired and O'Brien was benched, after a falling out with the staff at Maryland it was clearly time for him to transfer. O'Brien graduated from the University of Maryland in three years, so he does not have to sit out a season after transferring, and will now be a red shirt junior at Wisconsin with two full years of eligibility left. He has a great arm, is an accurate passer, and much like Russell Wilson before him (who transferred to Wisconsin from NC State) he should succeed early at Wisconsin on a deep and talented team.