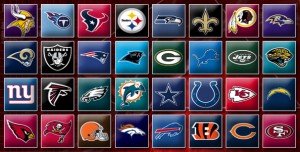 The NFL Schedule Was Released Today
The 2012 NFL Regular Season Schedule was released today, and we here at sportsmasher.com have some thoughts about a few things that jumped out. Here are some rapid fire, quick hit thoughts on the 2012 NFL schedule.
I'm a New York Giants fan, and the Giants the hardest schedule in the league, but they should as they are the defending champions. Big Blue's last 11 opponents are either divisional opponents or playoff teams from last year. I do like having they Bye week 11, as it gives the Giants time to rest before a difficult stretch run. Eli Manning and company have their work cut out for them.
The fact that the New England Patriots have the easiest schedule in the NFL is a complete and total joke. How is this possible? They are the defending AFC Champions and they somehow get the easiest schedule in the league? This team is constantly catching breaks, and I am starting to think that head coach Bill Belichick has naked pictures of league commissioner Rodger Goodell.
Andrew Luck and Robert Griffin III, who will be the first two picks in the NFL Draft nine days from now, have tough opening games to kick off their NFL careers. The Indianapolis Colts, who are expected to take Luck first overall, open in Chicago against the Bears always stingy defense. Brian Urlacher, Julius Peppers and Lance Briggs will get the first crack and Luck. The Washington Redskins and RGIII will open up @ New Orleans and the explosive Saints, lead by Drew Brees.
I feel like two AFC West teams square off in that second Monday night football opener ever year, and it's always an uninteresting game, this year we get Chargers @ Raiders. Great.
The Sunday Night Football opener is a fantastic game, Peyton Manning's Denver debut as the Pittsburgh Steelers visit Denver.
The Sunday Night Football schedule stays intriguing week two as the Lions visit the 49ers, and we know there is no love lost between head coaches Jim Harbaugh (San Fran) and Jim Schwartz (Detroit) following last season's "Handshake-Gate".
In my opinion, the teams that got screwed the most with the schedule are the Cleveland Browns, Saint Louis Rams, Minnesota Vikings and Arizona Cardinals in that order. The teams that got the "luckiest" ot paid off Roger Goodell are clearly the New England Patriots, Green Bay Packers, Houston Texans and San Francisco 49ers.
Overall the schedule looks good though, and it should be an exciting season with great storylines. Peyton in Denver, Tebow vs Sanchez in New York, Eli trying to defend the Lombardi Trophy, Luck, RGIII, the Saints sans Sean Payton, teh 49ers defense, Seattle finally has a QB (we think), a young Bengals team with the Steelers and Ravens another year older, Year Two of Cam Newton, Bears vs Packers vs Lions, Pats loaded again, the Bills D-Line and about a million other things. I CAN'T WAIT!!!