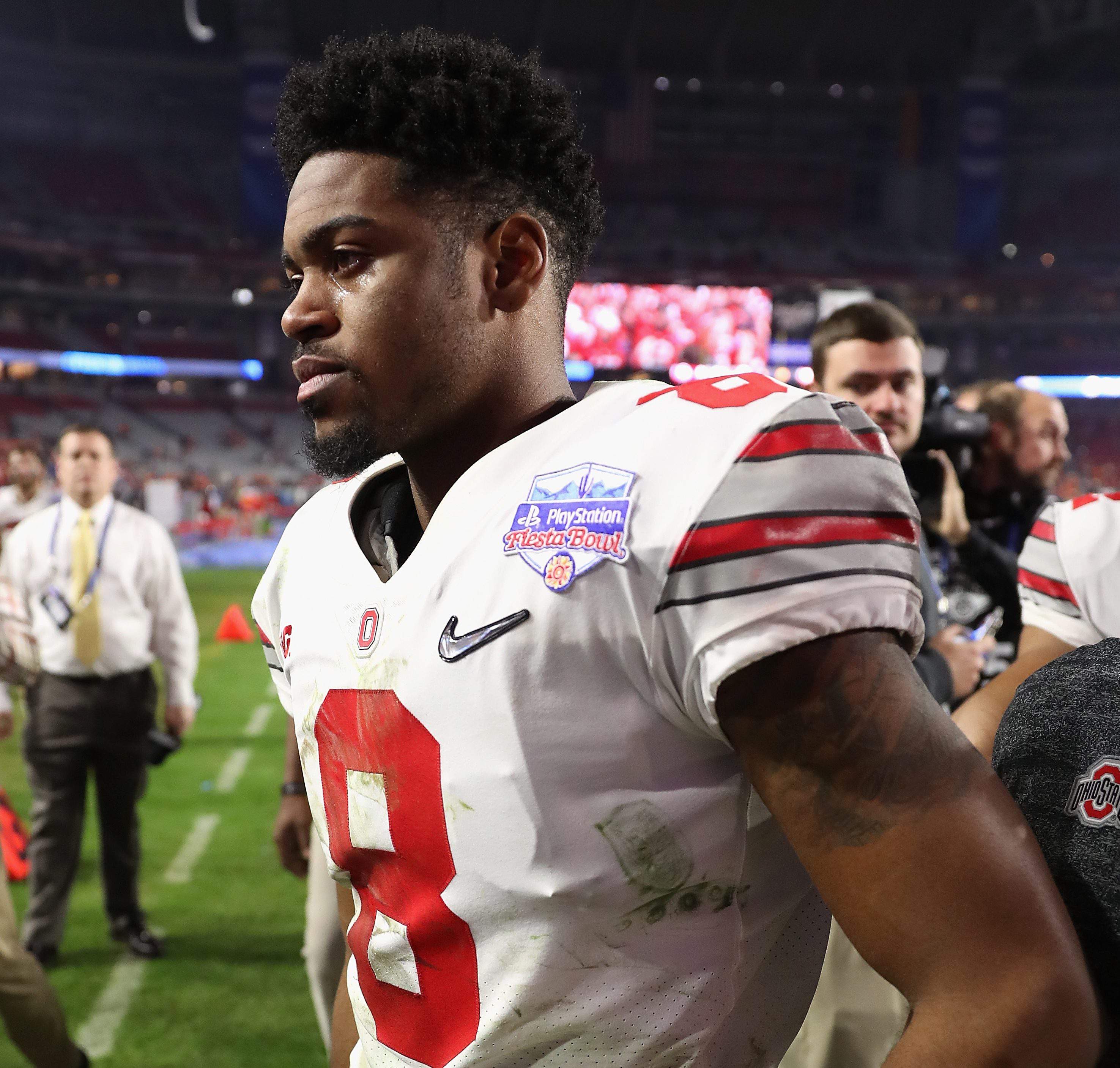 ESPN Former Ohio State cornerback Gareon Conley has spoken out about rape accusation made against him, saying in a statement to ESPN's Josina Anderson that the claim is "completely false." "I pride myself on doing things the right way on and off the field," Conley said. "The things being said about me and what happened that night are not true and don't fit my character at all. I realize that I put myself in the situation and I could have used better judgment. However, I have worked tirelessly to put myself in position to have the honor of being an NFL draft pick and these untrue allegations are putting a huge cloud over my name and the NFL Draft." Conley has been accused by a woman of raping her in a Cleveland hotel earlier this month, according to Cleveland police. Conley has not been arrested nor have charges been filed against him as Cleveland police investigate the allegations. Police spokeswoman Jennifer Ciaccia said investigators are making arrangements to interview Conley. In the statement, Conley said he felt "powerless" by the allegations. "I am upset but realize that I am powerless when false accusations are made and people try to convict you in the court of public opinion," Conley said. "It's sad that your name can get dragged through the mud based upon untrue and malicious allegations alone." According to a police report obtained by ESPN, the alleged incident occurred April 9. A 23-year-old woman told police she met Conley in the elevator of the downtown hotel and he brought her back to his hotel room. She alleges that after she declined an offer of group sex with Conley and two friends, Conley had sex with her then kicked her out of the room. The woman reported the incident and then went to a local hospital, where a rape kit was administered. But the woman also refused to speak to police, according to the report. According to the police report, Conley's friends said nothing happened between Conley and his accuser and that she was angry he asked her to leave. "There were several witnesses, including another female, who were present the entire time and have given statements that give an accurate account of what took place," Conley said. "We also have video evidence that further discredit and disprove other versions of these events." 
Just a few days before the 2017 NFL Draft, Ohio State University cornerback Gareon Conley was one of the 2017 NFL Draft's fastest rising prospects. However, that all changed yesterday, when Gareon Conley was accused of raping a woman at a Cleveland hotel on April 9th. The 23-year-old woman alleges that she met Conley and his friends in an elevator at the hotel and accompanied them back to their room, at which point she declined group sex from Conley and his friends, then Conley raped her and kicked her out of their room. The woman went to the hospital, where a rape kit we performed, but the woman refused to speak to police.
Conley says that the rape accusation is "completely false", he states that the woman became angry when Conley kicked her out of his hotel room, which led her to come up with these false rape allegations for revenge. Multiple witnesses say Conley was never alone with the woman, that Conley never touched the woman, and furthermore Conley says has video evidence that prove his innocence.
The damage has been done, I originally had Conley pegged to be selected fourteenth overall by the Philadelphia Eagles in my 2017 NFL Mock Draft, but these allegations which may be false are going to cause Conley to slide on draft day. Just imagine the public relations nightmare if an NFL team spent a first round pick on a player, and then new evidence was released, which indeed proved that this player was a rapist.
If Conley is innocent, and these allegations are proven false, he is going to lose millions of dollars because some girl's feelings were hurt when Conley kicked her out of his hotel room. Mission accomplished by her. This is why I think we need to institute a punishment system for any person that makes false claims of sexual assault in order to hurt someone else, making false accusations should be punishable by serious jail time.