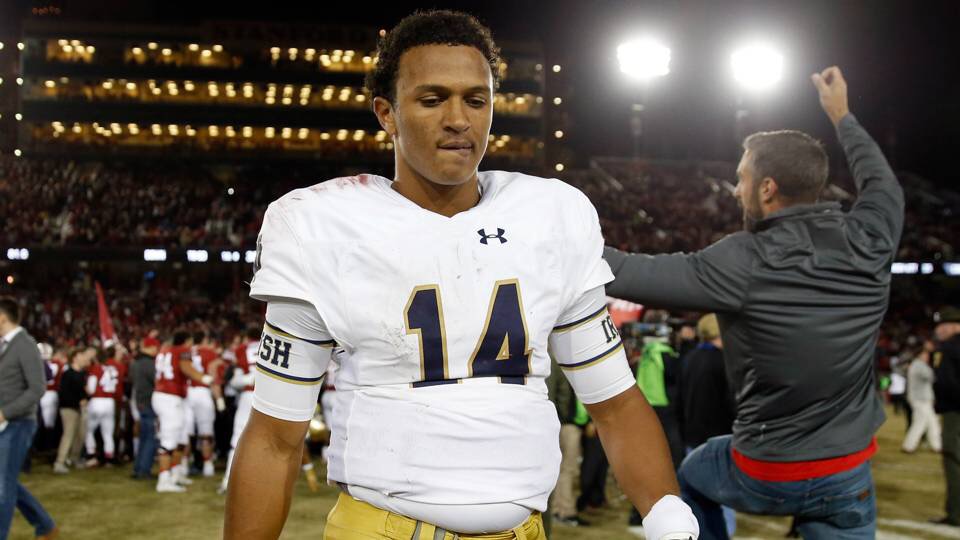 For all the unknowns about quarterbacks in this year's NFL Draft, one thing is for sure: Notre Dame quarterback DeShone Kizer does not lack for confidence. The Jets , who draft sixth overall, put Kizer through a private workout as they evaluated him. If he falls out of Round 1, could he be there for the Jets at No. 39 overall? (Quarterbacks Mitch Trubisky and Deshaun Watson are expected to be drafted ahead of Kizer.) Nobody knows the answer to that right now. But in the meantime, enjoy these quotes from Kizer, comparing himself to two star quarterbacks: the Patriots' Tom Brady and the Panthers' Cam Newton. Kizer said all this in an interview with USA Today: "No one else can do what I can do. And I've truly figured out in this [pre-draft] process, if I can maximize all my potential in every aspect of the game - this is bold - I do have the ability to be the greatest quarterback to ever play. Imagine taking Brady's intellect and Brady's preparation and putting it on a guy with Cam Newton's body. Why can't I be the greatest? The only thing stopping me from it is me. That's what's driving me now." Well, OK, then. Kizer was right about one thing, at least: Those are indeed bold statements, considering his college coach, Brian Kelly, questioned Kizer's decision to turn pro early. Kizer also spent some time in his USA Today interview basically saying he is better than the other top three quarterbacks in this draft class — Trubisky, Watson, and Patrick Mahomes II: "Name a college quarterback who goes into the game-plan meetings on Monday and throws his notes at the coaches. No one else game plans the way I do. No one else prepares the way I do. No one else knows football the way I do. No one else is as big as I am. No one else is as powerful a runner as I am. Pat Mahomes might throw the ball 80 yards, and I can only throw the ball 72, but I guarantee he can't throw an out route the way I can." The beauty of sports is that, eventually, Kizer will get his chance to back up these words. Let's see if he can do it. He has set the bar awfully high for himself.
2017 NFL Draft prospect and former Notre Dame quarterback DeShone Kizer is certainly confident or cocky or full of himself. During an interview Kizer claimed that he has a chance to be the greatest quarterback to ever play the game, and that he has the intellect and preparation of Tom Brady, but inside the body of Cam Newton.
Way to set reasonable expectations, DeShone! So humble!
Does DeShone Kizer know that we all saw him underachive in college? He lost a lot of games. He committed a lot of turnovers.
I do think that DeShone Kizer has a chance to be a good NFL player, he's big and has a strong arm, but he needs development. I've got him going to the Arizona Cardinals in the second round of the 2017 NFL Draft.
That's like me saying that SportSmasher.com is changing the world of sports news, with the 24/7 coverage of ESPN, coupled with the humor of Chappelle's Show. Oh wait, that's true.
For More On The NFL Draft From SportSmasher.com CLICK HERE