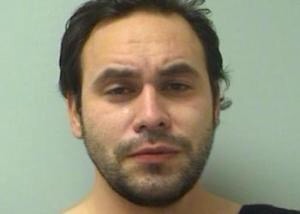 Metro Jared Kreft, 30, was discovered inside a barn with a marijuana pipe and a jar of petroleum jelly, according to court documents. He was also wearing a face mask and trousers with a hole cut in the crotch area. And police say Kreft told them he had been watching 'horse pornography' before going to the barn, performing oral sex on the horse there and then trying to arouse the horse with his hand. When Marathon County detectives searched Kreft's apartment in Wausau, Wisconsin, they found a small amount of marijuana, but no horse porn. Kreft was charged with sexual gratification with an animal sex organ, possession of drug paraphenalia, possession of marijuana as a repeat offender and bail jumping.
I do not understand what sort of gratification Jared Kreft was getting from giving this horse a blowjob, but I guess just like a chick that really likes to give head, there are creepy people who are into animal sex that enjoy giving head too. Does the horse even understand what's going on while getting blown by some dude? It's not like blowjobs exist in the animal kingdom, and the horse is probably extremely confused, thinking "Weird, one of those pink monkeys who sometimes sit on my back has my dick in his mouth. I should kick him…but it feels kind of good, so I'm going to see how this plays out." I am thinking that Jared Kreft was just trying to get the horse going, because he had lube with him, and I assume that means he was planning on getting penetrated by the horse. Gross. Jared Kreft should have read up on Mr. Hands, the guy who died due to a ruptured anus after being a power bottom for a horse, which should serve as a cautionary tale.
Is this the horse version of the "O-Face"?