CBS12When temperatures dipped in South Florida Wednesday night the iguanas couldn't hang. "They'll fall out of trees. They'll end up in areas where your cars are, parking lots, areas where they're cold stunned," said Emily Maple. Maple is the reptile keeper at the Palm Beach County Zoo. She said the cold blooded invasive species freeze when it gets below 45 degrees. "If it's just for a day or two they'll just get to where they're completely frozen in time. They're still able to breathe. They're still able to do bodily functions just very slow," said Maple. So when you find them they're not necessarily dead. "Once it gets above 50 degrees they'll start to activate and move around," said Maple. If the temperatures dip below 45 degrees for more than two days they'll likely die, often from pneumonia. "Put then over to the side if you feel comfortable to put them in the sun, or put them off the road so you're not running them over," said Maple. And they may just thaw out.
It's the coldest that we at SportSmasher.com can ever remember it being for consecutive days on the East Cost, after a massive snow storm, the wind chill has temperatures below freezing here in the New York Metro area. It's cold in sunny Florida (how cold is it?) it's so cold in sunny Florida that iguanas are freezing and falling out of trees. The good news for these iguanas is that they are not dead, they are just stunned, so helpful humans have been advised to place them in the sun so they thaw out and regain their senses. Of course, this is happening in Florida, so I guarantee that some weirdos are dining on iguana soup tonight. Frozen iguanas = free meal.
For More On Invasive Species From SportSmasher.com CLICK HERE
Only in Florida: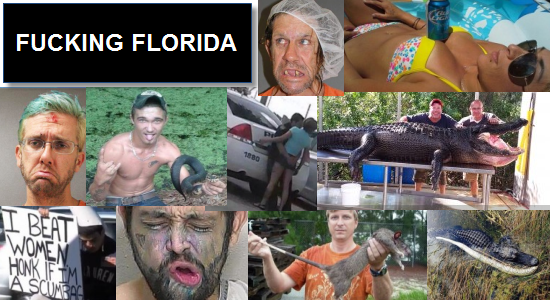 This concludes another chapter of "Fucking Florida: Tales From America's Most Fucked Up State" for more, click the ""Fucking Florida" tag on this page.