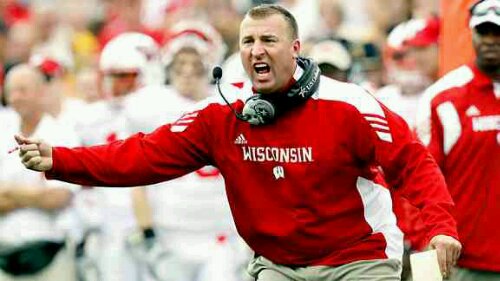 ESPN Wisconsin coach Bret Bielema has accepted the vacant coaching position at Arkansas, a source told ESPN. Bielema owns a 68-24 record in seven seasons at Wisconsin, which is set to make its third consecutive Rose Bowl appearance despite going just 8-5 this year. The Razorbacks went 4-8 this season under John L. Smith.
A great hire by Arkansas, Bielema is an excellent coach who is still young (just 42) and coaches a run heavy style of football which should succeed in the SEC.
I am surprised that Bielema left Wisconsin, the Razorbacks needed a great hire following the disasters that were the end of Bobby Petrino's tenure at Arkansas and the brief career of John L. Smith.
Big win for Arkansas. Let's see if Bielema can be as successful at recruiting mammoth offensive linemen and talented running backs in the highly competitive recruiting atmosphere of the South East as he was in the Midwest.
Early candidates for the Wisconsin opening include Seattle Seahawks offensive coordinator Darrell Bevell, a Wisconsin alumni and Tampa Bay Buccaneers offensive line coach Bob Bolstad who was the Badgers offensive line coach from 2006-2011.
Expect to hear Notre Dame defensive coordinator Bob Diaco's name mentioned for every openings this season, he should be one of the hottest coaching candidates in the country.