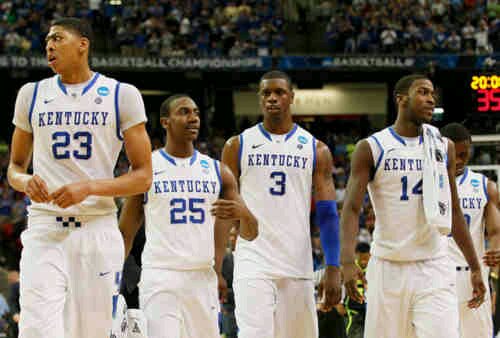 2012 NBA Mock Draft Version 1.0
2012 NBA Mock Draft Version 2.0
An action packed NBA Offseason is approaching quickly that features a loaded free agent market, the 2012 Summer Olympics in London and the deepest draft in recent memory. This draft is so deep that players with superstar potential could be available in the late teens and into the early 20's, while you can find players who may develop into starters down the road in the second round. We are getting closer to the NBA Draft, which takes place on Thursday night, June 28th so it is time for our One Week Away Countdown Mock Draft (Version 3.0):
1 ) New Orleans Hornets (21-45) - Anthony Davis (Power Forward/Center) 6'11 220lbs Freshman, Kentucky - This was exactly the type of franchise saving win that the Hornets needed after trading cornerstone Chris Paul to the Clippers and beginning their rebuilding effort. Anthony Davis is the type of skilled big man that can quickly alter the future of a franchise and the Hornets needed him in a big way. Although I do not think he is a franchise savior who will turn things around instantly, Davis is absolutely be a step in the right direction. He is not yet a major scoring threat, but he is extremely athletic and has good hands, he will instantly upgrade rebounding and interior defense in New Orleans. He needs to add bulk and refine his offensive game, but paired with Eric Gordon and whoever the Hornets pick with the tenth overall selection in this draft, and they are headed quickly in the right direction. UPDATE: As I was preparing to post this article, the Hornets made the excellent move of trading center Emeka Okafor and small forward Trevor Ariza to the Washington Wizards for Rashard Lewis and a second round draft pick (#46 overall). I am very impressed, this move will save them roughly $30 million once they buy Lewis out. Now they can match any offer for restricted free agent shooting guard Eric Gordon comfortably and still be a player in the free agent market, excellent move.
2 ) Charlotte Bobcats (7-59) - Thomas Robinson (Power Forward) 6'9 237lbs Junior, Kansas - A basketball fan has to feel bad for the Charlotte Bobcats, they were by far the worst franchise in the league, and lose out in a lottery when there is a consensus first overall pick in the draft. Over the past few weeks Robinson has gained some steam, and at this point, I have to give him the nod over Kentucky's Michael Kidd-Gilchrist as the favorite to be selected second overall in the draft. Robinson is doing and saying all of the right things during the NBA Draft process and rumors are that, although the Bobcats love how hard Michael Kidd-Gilchrist works and his elite defensive mindset, he may be a few years away and needs development on the offensive end. The Bobcats need help now, and Robinson is physically mature and ready to contribute immediately. He plays above the rim, is an excellent rebounder and defender and can shoot the jumper. There is still a chance that the Bobcats trade this pick, and they have made it known that they are looking for a veteran and a draft pick in exchange, one rumor has the Memphis Grizzlies considering trading All Star small forward Rudy Gay and their first round pick (26th overall) for the second selection. UPDATE: North Carolina swingman Harrison Barnes has been wowing scouts at his workouts and is now a legitimate option with this pick as well. They like Andre Drummond, but the last thing that owner Michael Jordan wants to do is draft the second coming of Kwame Brown, a mistake he made first overall with the Wizards. Robinson is the safe pick and the Bobcats cannot afford to miss.
3 ) Washington Wizards (20-46) - Bradley Beal (Shooting Guard) 6'5 195lbs Freshman, Florida - The Wizards are a team that is loaded with talented, but immature players, lead by point guard John Wall. Beal has the most refined offensive game in this draft and is a no brainer for the Wizards if he is still on the board with the third pick. He is an excellent complement to Wall, who is more of an athlete than a shooter, and fills a gaping hole in the backcourt. His silky smooth jumper will open up the rest of the Washington offense, and all of the elite athletes on the roster will find it much easier to attack the rim. If the Wizards draft Beal, he instantly becomes the starting shooting guard, and present starter Jordan Crawford is regulated to offensive spark plug off the bench which is the role he is best suited for in the NBA. I think this pick is the perfect fit for both Beal and the Wizards, he is exactly what a team loaded with elite athletes and no shooters needs. UPDATE: I am still hearing that the favorite to be selected here is Beal, who the Portland Trail Blazers really like, and who they are hoping will fall to fourth overall. I am also hearing that the Wizards like Harrison Barnes as well and he is in the mix here, as is Michael Kidd-Gilchrist. UPDATE: As I was getting set to publish this, the Wizards sent a second round pick (#46) and the expiring contract of small forward Rashard Lewis to the New Orleans Hornets for small forward Trevor Ariza and center Emeka Okafor, lessening the need for a big man or athletic wing player even more, while increasing the Wizard's need for a true shooting guard. Expect this pick to be either Beal or Barnes even more now, you have to think a player who can shoot the ball effectively is at the top of their list, and I'm still giving the nod to Beal.
4 ) Cleveland Cavaliers (21-45) - Harrison Barnes (guard/forward) 6'8 210lbs Sophomore, North Carolina - It is no secret that the Cavs loved Harrison Barnes during the 2011 NBA Draft process and were considering selecting him with the fourth pick last year, until he decided to go back to school. They get their chance and Barnes would provide a huge upgrade at a position where they definitely need help. The Cavs need a young shot maker on the wing to grow up with point guard Kyrie Irving and power forward Tristan Thompson, and Barnes fits that bill. UPDATE: There is a rumored trade that has supposedly been discussed, the Cavs love Barnes and think he will be available at sixth overall, so they would trade the #4 & #24 picks to the Portland Trail Blazers for the #6 & #11 picks, and the Blazers would select Bradley Beal with the fourth pick if he is available. I think Beal is going to the Wizards third overall, although they may opt for Michael Kidd-Gilchrist or Thomas Robinson. I am hearing that the Cavaliers like both Beal and Barnes and would be happy with either player, as they feel they need a shooter.
5 ) Sacramento Kings (22-44) - Michael Kidd-Gilchrist (Small Forward) 6'7 210lbs Freshman, Kentucky - I am really confused by this Kings team, because when you look at their roster on paper, they look like they should be a playoff contender. They have a lot of very good individual basketball players who really have no clue how to play on a basketball team. If I were in charge, I would look to trade Tyreke Evans and other pieces in a deal that would land me a point guard that knew how to run the show, because there is a lot of talent here with no basketball IQ. In this scenario the Kings get extremely lucky, as they draft the hardest worker (and in many opinions second best overall player) in the draft, Michael Kidd-Gilchrist with the fifth overall selection. Kidd-Gilchrist will bring a culture change to Sacramento with his hard work and leadership, which this team sorely lacks, and desperately needs. He will immediately be an elite defensive player and will be able to score in transition, his jump shot needs work, but he will spend countless hours in the gym working on this facet of his game. Perfect fit.
6 ) Portland Trail Blazers via Brooklyn Nets (22-44) Damian Lillard (Point Guard) 6'2 185lbs Junior, Weber State - If the first round of the draft shakes out like this, the Blazers will have an interesting decision to make, do they elect to go with UConn big man Andre Drummond or select the point guard that they need so badly in Lillard? It is tough to pass on the potential that Drummond has, and the Blazers could really use his athleticism and size in the paint, however he needs time to develop and Lillard is ready to start right away. There is no doubt that Lillard will not be around with the Blazers next pick (#11 overall) and his stock is soaring as he has showcased excellent shooting ability and athleticism at his workouts and wowed NBA Scouts. Although this is a deep draft, there is not a lot of point guard depth, so the Blazers will hope a big man falls to them with the eleventh pick and grab their point guard of the future in Lillard here.
Thoughts On Trading This Pick From A Brooklyn Nets Perspective
7 ) Golden State Warriors (23-42) - Andre Drummond (Power Forward/Center) 6'11 275lbs Freshman, Connecticut - Golden State did an embarrassing job of tanking to make sure they kept this draft pick and it worked out, because it is top seven protected, and if it fell out of the top seven it would have been sent to the Utah Jazz. They keep the pick, and use it to land the developmental big man they so desperately covet in Drummond, who should be a monster in the paint for the Warriors for years to come. Drummond is huge and is a ridiculous athlete for his size, he has yet to put it all together on the court, but the sky is the limit with him. Some scouts see Drummond as a cross between Dwight Howard and Amare Stoudemire in the pros, and although he is a few years away from becoming a superstar, the potential is there. UPDATE: I am not sure what the Warriors do if both Drummond and Thomas Robinson are off of the board, but one rumor is the Warriors are interested in Syracuse combo guard Dion Waiters, however this may be a smokescreen as they are desperate for size and toughness in the paint. I would not be shocked if the Warriors package some picks in an attempt to move up a few spots to secure a top flight big man, as they have two first round picks (#7, #30) and two second round picks.
8 ) Toronto Raptors (23-43) - Jeremy Lamb (Shooting Guard) 6'5 185lbs Sophomore, Connecticut -  2012 will be a big season for the Raptors, as they will get their 2011 first round (5th overall) draft pick, Lithuanian center Jonas Valanciunas who has been playing well overseas along with whoever is selected with this pick. The Raptors need a sharpshooter from the outside, and Lamb may be one of the best in this draft, he is long and can create his own shot. The Raptors still have some holes they will need to fill, but the addition of Lamb and Valanciunas will help them become much improved during the 2012 season. Damian Lillard, if he falls this far, would be an option as would Syracuse combo guard Dion Waiters, however I hear they like Lamb and he gets the nod here due to his shooting ability. It is also a known fact that the Toronto Raptors have discussed trading this pick for a veteran small forward, and have targeted players such as the 76er's Andre Igoudala, the Grizzlies' Rudy Gay or the Bulls Luol Deng as potential trade candidates.
9 ) Detroit Pistons (25-41) - Meyers Leonard (Center) 7′ 240lbs Sophomore, Illinois - The Pistons are known to covet a true center, so they can have the flexibility to move 2010 first round pick Greg Monroe to power forward, which is his more natural position. Andre Drummond has the Pistons drooling, but it is highly unlikely that he will last this long, and I cannot see him getting past the Golden State Warriors in worst case scenario. Instead they have to reach for a player that is a project and a gamble, but who has seen his stock skyrocket over recent weeks. Leonard is a great athlete for his size with a nice shooting touch, but he is still very much a work in progress, and needs time to develop. If the Pistons really want a big man, they may be forced to gamble a bit, or they could instead look to fill another need. All the word out of Detroit has been about getting bigger inside, and if that is the case, the most logical pick is Leonard.
10 ) New Orleans Hornets via Minnesota Timberwolves (26-40) - Perry Jones III (Forward) 6'11 235lbs Sophomore, Baylor - The Hornets now have Anthony Davis on board and they will do whatever it takes to keep restricted free agent shooting guard Eric Gordon, but after those two players, the roster is pretty bare.  They could really use a talented young point guard, however this is too early for Kendall Marshall, and he is the next best point guard prospect in the draft. Instead the Hornets swing for the fences and select a player that has as much upside as anybody in the draft, Perry Jones III, who was once considered a candidate to be selected first overall. Jones has some issues, he wants to play like a shooting guard in the body of a power forward, and clearly needs some maturity and development before he is ready to star in the NBA. However, there is a chance he develops into a superstar who can score from either forward position down the road in the NBA, if he works at it and in this scenario the Hornets take a chance on him.
11 ) Portland Trailblazers (28-38) - Tyler Zeller (Center) 7′ 235lbs Senior, North Carolina - If the draft breaks this way, it will be tough on the Blazers, they end up with Lillard at #6 and have pretty weak crop of big men available at #11. Zeller will never be a star on the next level, however I think he is a bit underrated at this point, he can run the floor for a big man and knows how to put the ball in the basket around the rim. I wonder, would Blazers fans rather have Drummond at #6 and Kendall Marshall at #11 or Lillard at #6 and Zeller at #11? The other big man options left on the board for the Blazers in this scenario would be Zeller's teammate John Henson, or Mississippi State Power Forward Arnett Moultrie, whose game is too similar to LaMarcus Aldridge, the Trailblazers current best player. Drafting a combo guard like Syracuse's Dion Waiters could be another interesting option here, but it all depends on what they do with the #6 pick.
12 ) Milwaukee Bucks (31-35) - Moe Harkless (Small Forward) 6'8 190lbs Freshman, St. John's - The Bucks are really going to get up and down the court next season, lead by point guard Brandon Jennings and shooting guard Monta Ellis, they should be one of the fastest team in the NBA. Although I could see them drafting a big man here, Meyers Leonard and Tyler Zeller are both off of the board, and they have too many players in the mold of John Henson on the roster already (Epke Udoh, Larry Sanders). Since they may lose Ersan Illyasova, who is an unrestricted free agent, and although they do already have Tobais Harris on board small forward will become a weakness. Harkless is flying up draft boards right now, he is an elite defensive player who is a supreme athlete on the court and excellent scorer, especially in transition. His jump shot needs work, but if you give Harkles a few years to develop, he could be a special player in the NBA and it will be fun to watch him run the court with this Bucks team in the future. UPDATE: I'm regretting not having the Bucks go big here, it's their biggest need, and I keep hearing they LOVE John Henson.
13 ) Phoenix Suns (33-33) - Dion Waiters (Shooting Guard) 6'4 215lbs Sophomore, Syracuse - When I think of the poorest run organizations in the NBA over the past five years, the Suns are right at the top of the list, and the fact that they never won a title during the Steve Nash era needs to be considered an absolute failure. They would be one of the worst teams in the NBA, but the consistently stellar play of Nash has kept the team mediocre, and they are stuck picking in the middle of the first round seemingly every year. Nash is 38 years old and a free agent this summer, so it is time for the Suns to truly bottom out and enter rebuilding mode, and they could do a lot worse than starting out with the Waiters. He is an explosive scorer and great athlete who has a little poor man's Dwayne Wade to his game, plus he is tough, and the Suns are a notoriously soft team. I have seen Waiters projected to be drafted much higher than thirteenth overall, and he could be a steal here for the Suns. UPDATE: I think that Waiters will be gone by this point, and as I have said before, shooting guard is clearly the deepest and most interesting position in this draft. I could not find a fit for Waiters earlier, I know Toronto is interested, but once the Lamb-to-Toronto rumors started swirling Waiters began to fall and ended up here.
14 ) Houston Rockets (34-32) - John Henson (Power Forward/Center) 6'11 210lbs Junior, North Carolina - The Rockets have been collecting assets for years (including the 14th and 16th picks in this draft), and have a lot of young players with potential and a ton of depth, it may be time to finally ship some of the assets out and acquire some legitimate star power. The Rockets could also really use some young size up front, as both Samuel Dalembert and Marcus Camby are past their prime. Henson reminds me a bit of Camby when he came out of UMass, he is long and needs to get much stronger, and while not a great scorer there is plenty of room for development. Talent meets need here, and he is another young asset that the Rockets can package to land the star power which general manager Daryl Morey covets. UPDATE: I still wonder if the Rockets could ship some of their many assets out of town and acquire a legit superstar such as Dwight Howard from the Magic or Pau Gasol from the Lakers, or another player that becomes available. Houston does not have a legitimate superstar to send back in return, however, they do have a great package of draft picks and players that could trump most offers.
15 ) Philadelphia 76ers (35-31) - Terrence Ross (Shooting Guard) 6'6 195lbs Junior, Washington - The 76ers are a talented young team which surprised many people least season, as they played extremely hard under head coach Doug Collins and advanced to the second round of the playoffs before falling to the Celtics in seven games. While the team is loaded with young talent, they do not have a player on the roster that can consistently hit three pointers, and Ross is one of the best shooters in this draft class. In fact, I think Ross is underrated as a prospect overall, and could be a very good NBA caliber shooting guard. He needs to get stronger, but he is extremely athletic and has excellent size and great accuracy on his jump shot. He reminds me a little of James Harden when he came out of Arizona State, though not as strong or as good of a ball handler, and I think he will be a very good pro.
16 ) Houston Rockets via New York Knicks (36-30) - Kendall Marshall (Point Guard) 6'4 188lbs Sophomore, North Carolina - In this scenario, the Rockets have already drafted John Henson, and now can upgrade their backup point guard spot (behind Kyle Lowry), because and could be in danger of losing Goran Dragic as a free agent this summer. Marshall is the best pure point guard in this draft, he is a great passer with excellent court vision and good size for the position. He cannot shoot, and needs to work on his offensive game, but he reminds some scouts of a young Andre Miller because of his talents as a distributor. Marshall becomes another asset for a Rockets team that seems to have them everywhere, I think that they will need to make some trades to drastically improve their roster this summer, because after this draft they will be too deep, without a lead superstar.
17 ) Dallas Mavericks (36-30) - Terrence Jones (Forward) 6'8 244lbs Sophomore, Kentucky - Dallas clearly needs to get younger and their plan to sign Dallas native and current Brooklyn Nets point guard Deron Williams this offseason is no secret. However this is a team that really showed it's age in 2011 and veteran players such as Jason Terry, Jason Kidd, and Shawn Marion could find themselves playing elsewhere in 2012. The Mavericks need a youth movement, and in this case, they get extremely lucky. If I were running an NBA Team, the talented Jones would be long gone before this point in the draft, I think he will have a very successful NBA career. However there are some major weaknesses to Jones, he does not really have a position in the NBA and has a reputation for being difficult to coach, plus he likes to shoot the three a little too much for my liking. These are the only reasons that Jones falls this far in the draft, and makes Dallas one of the luckiest teams in the first round. Jones can score, he is strong and athletic, is a great passer for his size and is an exceptional ball handler. He would be an excellent fit in Dallas and give them the youthful boost they desperately need.
18 ) Minnesota Timberwolves via Utah Jazz (36-30) - Austin Rivers (Shooting Guard) 6'4 200lbs Freshman, Duke - Another team that gets extremely lucky in this mock draft, the Timberwolves need one of the shooting guards (Lamb, Waiters, Ross, Rivers) to fall to them at #18 and in this case the final one is available. The biggest weakness, by far, on this young but talented Minnesota team is clearly shooting guard. They T-Wolves have missed on this position in a few recent drafts, and really need a guy who can step in at the two and contribute immediately. Here they get their man, and although they may prefer a marksman like Ross or Lamb, Rives has star potential and would be an ideal fit in the Minnesota backcourt next to Rickey Rubio. Rivers can shoot it, but he is hardly lights out yet and needs to be more consistent with his long range shot, and he excels at getting to the basket and the free throw line. Plus he is a coach's son (father is Doc Rivers) so he has a high basketball IQ and would fit well on a team with Kevin Love and Rickey Rubio.
19 ) Orlando Magic (37-29) - Arnett Moultrie (Power Forward) 6'11 225lbs Junior, Mississippi State - The Magic are entering year two of "Dwight Howard Drama" which is not a situation any team wants to be in, and they need to start to acquire talent for the future rebuilding effort which is surely headed their way, with or without Howard. Moultrie would be a nice complement to Howard, because he can really stretch the defense with his jump shot, and will not clog up the middle of the paint for Howard. As we know Howard is also the best rebounder in the NBA, but the addition of another competent rebounder like Moultrie would go a long way in Orlando. Moultrie also struggles on the defensive end of the court, but with Howard patrolling the paint, Orlando could mask this weakness. I actually think Moultrie would be a great fit in Orlando with Howard, and a step in the right direction for the future if they trade Howard. One thing is clear, Orlando needs to draft the best player available regardless of position, and with the deep talent pool in this draft someone talented should slide to them at #19.
20 ) Denver Nuggets (38-28) - Jared Sullinger (Power Forward) 6'9 280lbs Sophomore, Ohio State - The Nuggets are another team that is totally loaded with young talent, but needs a true star to get to the next level, except they are not going to find one this late in the draft. We all know about Sullinger being diagnosed with a serious back condition, however at some point in the draft, the rewards that could come from drafting Sullinger outweigh the risks of his bad back. The addition of a healthy Sullinger could make the Nuggets very dangerous, his ability to score the basketball and rebound inside is something that this team sorely lacks, and his addition would make the depth of the Denver roster scary. The Nuggets roster has enough depth that they can afford to gamble on Sullinger and give him nights off if his back acts up, and if he is healthy, Sullinger would be a perfect fit on this Denver team.
Thoughts On Jared Sullinger's Injury
21 ) Boston Celtics (29-27) - Fab Melo (Center) 7 feet, 274lbs Sophomore, Syracuse - The Celtics desperately need to get younger, and they need to start building depth for the quickly approaching Post Big Three era, especially in the paint. Melo struggled academically at Syracuse, but the Brazilian is new to the English language, and this has been his excuse for missing the NCAA tournament for academic reasons. Melo has gotten in shape and been very impressive during his recent workouts with NBA scouts, he is an excellent rebounder and shot blocker who can finish inside, and his giant presence would be a welcomed presence in the middle for this aging Celtics team.
22 ) Boston Celtics via LA Clippers (40-26) - Royce White (Forward) 6'8 240lbs Sophomore, Iowa State - The Celtics need to go with a big man with one of their two back-to-back picks in the first round, and with the second they have the luxury of going with the best player available, who in this case is Royce White. White is one of the most talented players in the draft, he has an NBA body and is an excellent ball handler, rebounder and scorer. The reason White will slide a bit on draft day is because of his well documented anxiety issues and fear of flying, however a veteran team lead by head coach Doc Rivers is the perfect spot for him to grow up and overcome his fears. White was very impressive during the interview and workout process, and byt his point in the draft, Boston can afford to take a bit of a gamble.
23 ) Atlanta Hawks (40-26) - Jared Cunningham (Shooting Guard) 6'5 194lbs Junior - The Hawks really need to find a reliable point guard (and they are not taking Marquis Teague, considering they already have his big brother), but that is not going to happen at this point of the draft. Instead they grab rising combo guard Cunningham, who has been very impressive in workouts, and could be one of the steals of the draft down the road. Cunningham is a lengthy combo guard who is an incredible athlete and excels at getting to the rim. He is a great defensive player, except his shot runs hot and cold, and he needs to improve his consistency with his jumper. If Cunningham is able to improve his jump shot and add some strength, he has a chance to be a nice player, he is an explosive athlete.
24 ) Cleveland Cavilers via LA Lakers (41-25) - Andrew Nicholson (Power Forward) 6'9 222lbs  Senior, St. Bonaventure - The skilled senior improved every year and has a nice inside outside game with an NBA ready body. Teams will start to consider him in the late teens or early 20's and his stock is currently rising. He did not regularly play against top competition, but played well when he did. Nicholson should be a solid contributor as a reserve player early in his NBA career. He would be a nice addition to replace impending free agent Antwan Jamison on an quickly improving young Cavs core, he is often compared to a young David West, and the Cavs could use a player like him.
25 ) Memphis Grizzlies (41-25) - Marquis Teague (Point Guard) 6'2 178lbs Freshman, Kentucky - The Grizzlies are a deep veteran team, but really do not have anything at point guard behind Mike Conley, so drafting a young developmental guard with a high ceiling to back Conley up makes a lot of sense. Teague would have been a top ten pick if he went back to Kentucky for his sophomore year, he is a super quick guard who is great with the ball, however he needs to work on his jump shot. He could start off as a backup point guard, and may develop into a starter down the road with some seasoning, a good project for this veteran group to take on in Memphis.
26 )  Indiana Pacers (42-24) - Tony Wroten Jr. (Guard) 6'5 205lbs Freshman, Washington - The Indiana Pacers are a pretty loaded young team, and clearly their top priority this offseason is keeping restricted free agent center Roy Hibbert. You get the feeling that the Pacers will try to trade some of their depth for a big time scorer, but besides that they do not have a lot of needs and can afford to attempt to catch lightning in a bottle by selecting Wroten Jr. There is little doubt that Wroten Jr. is a big time talent, he has size and can get to the basket plus elite passing skills, however he needs a lot of work on his jump shot. I have said that about a lot of players in this mock draft, let me emphasize it this time, Wroten Jr cannot shoot. He is a great athlete who can handle the ball, and projects as a combo guard on the next level. Questions about his attitude also contribute to him slipping this far in the draft, if you consider him a point guard and not a combo guard and think you can fix his jumper, he could be selected much higher. Why did Celtics All-Star point guard Rajon Rondo slide on draft night? Because he couldn't shoot and had a bad attitude. Wroten Jr. is not the elite defender that Rondo was as a draft prospect, but he is bigger, and they have similar knocks that are causing them to slide. Maybe the Pacers can turn Wroten Jr. into an elite player, the base for it is there.
27 ) Miami Heat (46-20) - Jeff Taylor (Small Forward) 6'7 225lbs Senior, Vanderbilt - The Heat look like they are about to win the 2011-2012 NBA Title, and we know their goal is to get as many role players as possible who do not need the ball, and can support their "Big Three" of LeBron James, Dwayne Wade and Chris Bosh so they can continue to win multiple NBA Titles. In this scenario the Heat get a perfect fit, I think Taylor has ten-year NBA Role player written all over him. He is an excellent defensive player and strong character guy with a high basketball IQ who can knock down open shots with accuracy. If he can develop into the type of smart, savvy player who can knock down open shots and thinks defense first, he would be an ideal fit for this team, he would have the perfect mentor in Shane Battier.
28 ) Oklahoma City Thunder (47-19) - Evan Fournier (Shooting Guard) 6'7 206lbs, France - The Thunder are the best young team in the league, they were just not ready to win it all this season, and they will be back strong next year. This core of players is clearly talented enough to win it all, they were just not experienced enough, and it ended up costing them in the end. With good roster depth top to bottom, they can afford to draft a European prospect and stash him overseas for a few years as he matures, as general manager Sam Presti often did while employed by the San Antonio Spurs. Fournier is a good prospect, he is very long and athletic, but his jump shot needs work. The Thunder can afford to stash him in Europe for a few years as he continues to develop, and bring him over in the future, when he is ready to contribute.
29 ) Chicago Bulls (50-16) - Doron Lamb (Shooting Guard) 6'4 195lbs Sophomore, Kansas - The Bulls desperately need a shooting guard and have for years, and they find a good prospect this late in the draft in Lamb, who can knock down the open jumper and knows how to score. Lamb is a little undersized for the position in the pros and needs to add strength, but Derrick Rose should be able to get him plenty of open looks, and Lamb is a skilled enough shooter to knock them down. There is a chance, if he develops, that Lamb could become the backcourt-mate of the future for Rose which would have a huge impact in Chicago.
30 ) Golden State Warriors via San Antonio Spurs (50-16) - Quincy Miller (Small Forward) 6'9 210lbs Freshman, Baylor - In this mock draft, the Warriors have already gambled early and committed to developing UConn big man Andre Drummond with the seventh pick in the draft, so you would like to see them draft a more NBA-ready prospect here. I think that, if he is still on the board with the last pick of the first round, Miller has far too much upside to pass up. Quincy Miller was a top ten pick coming into the year based on his reputation, however he never got into rhythm at Baylor, and struggled. Miller entered the 2011 season at Baylor coming off of a torn ACL and never seemed fully recovered, this has also shown as he struggled a bit in workouts, but scouts know the talent is still there. If Drummond and Miller both develop to the top of their potential, the Warriors will have found a scoring forward and a dominant big man in this draft when we look back on it years later, and they might be NBA title contenders if both pan out.
JUST MISSED THE CUT:
Draymond Green (Small Forward) 6'6 235lbs Senior, Michigan State - I am a big fan of Draymond Green and have predicted him as a first round selection in each of my previous mock drafts, however due to his lack of an NBA position it makes it tough to find a fit for him. He is an experienced leader who is an excellent passer and rebounder, Green may never be a full time starter in the NBA, however he will make whichever team he joins better.
Festus Ezeli (Center) 6'11 255lbs Senior, Vanderbilt - I have had Ezeli mocked to the Warriors with the final pick of the first round in previous editions, and I think the it would make perfect sense, because we know Golden State is looking to get bigger and tougher in the paint. Ezeli would be an immediate upgrade for many teams as a backup big man, he is a tough interior defender and rebounder who is experienced and knows how to score around the basket. I had the Warriors selecting Andre Drummond at seventh overall in this mock, however, if he is not available and they go in a different direction early I think they pick Ezeli or maybe Kyle O'Quinn with the final pick of round one.
John Jenkins (Shooting Guard) 6'4 215lbs Junior, Vanderbilt - There is little doubt that Jenkins is one of the best pure shooters in the draft and belongs on an NBA roster, however this is a deep shooting guard class, which causes him to slide into the second round here. I question if he is athletic enough to be anything more than a three point threat off of the bench on the next level, but his quick release should make him a good one.
Will Barton (Shooting Guard) 6'5 165lbs Sophomore, Memphis - I really like Barton as a prospect, although he will need time to develop, he can score from anywhere on the court in hurry. He needs to get much stronger, he is only 165lbs on a 6'5 frame, however I think he has a clear role in the NBA as an offensive spark off of the bench. Reminds me a little of a young Jamal Crawford.
Tyshon Taylor (Point Guard) 6'3 185lbs Senior - Kansas - The experienced senior will have a career as a backup who can log big minutes if need be, and may eventually become a good starter on the next level. He makes a lot of mistakes with the basketball, which knocks him into the second round in this scenario, however he has good size, quickness and has improved his jump shot. He has a chance to be selected in the first round, and he'll make it in the NBA.
Kevin Jones (Power Forward) 6'8 250lbs Senior - West Virginia - Kevin Jones slides into the second round because he lacks a natural position in the NBA, he is a forward tweener who can play both positions, but will not excel at either. He does have a great motor and good length, he plays hard and has long arms, all traits that an NBA team will look for in a reserve forward off of the bench. I think his stock could rise in the coming weeks, and he could sneak into round one with terrific workouts.
Scott Machado (Point Guard) 6'1 180lbs Senior - Iona - The senior knows how to run an offense, he is an excellent passer and a well-rounded player who may get selected in the first round by a team looking for a backup point guard who does not make mistakes. He does not have great size and is not an exceptional athlete, however he is a heady player, who projects as a solid reserve point guard.
Kyle O'Quinn (Center) 6'11 240lbs Senior - Norfolk State - An athletic big man who is a good rebounder, O'Quinn will need a few year of development and NBA practice time to become a contributor, however the talent is there. He can put the ball in the basket plus he is an excellent defender and shot blocker, and if you are willing to give him a few years, he could contribute as a solid backup big man.
OTHER 2012 NBA MOCK DRAFTS: