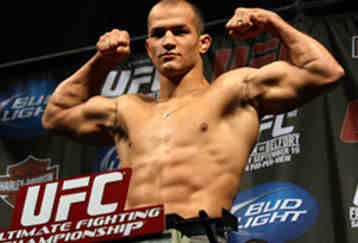 UFC 146 takes place in Las Vegas this Saturday night (May 26th) and although it is an excellent card loaded with many of the top heavyweight contenders in the world (including the heavyweight championship on the line) I cannot help but think about the card that we were originally scheduled to watch before the card was altered by an unfortunate event. The main event was supposed to be one of the most anticipated heavyweight championship matches of all time, the champion Junior Dos Santos taking on the challenger, Alistar Overeem. This would have been an incredible matchup, one that everyone who follows the sport would have been thrilled to see, and it would have been nearly impossible to predict a winner. We all know what happened next, Allistar Overeem failed a drug test (tested positive for elevated levels of testosterone) and was removed from the title bout, shaking up the entire card. I would have loved to see Overeem challenge Dos Santos for the title and am slightly disappointed that we do not get to see it (yet) however, the card overall is still outstanding, should be very entertaining to watch. Here is my preview and predictions for UFC 146:
NOTE: I'm not breaking down the preliminary card, although it will be fantastic, but here are my picks - Brown OVER Pineda, Teixeira OVER Kingsbury, Sass OVER Volkmann, Brandao OVER Elkins, Barboza OVER Varner, Miller OVER Dolloway (pumped for that one), Hardy OVER Ludwig. On to the main card and the heavyweights:
Stefan Struve (23-5) vs Lavar Johnson (17-5) - Fighting Stefan Struve is difficult for anyone in MMA, as the kickboxer from the Netherlands stands at an impressive 6'11" and is currently the tallest fighter in the UFC. Struve is not just a kickboxer, he has proved that he is very skilled on the ground, and owns several impressive submission victories over his career. Lavar Johnson on the other hand, is a dangerous man with otherworldly striking power, who enters the octagon with the intention of knocking your head off of your shoulders. He is not a skilled submission artist at all, of his 17 career wins, 15 of them are by knockout and he may have some trouble with the more technically based Struve. Johnson just scored a brutal knockout over Pat Barry at UFC on Fox 3 on May 5th and took this fight on ten days notice. Struve has to know he cannot strike with Johnson, and he needs to make this a technical fight to score a win. Johnson will charge out of the gate with a flurry of punches, and the longer Struve can extend the fight, the better chance he has. This should be an exciting once to start out the man card, I do not think Struve will be able to withstand Johnson's first round flurry of raw power. PREDICTION: Johnson Knocks Struve Out -Round one.
Stipe Miocic (8-0) vs Shane del Rosario (11-0) - A battle of undefeated fighters with different backgrounds, this fight should be a striking contest, and should be a lot of fun to watch, as both men will be looking for the knockout. This is a tough fight to call, and both fighters are evenly matched, if the fight does go to the ground I'll give the slight edge to del Rosario, who has finished fights with the armbar, omoplata and triangle choke. However Miocic is a well rounded athlete, who was a Golden Gloves Champion, Division I wrestler, and star baseball player in college,a nd eh will not be easily controlled on the ground. I think this bout goes to a decision and I am giving it to Miocic due to his pure athleticism. PREDICTION: Miocic wins unanimous decision.
Roy Nelson (16-7) vs Dave Herman (21-3) - A great matchup of two big well-known American Heavyweights, the arena will be buzzing when these two fan favorites take to the octagon. "Big Country" Roy Nelson was already well known by true MMA fans when he won the reality show "The Ultimate Fighter" season 10 and Dave Herman gained notoriety when he went undefeated in his first fifteen professional MMA fights. Both of these fighter are trying to rebound coming off of a loss, and we should be in for an entertaining matchup, because Herman is known for finishing fights and Nelson is known for rarely being finished. I think that this fight will be decided by one fighter gaining the advantage on the ground and winning a TKO victory due to punches forcing a referee stoppage. I am going with Nelson gaining the advantage on the ground, since he is a black belt in Brazilian Jiu-Jitsu and winning this fight by TKO (punches). PREDICTION: Nelson wins in second round by TKO.
Cain Velasquez (9-1) vs Antonio Silva (16-3) - Velasquez is the former World Heavyweight Champion, his only loss coming when Junior Dos Santos knocked him out with a thunderous barrage of punches 1:04 seconds into the first round of their title fight, costing Velasquez the title. His blend of excellent wrestling skill (former All-American at ASU) and pure knockout power makes him one of the most dangerous men in the UFC. His opponent "Bigfoot" Sliva is making his UFC debut, but is well known for his matches in Strikeforce as an imposing fighter with incredible strength and power combined with a black belt in Brazilian Jiu-Jitsu. This is another tough fight to call and it should be an excellent matchup, but I fully expect Cain Velasquez to rise to the occasion and get a win, which would thrust him right back into the Heavyweight Title picture. PREDICTION: Velasquez takes Silva down (for the final time) in the third round, wins by ground and pound following an excellent fight.
Heavyweight Champion Junior dos Santos (14-1) vs Frank Mir (17-5) - I have a lot of respect for Frank Mir and what he has done during his legendary MMA career, however I really am getting the sense that he has bitten off more than he can chew by challenging dos Santos for the Heavyweight Championship. Mir is one of the greatest heavyweights off all time, former World Heavyweight Champion and is a submission expert with strong striking abilities. However dos Santos is in the prime of his career and has the most skillful boxing ability for a big man that I have ever seen, coupled with extremely powerful hands. The only way that I can see Mir having a chance at upsetting dos Santos would be somehow getting him on the round and submitting him, which is much easier said than done. I think that this will be a quick title defense for dos Santos, much like he did to win the title from Velasquez, he lands big punches early and knocks Mir out in the first round. PREDICTION: dos Santos knocks out Mir in the first round, retaining the UFC Heavyweight Championship.