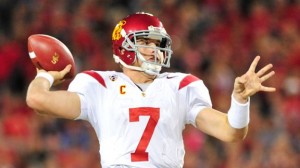 2011 Had "Suck For Luck", In 2012 We Will Have "Blow for Barkley"
At the beginning of the 2011 College Football Season there was little doubt that Stanford quarterback Andrew Luck would be the top pick in the 2012 NFL Draft. Luck was the best quarterback prospect most draft analysts had seen in a decade, and a question started getting asked within the NFL Draft community, "If a team has a hole at quarterback, should they tank the season in order to land Andrew Luck?" This was dubbed SUCKING FOR LUCK.
You know the rest. Peyton Manning missed the entire NFL Season following multiple neck surgeries, the Colts were horrible, and ended up with the top pick in the 2012 Draft. They will draft Andrew Luck first overall later this month, getting the top quarterback prospect we have seen in years, and having zero time between franchise quarterbacks. To put this in perspective, the Jacksonville Jaguars have NEVER had a franchise quarterback.
USC quarterback Matt Barkley is almost as good of a prospect as Andrew Luck, and I only have Barkley graded slightly lower than where I had Luck graded at this point last year. It's close. Barkley may even be a better pure quarterback than Luck, while Luck is a better overall athlete with a better NFL build (Barkley is 6'2 220 lbs, Luck is 6'4 234lbs) and has slightly higher on field intangibles.
As a junior at USC last season, Barkley completed 61.7 (308 of 446) of his passes for 3528 yards and 39 touchdowns to just 7 interceptions. He finished sixth overall in the Heisman Trophy voting and will be the favorite to win the award in 2012. His top receivers Robert Woods and Marqise Lee will both return as well (as does George Farmer and De'Von Flournoy), giving Barkely targets that he will be very familiar with. As long as the offensive line can fill the hole that will be left by losing left tackle Matt Kalil to the NFL Draft (he is projected to be selected third overall by the Vikings) I think Matt Barkely is the odds on favorite to be selected first overall in the 2013 NFL Draft.
That being said, will quarterback needy teams during the 2012 NFL season decide to "Blow for Barkley?"
The NFL is a quarterback league now, and every team needs a good one to have a chance to win the Super Bowl. This is why, if I were a team like the Miami Dolphins,Cleveland Browns, Kansas City Chiefs or Arizona Cardinals I do not gamble on drafting Texas A&M quarterback Ryan Tannehill in the first round. I wait a year, I go with a veteran quarterback, draft good young players in 2012 and hope to succeed.
If things don't work out, no big deal, the 2013 quarterback class should be loaded. Matt Barkley is at the top of the class with Tyler Bray (Tennessee), Landry Jones (Oklahoma), and Tyler Wilson (Arkansas) in the mix. I think all of these prospects have a much higher ceiling than Tannehill.
The General Manager who drafts Tannehill will be currently on a short leash and is buying themselves more time on the job. Tannehill could be a nice quarterback down the road, but he needs time to develop. He reminds me of Jake Plummer, a great athlete with a good arm, who is not ready to start on Sundays as a rookie.
If I were a GM with some job security, I work on building a good young team at other positions, start a serviceable veteran at quarterback, and hope everything clicks and the team makes some noise.
If the team stinks, that's fine too, we "Blow for Barkley" or "Bite for Bray" or "Lose for Landry". Whichever quarterback we end up with has some help around him. It's tough to sell a fanbase on, but its much better long term. If you are not the worst team in the league, trading up is always a possibility, like the Redskins did this year trading up to second to land Baylor quarterback Robert Griffin III.
Will "Blow for Barkley" become the new "Suck for Luck" and will tanking a season to land a top quarterback prospect become a common practice on the NFL? Was "Suck for Luck" just a one year deviant because he is that flawless of a prospect? We will answer these questions over the next 12 months.