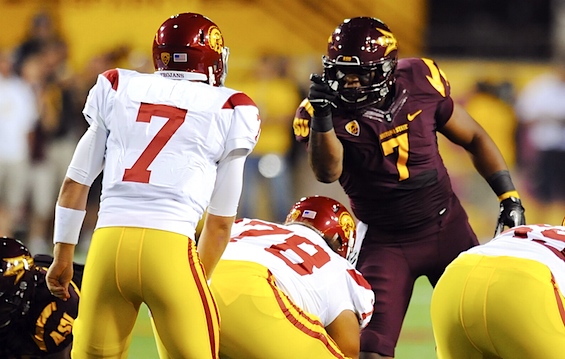 "Character Issues?!?!? What's A Character Issues?!?!?"
The senior bowl has passed, and we are two weeks away from the NFL Combine. As I sit here watching the clock at the dreaded "Day Job" on a Friday afternoon, I'd like to offer some thoughts on the 2012 NFL Draft.
Andrew Luck is going first overall to the Colts, they are cutting Peyton Manning and starting fresh, they are not trading him because everyone knows he'll be released and nobody is paying that bonus. I think he may head to Arizona or Miami, but think if he's smart, he goes to Seattle. RGIII is great, but he is not passing Luck, who may be the best quarterback prospect since Elway (or Peyton himself). Moving on.
Robert Griffin III will be the second pick in the draft, the question is, who mortgages their future to get him? The Rams will hold an auction for the #2 overall pick. If I'm the Browns, I offer both my first rounders in 2012 and my second in 2013 to move up two spots. We also know Dan Snyder and Mike Shanahan covet Griffin in DC. Many other teams will fall in love with Griffin before the draft, and the Rams can expect no shortage of intriguing offers for the second pick in April. If Cleveland wants RGIII tgat badly, they can trump any offer.
Not as many wide receivers will be drafted in round one as analysts currently think. Justin Blackmon from OKST is a sure thing, and if I'm the Rams, I make sure we end up with him. I think Michael Floyd (Notre Dame) lands somewhere in the first round probably late teens - early 20s, Alshton Jeffrey (South Carolina) might stick in late round one, with a great combine, because of his size. Kendall Wright needs to run an excellent 40 time at the combine to have a shot at late first round, but I'm starting to feel like he's a second rounder. Mohamed Sanu (Rutgers) and the other names you're hearing right now are second rounders. Receivers look great early in the draft process, but slide on draft day, as offensive linemen and pass rushers move up. Wide receiver is a luxury position, you can find guys (see Victor Cruz) who can get the job done. They are useless unless you are strong  at quarterback , who needs an offensive line and a defense. This is why receivers slide while the trenches rise in April, it happens every year.
A name you will hear earlier than analysts are currently projecting is Whitney Mercilus, a DE/OLB out of Illinois. As the draft closes in you'll start to hear him compared to the 49ers Aldon Smith, and there are some similarities there, except Mercilus is not quite the natural athlete that Smith was a year ago and is not yet as polished. Mercilus' tape holds up, he is explosive and strong at the point of attack. He makes plays in the backfield (16 sacks in 2011) and has a nose for the ball. I do not think Mercilus cracks the Top Ten, but could see Seattle, Dallas or the Jets being very interested shortly after. While I'm on the subject of pass rushers, Courtney Ingram from Alabama will hear his name called early (I thought top ten for a while, now I'm thinking Buffalo at ten is his ceiling, Jets at 16 are his floor). Some teams will like the more athletic Mercilus more when all is said and done. I would rank Melvin Ingram (South Carolina) third and Nick Perry (USC) fourth as DE/OLBs in this draft, and with such a high premium placed on pass rushers, all are probably gone within the top 20.
A player that everyone loves is North Carolina Defensive End Quentin Copels, and I get it, at 6'6 285lbs, he certainly looks the part of a Pro Bowl Defensive End. However, when you watch him of film and look at his stats (55 tackles 8 sacks in the ACC, which he should have dominated) nothing jumps out at you. To me, the problem with Coples is not motivation, he doesn't take plays off. He seems to lack a natural feel of the game, has trouble getting off of blocks and reading plays, something that is tough to teach. There is no doubt Coples belongs in the NFL, but I never see him as a multiple digit sack guy, or on the edge of a 4-3 front. I think Coples would be better off bulking up and moving inside like Chris Canty or as a 3-4 end, like Shaun Ellis. I don't touch Coples in the top ten.
-Stanford offensive guard David DeCastro will be a top ten pick, and he should be, because he is a coach's dream. They just don't make players like DeCastro, who is tough as nails, plays with a nasty steak, gets to the second level…I could go on. Maybe the best guard prospect I have ever seen, I would not be surprised if he is the second offensive lineman selected. He is as can't miss as they come.
Boston College linebacker Luke Kuechly will not be a first round pick. Sure he is an impressive tackler with great instincts, but he really does not stand out on film. Makes a lot of tackles, but does not blow plays up. Solid but unspectacular, I see him as a day two guy.
If Alabama safety Mark Barron goes in the first round, it will be late. In nearly every mock draft I have seen, he goes to the Jets at #16, which is just ridiculous. Don't get me wrong, Barron is very talented and will be a solid starter in the NFL, but he is more of a second rounder.
I expect that we will be hearing a lot of buzz about three defensive tackles leading up to the draft, Dontari Poe, Fletcher Cox and Michael Brockers. If you are a 3-4 team that needs a massive, space clogging nose tackle, then Poe (Memphis) is your man. At 6'5 350lbs, the massive Poe will be able to eat up blockers on the inside, and with nose tackles being so valuable, I expect Poe to rise up draft boards. Michael Brockers (LSU) has all of the potential in the world, he is huge (6'5 305lbs) athletic and strong. I wish he stayed at LSU for one more year (underclassman), because he could have been a top five pick in 2013, but he will rise based on potential alone. If a team will commit to him and let him develop, the sky is the limit for this versatile lineman. Fletcher Cox is more of a fiery perpetrator who plays hard every snap and gets up field, and brings pressure in a 4-3 front. Brockers is clearly a first rounder, while Cox and Poe will be gone by early round two at worst. When it comes to defensive tackles, I am not understanding all of the early buzz around Penn State's Devon Still. I like Still, and think he can be a solid pro, but think he falls into late round two at the end of the day. I rank him behind the other three names I've mentioned above. Also Jerrell Worthy (Michigan State) is a third rounder, he takes too many plays off and needs a dominant defensive line coach to keep him motivated, while Mike Martin (Michigan) looks like a second rounder after an impressive senior bowl week.
When it comes to offensive tackles, I would rank them Ryan Kalil (USC) top four pick, Riely Rieff (Iowa) top ten pick, Mike Adams (Ohio State) top 15 pick, Jonathan Martin (Stanford) top 25 pick, Zebrie Sanders (FSU) late round one-early round two. Two Guards (DeCastro (mentioned above) and Cody Glenn (Georgia) go in the first, and one center (Pete Konz) late one-early two.
I think just one running back Trent Richardson from Alabama, goes in the first round, and I'm starting to think it will not be in the top five. You can find running backs.
Quick thought on the pure linebackers - Zach Brown from UNC will be drafted earlier than you think (perfect 4-3 OLB) and Donta Hightower is sliding, and will probably be a second rounder. As for Vontaze Burfict (ASU), I flip-flop on him every day, sometimes I think mid-round one, sometimes mid round two. Ten dollar skill set, ten cent head. Undecided on him.
Really, really poor tight end draft, so the Giants better look to find one in free agency (their top two tore their ACLs in the Super Bowl and will start the season on the PUP list).
Morris Claiborne (LSU) is clearly the best corner in the draft, but it's wide open after him. Dre Kirkpatrick (Alabama) should be second, but character concerns have risen due to his recent arrest, and Janoris Jenkins (North Alabama) is right there with his own set of issues. Then we have Alfonzo Dennard (Nebraska) but I think he is an early second rounder. At first I thought this was a strong cornerback crop, but I could see just two going in the first round and then a run in round two. A player I love is Brandon Boykin (Georgia), who is small (5'9 183lbs) but is a supreme athlete who can help your team in so many ways. He may never be a starter, but he will be an incredible nickel back, return man, and in kick coverage. If I am a strong team with some luxury picks, I look at Boykin late on day two, he is a player any organization would want.
So in summary, as of 02-11-2012 - Luck goes one, RGIII goes two, trench players and pass rushers will rise, while receivers will slide. Richardson won't go top five. There is good depth in the secondary, but other than Claiborne, there will not be a lot of first rounders. All of this will change after the combine, and I will update my mock draft then, this is just a rant/rave.