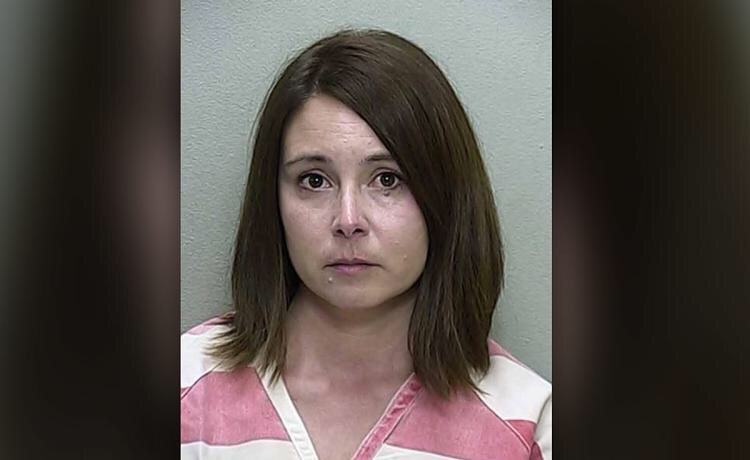 NYDailyNewsA teacher's aide in Florida was arrested for allegedly engaging in an improper relationship with an underage student. Katie Carsey, a paraprofessional teacher's assistant at Fort McCoy Middle School, allegedly admitted to authorities that she was having a relationship with a 14-year-old boy she met last school year. The victim is now 15. According to a Facebook post by the Marion County Sheriff's Office, the investigation revealed that the 36-year-old married educator was caught in a church parking lot half-naked with the student. Investigators said during a July incident, a Marion County Sheriff's Office deputy spotted a suspicious vehicle parked outside the church. When the deputy investigated, Carsey was "partially clothed in the vehicle attempting to leave the parking lot." She was the only person in the car, and Carsey told the deputy that she was waiting for an adult male. The victim later told police that he had been in the parking lot with the educator and fled when he saw the deputy approaching. "Carsey gave conflicting accounts regarding her involvement with the juvenile victim," the department wrote. "After being presented with the facts of the investigation, Carsey confessed to having sexual contact with the juvenile victim." Carsey was arrested on Wednesday and charged with one count of Lewd or Lascivious Molestation. She's being held at Marion County Jail on a $10,000 bond.
This week, teachers are getting busted having sex with students at a record rate, it seems like every time I finish a blog about a teacher getting caught having sex with a student I get sent another similar article. In this case, a 36-year-old teacher's aid named Katie Carsey was caught half naked in a parked car with a 14-year-old student, who took off running and left the teacher half naked in her car alone. The teen was later apprehended, at which point, Katie Carley admitted to having sexual contact with the minor which led to her arrest. It's amazing that as a nation, since this is a 36-year-old female teacher getting caught having sex with a 14-year-old boy, the boy is dubbed the luckiest kid in school and everyone laughs. However, if this was a 36-year-old male teacher getting caught having sex with a 14-year-old girl, we would be screaming to lock the creep up for life and throw away the key. Nobody summed this up better than South Park:
For More Teachers Getting Busted Having Sex With Students From SportSmasher.com CLICK HERE
To nobody's surprise this happened in Florida:
This concludes another chapter of "Fucking Florida: Tales From America's Most Fucked Up State" for more, click the ""Fucking Florida" tag on this page.