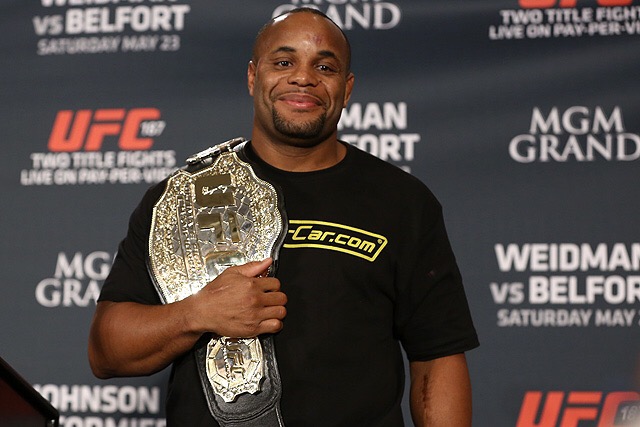 ESPN The UFC reinstated Daniel Cormier as its light heavyweight champion Wednesday night, in the wake of Jon Jones' failed drug test prior to UFC 214 in July. The announcement was made shortly after the California State Athletic Commission (CSAC) officially changed the result of Jones' third-round TKO victory over Cormier on July 29 to a no-contest. In an appearance on UFC Tonight, Cormier (19-1) suggested he didn't want the title back at first, but ultimately was going to fight for the belt either way and accepted reinstatement for financial reasons. "I talked to [CSAC] and was like, 'I lost. I lost the fight,'" Cormier said. "As a competitor, that's how I felt. [UFC president] Dana White called me today and said, 'If it's a no-contest, then the fight didn't happen.' "Now, people will say stuff like, 'You got handed the belt.' He cheated. The reality is, for me to say, 'I don't want this title,' when I was going to be [fighting] in a championship anyway, financially it's just a big difference if I don't fight as the champion as opposed to fighting for a vacant title."
I almost feel bad for Daniel Cormier, because he is clearly one of the greatest mixed martial arts competitors of all-time, but fans just do not care. Daniel Cormier has beaten all challengers, except Jon Jones, who handed Cormier his only two career losses. Yes, Jon Jones was juiced to the gills when he fought Cormier, but the only time Daniel Cormier has ever won the title is because the belt was stripped from the rightful champion Jon Jones. The champion is supposed to be the baddest man on the planet, fans know that the baddest man on the planet is Jon Jones and not Daniel Cormier, if you locked the two of them in a shipping container together and made them fight to the death Jon Jones is the man to emerge from that shipping container when you unlock it every single time.
Jon Jones juiced, he took a PED that powerlifters use with an incredibly short half life, and he got busted because one of the additives showed up on his drug test. He is not alone. I'm convinced that the majority of MMA fighters are on PEDs, and they are constantly trying to find new drugs which are not yet testable, or trying to game the system and pass the test.
Chael Sonnen once told a story of officials coming to the gym to test Jon Jones, and Jon Jones hiding under the octagon for hours to avoid the test, until the gym shut down at night and the officials were forced to leave. It's about gaming the system, finding a way to get a mental or physical edge, whatever it takes for you to win the fight.
Daniel Cormier will go down as a legend, but a legend who only ever held the UFC Light Heavyweight Title because it was stripped by Jon Jones, and fans will remember that. Fans will remember Jon Jones failing drug tests, but they will also remember Jon Jones getting his hand raised after dominating Jon Jones in their first fight, and head kicking the life out of Daniel Cormier in their second fight.
Daniel Cormier is an all-time great, but he could never beat the best, which puts an asterisk next to his name in the minds of fans. The drug test results become an afterthought. He tried twice, he lost twice, he could not beat the great Jon Jones.