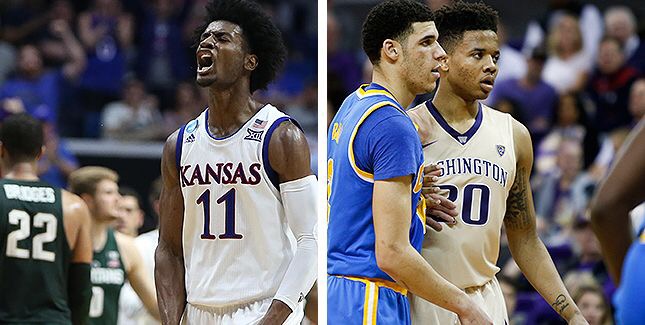 Sources: Philadelphia is waiting on medical information on Markelle Fultz, but deep into talks on acquiring Boston's No. 1 overall pick.

— Adrian Wojnarowski (@WojVerticalNBA) June 16, 2017
Boston would acquire Sixers No. 3 overall pick in 2017 and package to include future first from Sixers, sources say. https://t.co/AK5LyYXnYX

— Adrian Wojnarowski (@WojVerticalNBA) June 16, 2017
Deal talks are far enough along that Fultz could be on his way to Philadelphia for a meeting Saturday, sources say. https://t.co/kR8vwZu8i2

— Adrian Wojnarowski (@WojVerticalNBA) June 16, 2017
NBA reporting superstar Woj reports that the Boston Celtics and Philadelphia 76ers are in advanced talks for a NBA Draft blockbuster trade that would have the 76ers picking first overall in the 2017 NBA Draft.
The framework of the rumored deal would send the first overall pick in the 2017 NBA Draft from the Celtics to the 76ers, for the third overall pick in the 2017 NBA Draft, as well as an additional future first round pick (The 76ers have two first round picks in 2018 and 2019) plus possibly additional assets.
With the first overall pick, the 76ers would draft Markelle Fultz, who fits with the 76ers better than any other prospect in this draft class. With Ben Simmons and Joel Embiid on the floor for the 76ers, they need to add a player that can shoot the ball, and Markelle Fultz can shoot. He is an excellent fit alongside Simmons, due to his shooting ability, and will add much needed backcourt scoring to the 76ers lineup.
The Celtics were rumored to be leaning toward selecting Fultz with the first overall pick in the draft, but with guards Isiah Thomas, Avery Bradley, Marcus Smart and Terry Rozier on the roster it would be hard to find minutes for Fultz in Boston without making a major trade which will drastically change a roster that just made the Eastern Conference Finals. Instead, the Celtics would trade down to the third pick and draft Josh Jackson, the excellent two way forward out of Kansas who is rumored to be their favorite player on the draft, and pick up (at least) a future first round pick for their troubles.
This trade seems to be the rare win-win for both teams, but will it actually happen? Stay tuned.