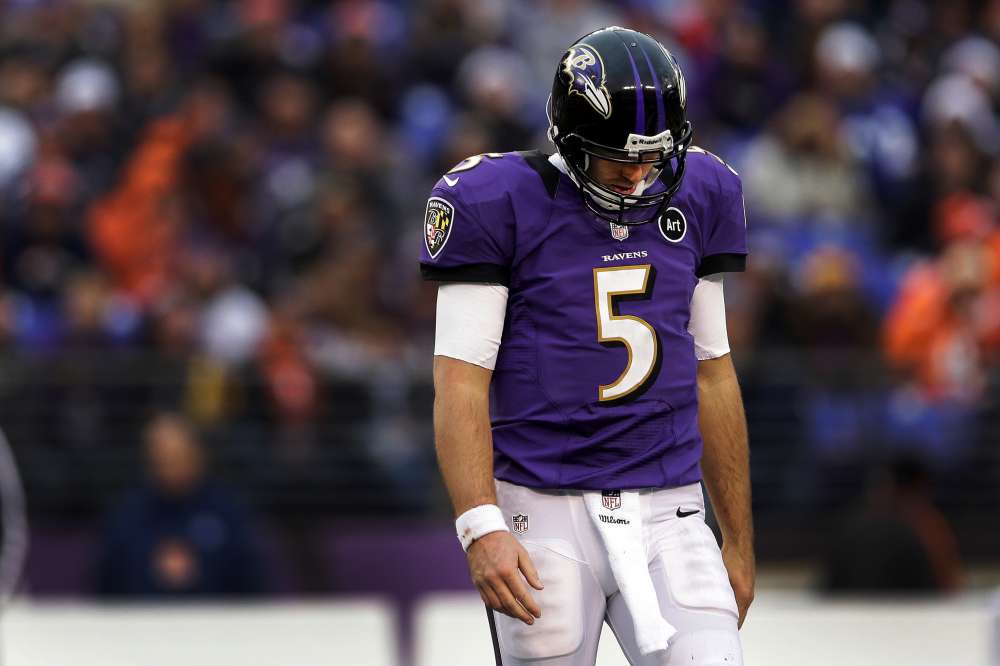 Las Vegas has released the over/under win totals for each NFL team for the 2017 season, and there are some surprises, as we here at SportSmasher.com look for value. We think that some of the win totals are too high, while other are far too low, and we here want you to make money this season. Here is the SportSmasher.com breakdown of three teams that will go under their win totals in Las Vegas:
Will Total Set Too High:
Baltimore Ravens: 9 Wins – Plays AFC South, NFC North, Miami and Oakland – The Baltimore Ravens win total jumped out to me as way too high, because I am not sure how they are going to move the ball offensively, or protect their quarterback. The Ravens struggled to protect quarterback Joe Flacco in 2016, and they lost offensive tackle Ricky Wagner in free agency, who was one of their most consistent players on the offensive line. The Ravens now will count on second year left tackle Ronnie Stanley and former undrafted free agent right tackle Ryan Hurst to keep their highly paid quarterback upright. Joe Flacco also has very limited options in the passing game if he can get some protection, the Ravens starting wide receivers will likely be Breshad Perriman and Mike Wallace, and the next men up on their depth chart are Michael Campanaro and Chris Moore. The Ravens will be relying a lot on their tight ends in the passing game, as tight end is their deepest position on offense, it's clearly their most talented skill position. The Ravens also lack talent at running back, where Terrence West and Kenneth Dixon will get the majority of the carries, supplemented with new third down back Danny Woodhead who is coming off of a serious knee injury. The Ravens did a nice job of retooling their defense in the draft and free agency, but I do not think that there is enough talent on offense for the Ravens to win ten games with a tough schedule, and they would need to win ten to make you any money.
Washington Redskins: 7.5 Wins – Plays AFC West, NFC West, Minnesota and New Orleans – I hated the way the Redskins offseason started, and while they rebounded a bit, asking them to win eight games in a difficult division seems ridiculous after the offseason that they had in 2017. The Redskins fired general manager Scot McCloughan, then trashed him publicly for his alcohol problem, which rubbed many people the wrong way. Then the Redskins became the first team in NFL history to lose two 1,000 yard wide receivers in the same offseason, when Pierre Garcon signed with the 49ers, and DeSean Jackson signed with the Buccaneers. Star quarterback Kirk Cousins was so unhappy with his contract situation after being franchised again, and the Redskins offseason losses, that he unsuccessfully attempted to force a trade to the 49ers. While the Redskins did sign wide receiver Terrelle Pryor, and the team feels that 2016 first round pick Josh Doctson is ready to step up following a rookie season marred with injury, they play in a difficult division in which every other team has more talent than them on paper. The odds of the Redskins winning seven games are a lot better in my opinion than the odds of the Redskins winning eight games, and maybe a bad year would be for the best of the franchise long term, then they can draft a quarterback in the loaded 2018 NFL Draft and jettison unhappy Kirk Cousins in exchange for assets. There was bad karma around the Redskins organization this offseason, and in the very tough NFC East, it's pretty clear that on paper they are the least talented team.
Minnesota Vikings: 8.5 Wins – Plays AFC North, NFC South, Washington, LA Rams – This comes down to quarterback play, unfortunately the once promising career of quarterback Teddy Bridgewater was totally derailed by the serious knee injury he suffered in 2016, and despite his recovery progress the Vikings did not pick up his option so he will become a free agent in 2018. Unfortunately for the Vikings, this means their quarterback will be Sam Bradford in 2017, who has not only dealt with significant injuries himself throughout his career but who cannot throw the ball downfield. The Vikings lost longtime superstar running back Adrian Peterson this offseason, but signed Latavius Murray and drafted Dalvin Cook to replace Peterson, however Bradford's weak arm and zero threat of the deep ball allows defenses to crowd the line and stop the run. The Vikings offensive line was also abysmal in 2016, and they did little to fix it, they will replace Matt Khalil (who left for the Panthers in free agency) with Riley Reiff (Lions) and signed Mike Remmers (Panthers) who they previously cut in 2013 before he found success in Carolina. The Vikings should be strong again on the defensive side of the ball, but asking Sam Bradford to stay healthy and lead the team to nine wins in a division that should be tough (except for the Bears) in order for you to make money seems insane, take the under.
Three NFL Teams That Will Go Over Their 2017 Over/Under Win Total
Follow us on Twitter @SportSmasher or Facebook SportSmasher.com