I really suck at keeping this article updated.  Which is a shame b/c the track record this season has been good.  Many of you are out of the fantasy playoffs in your seasonal leagues and will take your gambling talents to DFS.  Here are some of the lower cost values I am targeting in Daily Fantasy for Week 9 2015.  Note: Thursday Night players are out of this pool.
QB – Blake Bortles ($6,000):  Bortles has been quietly solid all season long and has been coming on even stronger as of late.  This week he gets the shitty Browns defense and his #2 WR back (Hurns).  Allen Robinson has been lights out and Thomas has been coming along.  I think Bortles gets it done this week for DFS leagues in a home game.
RB – LeSean McCoy ($6,100): I know, McCoy isn't exactly a cheap value at $6,100 but I am putting him in all of my lineups this week.  He gets his revenge game this week against Philadelphia and Chip Kelley and McCoy has been getting himself pumped up all week.  Rex Ryan will make him a captain and he will get a chance to score every time they get in close.  Love McCoy this week.
RB – C.J. Spiller ($3,000):  Mark Ingram is out for the year so RB duties will be spit between C.J. Spiller and Tim Hightower.  Spiller is the better PPR play and thats how DFS rolls so get him into your lineup on the cheap.
WR – Danny Amendola ($5,200):  Amendola returns this week and Tom Brady will welcome that with open arms.  The Pats can clinch the AFC East.  I think Brady will target him early and often.  A TD won't be needed for him to score big as 7 receptions and 100 yards are easily within reach.
WR – DeVante Parker ($4,00):  I want Jarvis Landry ($6,300) in every lineup this week but Parker is the value buy in Miami.  The Giants give up a ton of points to opposing WRs and someone will score a TD with 30 seconds left, so why not throw you money on Parker, who is on a bit of a tear lately as it is.
TE – Austin Seferian-Jenkins ($2,700):  ASJ finally returned the field last week.  He was targeted an abnormally high % of the snaps that he was in the game.  Look for that to continue and his playing time to ramp up against a soft defense.  I like him to find the endzone and rack up receptions this week.
DST – Seahawks ($3,500):  Just spend on Seattle.  There is no reason not to.  They are playing lights out and get the terrible Baltimore Ravens.
*Prices based on DraftKings on 12/11/2015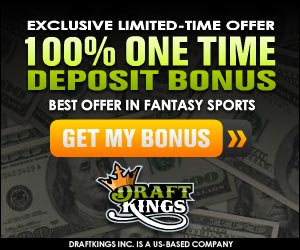 I won't recap you on my weekly contests with SportSmasher.  1) We haven't played every week and 2) I already kicked his ass for the year.