Well SportSmasher.com readers, it has been a two week hiatus from posting this article and I apologize.  This seems to be a trend with me.  RexRated vs SportSmasher head to head continued despite the blog post hiatus – results tracked at the bottom of the page.  This is an interesting week after the injury bug hit to get back in the game.  Here are some of the lower cost values I am targeting in Daily Fantasy for Week 9 2015.  Note: Thursday Night players are out of this pool.
QB – Jay Cutler ($5,200):  With Ashlon Jeffery finally getting healthy, Culter seems to be coming into his own.  He takes on a terrible San Diego defense this week and will have to keep up with Rivers' passing numbers throughout the game.  I expect to see Jay air it out with Forte hurt.  There is more goal line risk as Forte was a threat to catch the ball there but I don't think that matters.  Start Cutler if you are looking to save money at QB.
RB – DeAngelo Williams ($5,500):  Bell is out for the year.  Big Ben is back.  The Steelers offense will put up numbers and Williams has played very well this season when given the opportunity.  Williams will be on alot of big money contests so be careful there… but in H2H or 50/50's he's a nice play.  Jeremy Langford ($4,000) is the other injury produced play.  He gets a dream matchup against a terrible Chargers run defense and should put up numbers.
WR – Stevie Johnson ($3,200):  I made the mistake of picking up Floyd over Johnson in a league this week but I think Johnson is the play this week and long term.  He will get the bulk of Allen's targets as compared to the other WRs.  I also think he has a good chance to score a TD.  Lots of fantasy value in this game so hopefully it is high scoring.  I also like Michael Crabtree ($4,900) alot this week.  Carr has been rock solid and the Steelers give up a lot of points to #2 WRs.  I think Crabtree has another nice week.  Then sell high in season long leagues.
TE – Austin Seferian-Jenkins ($2,800):  Note – watch Jenkin's injury status going into the week and be prepared to swap him.  But if he plays, I like him alot.  The Giants give up huge yard totals to opposing QBs and Winston is coming into his own.  Jenkins could be a nice play.
DST – Jets ($3,100):  The Jets should come home angry this week.  If the fans give them enough of a break to get things done, they should come prepared to attack the Jags.  The Jets need a big win and the defense needs a big showing to get there.
*Prices based on DraftKings on 11/5/2015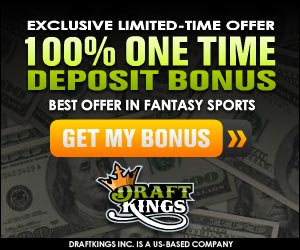 RexRated and SportSmasher will be competing weekly on DraftKings for blog bragging rights.  Results thru week 8 tracked below:
| | | |
| --- | --- | --- |
| | RexRated | SportSmasher |
| Week 1 | 145.74 | 133.32 |
| Week 2 | 177.80 | 129.96 |
| Week 3 | 158.84 | 164.90 |
| Week 4 | 127.14 | 153.82 |
| Week 5 | DNP | DNP |
| Week 6 | 135.7 | 128.06 |
| Week 7 (1) | 140.64 | 151.48 |
| Week 7 (2) | 157.64 | 113.96 |
| Week 8 | 142.14 | 140.84 |
| | | |
| Total |  1,185.64 |  1,116.34 |