Well SportSmasher.com readers, we absolutely killed it on this article week 1  and went 8 of 14 in week 2.  If you listened to us, you are likely doing pretty well so far this year.  I ended up doubling money in DraftKings again last week.  This week I will lead each category with one player and try and mention a few other options that I also like.  Here are some of the lower cost values I am targeting in Daily Fantasy for Week 3 2015.  Note: Thursday Night players are out of this pool.
QB – Carson Palmer ($6,600):  Last week we nailed this position with the Kaepernick pick.  Palmer is on fire this season and a top 5 QB when healthy.  He gets the 49ers at home this week and I expect more big things.  The super low value I like this week is Nick Foles ($5,200).  Foles gets the Steelers at home – a defense that has made lots of people money this year in DFS.
RB – T.J. Yeldon ($4,400):  I can hear the boos from here for this pick and admittedly this was not our best position last week at all, but Yeldon is the only healthy RB that the Jags have and is super cheap.  He will be on the field on 3rd down and in passing situations and I expect to catch some garbage dump offs in a blow out.  James Starks ($3,00) is a great value play if Lacy is out so watch that closely.  Ryan Mathews ($3,300) is super cheap and Murray may be out but I think I like Sproles ($3,800) better against the Jets defense.
WR – Brandon Marshall ($6,200): I am spending money at WR this week and going value elsewhere but love Marshall as a #2 priced #1 WR this week.  I expect the Eagles to score points and the Jets will need to throw.  If you are in a pinch, Doug Baldwin ($4,000) is a solid bet to get you steady points in H2H or 50/50 leagues against the Bears defense.  This could be a John Brown ($5,100) week in Arizona after Fitz went off last week.
TE – Jerad Cook ($2,800):  I already talked about how I think that Foles could be a solid option and Cook is one of his most steady targets.  TD chances aren't as high as other TEs but I think he is good for 6+ receptions.  I also like Crockett Gillmore ($3,300) if you need to go cheap at TE.
DST – Jets ($3,000):  10 turnovers in 2 weeks, an amped up crowd, and the Eagles at home.  The Jets should be able to force another turnover or two in this game, though I see them giving up a few points along the way.  I guess the Packers ($2,900) could be an ok option at home.  Not alot to love at the value picks here so luckily DST is cheap
This week we are spending at WR and not going cheap at DST.  I think there are better value plays elsewhere.
*Prices based on DraftKings on 9/24/2015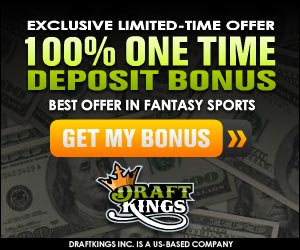 Year Stats on DFS Value Picks: 12 correct to 7 wrong
Also – RexRated and SportSmasher will be competing weekly on DraftKings for blog bragging rights.  Results thru week 2 tracked below:
| | | |
| --- | --- | --- |
| | RexRated | SportSmasher |
| Week 1 | 145.74 | 133.32 |
| Week 2 | 177.80 | 129.96 |
| Total | 323.54 | 263.28 |