Well SportSmasher.com readers, we absolutely killed it on this article last week and nailed 4 of 5 positions.  If you listened to us, you are likely sitting on a pile of money and ready to get back after it in Week 2.  I ended up doubling money in both DraftKings and FanDuel last week.  This week I will lead each category with one player and try and mention a few other options that I also like.  Here are some of the lower cost values I am targeting in Daily Fantasy for Week 2 2015.  Note: Thursday Night players are out of this pool.
QB – Colin Kaepernick $6,600:  This will be an unpopular pick and I am going out on a limb a bit here.  Carson Palmer and Sam Bradford are close in cost and likely provide more safety.  Kaepernick is taking on the Steelers and their terrible pass defense and will likely have to keep pace with the Steelers offense this game.  Gut call says he gets a rushing TD to go with a pair through the air.  Honorable mentions here are Sam Bradford ($6,900) and Carson Palmer ($6,700).
RB – Ameer Abdullah $4,500:  Abdullah was easily the most impressive running back in Detroit last week and I think the team leans even more on his against Minnesota in Week 2.  DFS is a PPR format and Abdullah will continue to see action in that part of the game.  100 total yards and a TD seem like a good bet.  I also really like Chris Ivory ($4,700) again this week but it felt like a cop out to lead with him two weeks in a row.  Another honorable mention here is Danny Woodhead ($4,000).
WR – Terrance Williams ($4,200):  This feels like I could get caught in the same Davante Adams trap as last week.  New WR taking on the #1 role after stud WR gets injured.  Cheap price.  Will be on every team.  etc.  But this seems like a nice safe low cost bet here to take.  Other value options I like are Eric Decker ($5,100) and Jarvis Landry ($5,900).  Brandon Marshall should draw Vontae Davis which will leave Decker open.  Landry is a target monster and could catch 10 balls against the Jaguars.
TE – Jordan Reed ($3,700):  Reed has proven his talent when healthy and Cousins seems to look his direction.  I expect this week to be the same.  I also like Ladarius Green ($3,500) this week to repeat a solid performance.
DST – Texans ($2,900):  The Panthers have no real option in the passing game outside of Greg Olsen.  Houston should be able to stack the box and get pressure on Cam to force turnovers.  I also like the Ravens ($2,900) and don't sleep on the Jets ($2,800) even though they are facing Andrew Luck at home.  The Jets are a defense built to force turnovers and turnovers win DFS at the DST position.
*Prices based on DraftKings on 9/17/2015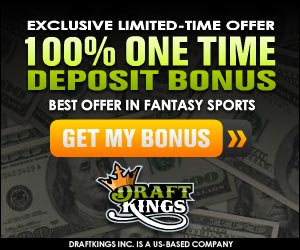 Year Stats on DFS Value Picks: 4 correct to 1 wrong
Also – RexRated and SportSmasher will be competing weekly on DraftKings for blog bragging rights.  Results from week 1 tracked below: