DraftKings and FanDuel have a combined marketing budget of $99 Billion and thus everyone on planet earth is now playing daily fantasy football.  Winning DFS typically means you stack (pair QB/WR(or TE)) and then also hit on some low cost players so you spend on studs that perform.  Here are some of the lower cost values I am targeting in DFS for Week 1 2015.  Note: Thursday Night players are out of this pool.
QB – Carson Palmer $6,500:  Palmer was a top tier QB last year before he got hurt.  When healthy, Palmer has averaged 275+ yards and almost 2TDS for the Cardinals.  He enters the season at home against a lower tier Saints defense.  Palmer is the 18th cheapest QB at the moment.
RB – Chris Ivory $4,100:  Chris Ivory is the undeniable starter on a much improved Jets offense.  He opens the season at home and against a Browns defense that gave up the most rushing yards to opponents last season.  Ivory will be used early and often by New York and I believe should top 100 yards and find the end zone.  Ivory is the 36th cheapest RB available – which is highway robbery.
WR – Davante Adams $4,400:  Another steal here as Davante Adams will start opposite Cobb in the high powered Packers offense.  Adams is the 52nd cheapest WR on the board… you heard that right!  Adams also gets to open against the Bears, who the Packers tend to light up.  This is a no brainer option to fill out your rosters – love as a FLEX this week.
TE – Tyler Eifert $3,500:  I like spending on TE this week but if you are pressed for cash, Eifert should be on your radar.  Andy Dalton likes his TE and Eifert is the lone option this year for the Bengals.  As the 13th cheapest option, he is also off #1 TE radars.  I could see Eifert racking up at least 5 receptions against Oakland.
DST – New York Jets $2,900:  No team did more to improve their defense in the offseason than the Jets.  They get to take on the Browns in week 1 who have zero passing game and a suspect running game.  The Jets should be able to force some turnovers and keep the Browns scoring fairly low.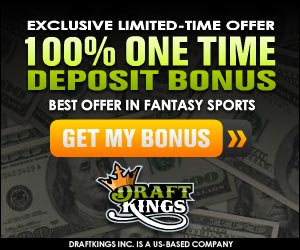 *Prices based on DraftKings on 9/11/2015