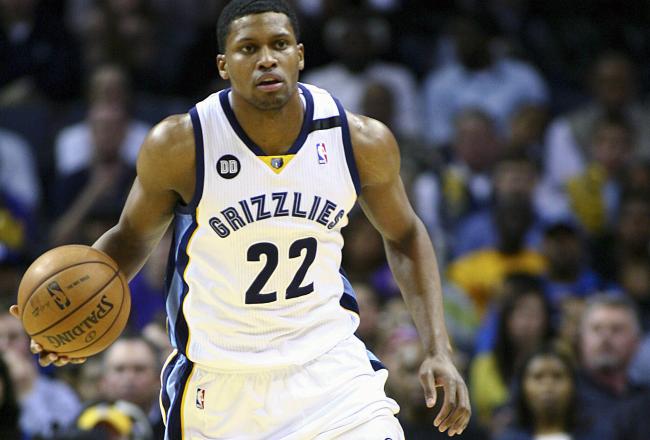 ESPN The Memphis Grizzlies and Toronto Raptors have agreed in principle on a trade that will send leading scorer Rudy Gay to the Raptors, sources with knowledge of the deal told ESPN.com's Marc Stein. Sources said the Grizzlies will acquire forward Ed Davis and veteran guard Jose Calderon from the Raptors and then move Calderon to a third team to ultimately make this a three-team deal. The Pistons have agreed to send Tayshaun Prince and Austin Daye to the Grizzlies to acquire Calderon as part of the trade, sources said. Memphis, sources said, is also expected to receive a second-round pick from Toronto as part of the deal. The Raptors, according to sources, are expected to take on Grizzlies reserve center Hamed Haddadi in addition to Gay.
I know a lot of NBA "experts" are ripping this trade from a Memphis Grizzlies perspective, but I feel the opposite way, I love it and think the deal made them a better team. Rudy Gay is a very good player, he is an excellent scorer, but he is a runner and a slasher. His style does not fit in with with what the Grizzlies are trying to do offensively, which is slow things down, and try to feed the ball inside to their big man combo of Zack Randolph and Marc Gasol. Feeding the ball to these players in the post opens up threes for Memphis' wing players, but Rudy Gay is not a great shooter, and Tayshaun Prince and Austin Daye, two of the players that the Grizzlies got in return, can both shoot. The Grizzlies also got back young forward Ed Davis, who was an excellent prospect, that has turned into a valuable contributor this season and is finally starting to "get it." The Grizzlies also win because they keep young forward Darrell Arthur, who Toronto coveted in this deal, and who has show a ton of promise when he can stay healthy.
The Raptors get a young All-Star in Gay, who is a better fit with what the Raptors are trying to do offensively, which is run the ball. The addition of Gay is a huge boost to Toronto's rebuilding effort, he gives the franchise a face , and a cornerstone to go along with rookies Jonas Valanciunas and Terrance Ross.
The  Detroit Pistons get shed cap space as they continue to build around their young big man tandem of Greg Monroe and impressive rookie Andre Drummond, as I said around the NBA Draft, the teams that passed on Drummond (who went 9th overall) will regret it. He was too talented to not succeed.