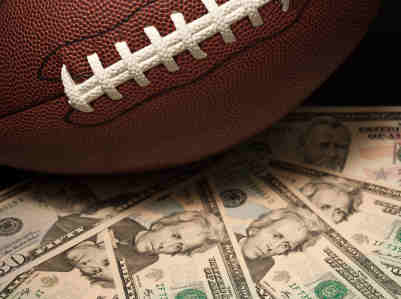 We are finally on the horizon of the 2012 NFL season. If you squint you can finally see it in the distance, as we are mere weeks away from teams reporting to training camp. If you are like me, you have a gambling problem and are already looking at the NFL futures bets, including the OVER/UNDER win totals for the 2012 NFL season. Actually I don't have a problem, because all I do is win, so it's more of an addiction. We are close enough to the season that I can now look into my crystal ball (it's actually an empty vodka bottle, THAT is where I have the problem) and predict the record for every NFL team, so if you're a gambling man, here are my picks for 2012 NFL OVER/UNDER win totals. (Disclaimer: I am a New York Giants fan, and although I am biased I would be shocked by any Super Bowl Champion getting this little respect from Las Vegas, but this explains my disdain for all other NFC East teams).
2012 AFC OVER/UNDER Picks at this LINK
NFC East:
Philadelphia Eagles: OVER/UNDER 10 WINS – Over (-135)/Under (+105) – I cannot believe this one, and I am still shocked by how many experts like the Eagles, because they fully rely on a quarterback with major durability issues. The over (-135) is not even worth considering for Philly unless you are extremely confident in them, for me the division is far too tough to take those odds with a notoriously brittle quarterback. It also does not help your injury prone quarterback stay healthy when your All-Pro left tackle tears his Achilles and is out for the season, which happened to Eagles tackle Jason Peters already this offseason. The under is very intriguing, and I think Philly will have a shot at ten wins if Michael Vick is able to stay healthy, but again that is a big "if" and too big of a risk for me. PREDICTION: UNDER (9-7).
New York Giants: OVER/UNDER 9.5 WINS – Over (-110)/Under (-120) – The Super Bowl Champion New York Giants should be even better during the 2012 season, as they get several players back healthy who missed significant playing time due to injuries last season. Eli Manning is one of the toughest quarterbacks in the NFL, and the Giants have several explosive weapons on offense, which keep them in every game. The factor that makes the Giants so dangerous in big games and in key moments is their pass rush, which is the best in the league, lead by defensive ends Jason Pierre-Paul, Osi Umenyiora, Mathais Kiwanuka and Justin Tuck. I do not think it will be easy for the Giants to win the division, but Manning combined with the best pass rush in the league will be good enough to win the division and get back to the playoffs, where this combination has proven deadly. PREDICTION: OVER (10-6)
Dallas Cowboys: OVER/UNDER 8.5 WINS – Over (-125)/Under (-105) – Many lot of "experts" are predicting that the Dallas Cowboys will win the division, or even win the NFC, and I am not buying this at all. Dallas had major problems in their secondary last season, and they made some upgrades by signing cornerback Brandon Carr from the Kansas City Chiefs in free agency to a huge contract, then trading up and drafting LSU cornerback Morris Claiborne. Now the Cowboys have strong cornerback depth and four capable starters at that position, but where was their safety help? The Dallas safeties were atrocious last season, and they fixed this by signing journeyman Brodney Pool, who flat out stinks? The Cowboys also lost wide receiver Laurent Robinson, who had over 1000 yards last season in free agency, and have nobody to replace him with. Plus they did not fix their offensive line, which struggled to keep pressure off of Tony Romo last season, and has very thin depth. I think that it will be a long season in Dallas, they will surrender big plays over the top defensively, and any injury to Dez Bryant or Miles Austin will be devastating. PREDICTION: UNDER (7-9).
Washington Redskins: OVER/UNDER 6.5 WINS – Over (Even)/Under (-130) – Robert Griffin III is going to be a stud quarterback in the NFL, however, it will take him some time to adjust. He is a very mobile quarterback, which he will need to be, because the Redskins offensive line is absolutely horrible and he will be under a lot of pressure in this division. I think the Redskins defense will be solid, and they are finally moving in the right direction, but it will take Griffin and the offense a few years to catch up. I think the terrible offensive line, the lack of weapons in the passing game and Griffin's inexperience force the Redskins into the cellar one more time. PREDICTION: UNDER (5-11).
NFC North:
Green Bay Packers: OVER/UNDER 12 WINS – Over (-125)/Under (-105): The NFC North will be the best division in the NFL this season and three teams have a legitimate shot at having the best record in the NFL next season. Green Bay's defense surrendered the most passing yards in NFL History last season, but they were able to overcome this with an explosive offense lead by reigning NFL MVP quarterback Aaron Rodgers. The Packers need to hope that first round pick Nick Perry can become the pass rusher that they have sorely lacked opposite Clay Matthews, and if he can, it should make the entire defense better. I think Green Bay will be an excellent team this season, but I expect this to be a tough division, and I think they go slightly under. PREDICTION: UNDER (11-5).
Detroit Lions: OVER/UNDER 9.5 WINS – Over (+105)/Under (-135): Is this the year the Detroit Lions finally make the jump to greatness? They are close, but they still have a few question marks which need to be addressed before I can call them a threat to the Green Bay Packers and a playoff team. I was glad to see the Lions finally address the offensive line in the first round of the draft by selecting tackle Riley Reiff, his addition should help keep quarterback Matthew Stafford healthy and upright, which has been a problem for him in the past. Will their dynamic young tailback tandem of Javid Best and Mikel Leshoure, both of who missed the majority of last season with serious injuries, be able to stay healthy? I think they are moving in the right direction defensively, but they have very thin depth, and any injury in the back seven could be devastating. I think that the Lions will be tough and are very close to being great, one more draft focused on the secondary and overall depth should do it. PREDICTION: UNDER (9-7).
Chicago Bears: OVER/UNDER 8.5 WINS – OVER (-135)/Under (+105): I am predicting a huge season out of the Chicago Bears, I loved their offseason and think that new additions such as wide receivers Brandon Marshall, rookie Alshon Jeffery and running back Michael Bush will all be instant impact players on this offense. I also think Jay Cutler will make the leap from a solid to great quarterback this season, he finally has all of the weapons he needs, and he was playing at a high level last season until an injury forced to the sidelines. The Bears glaring weakness is their offensive line, which has been a problem in the past, and did not improve at all this offseason. I think the Bears, who have always been a defensively based franchise, surprise this season by having one of the more explosive offenses in the NFL. Their defense is not what it once was, but it is good enough to keep the team in the hunt for a playoff spot. PREDICTION: OVER (10-6).
Minnesota Vikings: OVER/UNDER 6 WINS – Over (Even)/Under (-130) – There is little doubt in my mind that the Minnesota Vikings will be the worst team in the NFL and will be picking first overall in the 2013 NFL Draft. Although I think they made the right move by selecting left tackle of the future Matt Kalil third overall in this past draft as a step in the right direction, there is not a lot else to like on the Minnesota roster. Combine that with the division that they are in, and I think it is safe to say that the Vikings will not win one divisional game this year. Their best play, running back Adrian Peterson, is recovering from a torn ACL and will likely miss the starts of the season. Since the Vikings drafted quarterback Christian Ponder in the first round of the 2010 NFL Draft, I said he is a smart guy who will be a good backup in the league, but he does not have the physical tools to be an NFL starting quarterback. The good news it looks like they will be able to draft a legitimate starting NFL quarterback early in the 2013 draft. The Vikings best healthy offensive player, receiver Percy Harvin, demanded a trade a few weeks ago. Defensively, there is not a lot to like, other than end Jared Allen. Easiest bet on the board for me, sorry Vikings fans. PREDICTION: UNDER (1-15).
NFC South:
New Orleans Saints: OVER/UNDER 10 WINS – Over (-125)/Under (-105) – The Saints finally signed quarterback and face of the franchise Drew Brees to a huge and well deserved three year contract extension, so that drama has come to an end, and the Saints can focus on the rest of their organizational drama. Obviously head coach Sean Payton and linebacker Jonathan Vilma will be suspended for the entire 2012 season due to "Bountygate" and defensive end Will Smith will also miss time, but all things considered, I liked the Saints offseason. The Saints signed linebacker Curtis Lofton to replace Vilma, and they lost Pro Bowl guard Carl Nicks in free agency, but quickly replaced him with Ben Grubbs from Baltimore. The Saints have been developing several young defensive players who could help out this year and the offense will be strong like always with Brees at the helm. They are still the favorite to win this suddenly very competitive division, they will miss head coach Sean Payton, but will still be very good. PREDICTION: UNDER (9-7).
Atlanta Falcons: OVER/UNDER 9 WINS – Over (+105)/Under (-135) – Consistently solid, the Falcons are an good bunch, who will continue to struggle to be great as presently constructed. Will Matt Ryan ever make the leap from a mid-level NFL quarterback to a great one? He has no excuses now, he has lots of weapons on this offense, and it is time for him to produce. My biggest problem with the Falcons is their lack of a pass rush, which they have known is a problem for years, and have still done nothing to fix. The reason Atlanta has been unable to win big games over the past few seasons is because they constantly lose the battle in the trenches, and when your quarterback is facing pressure, while your defense is generating none it is tough to win the close ones. Atlanta will be angry with me, but the Falcons are one of my picks to take a big step back this season, based on an improving division more than anything else. PREDICTION: UNDER (7-9).
Carolina Panthers: OVER/UNDER 7.5 WINS – Over (-115)/Under (-115) – Quarterback Cam Newton is a stud and the Carolina Panthers are clearly headed in the right direction, I think they are very close to contending for the division, but are not there yet. I just do not see how this team is any better than last year's version of the Panthers. I thought they should find another receiver or two who could complement the explosive but notoriously injury prone Steve Smith, but they did not. The Panthers had one of the worst defenses in the NFL last season, and although they drafted linebacker and tackling machine Luke Kuelchy in the first round, he cannot make every tackle. The Panthers roster really lacks depth, and while I think they are close to being a very good team, I would liked to have seen them add more quality players and depth. An injury at any position (except for running back where they have great depth) would be devastating, no matter how good Newton is, he can't do it alone. PREDICTION: UNDER (7-9).
Tampa Bay Buccaneers: OVER/UNDER 6 WINS – Over (-110)/Under (-120) – I think that the Bucs are going to take some many NFL teams by surprise next season, I think they are much more talented than the "experts" are giving them credit for. After an impressive start to his career quarterback Josh Freeman took a major step back last season, but I think he will rebound, because the old coaching staff asked him to do too much last year. New head coach Greg Schiano will look to run the football first, which will be much easier after signing Pro Bowl free agent guard Carl Nicks and drafting Boise State tailback Doug Martin. The Bucs had a major issue, they had a lot of talented wide receivers, but no true number one. They signed free agent Pro Bowl wideout Vincent Jackson, a proven game breaker, who will open up the offense for Freeman and his other receiving options. They drafted big time Alabama safety Mark Barron and signed free agent cornerback Eric Wright to bolster one of the worst coverage units in the NFL. The only reason I cannot pick them to overtake the Saints, in what will be a very competitive division, is because they need a pass rush. They have drafted a lot of defensive linemen over the past few years, and many are good players, they need one to develop into a dominant every down pass rusher. PREDICTION: OVER (8-8).
NFC West:
San Francisco 49ers: OVER/UNDER 10 WINS – Over (+105)/Under (-135): Although the division will be better, there is no doubt that the 49ers are still the class of the division, and should win it easily. I respect the 49ers because it is truly a pleasure watching them play defense, they return every starter to a nasty unit, which will keep them in every single game. The offense was poor last season, but the 49ers to have a fantastic young offensive line, and they should be able to run the ball with their deep backfield. The problem last year was the passing game, where quarterback Alex Smith was unspectacular, and their inability to produce first downs ultimately lead to their downfall. This offseason the 49ers added many weapons for Smith, including future Hall-of-Famer Randy Moss, Mario Manningham from the Super Bowl Champs, and first round draft pick A.J. Jenkins. Alex Smith must produce now, he has no excuses after adding those three to a receiving corps that already had Michael Crabtree and Pro Bowl tight end Vernon Davis. PREDICTION: OVER (11-5).
Seattle Seahawks: OVER/UNDER 7 WINS – Over (-110)/Under (-120): I have always said that the second the Seattle Seahawks get a solid starting quarterback they will contend in this division, and I think the additions of Matt Flynn in free agency and rookie Russell Wilson will be better than any quarterback that has started a game for Seattle since Matt Hasselbeck. The team has improved, but not enough to contend with the 49ers. I really think that he Seahawks have a lot of young talent on their roster, they have a nice young offensive line and some dangerous weapons in the passing game to go with some excellent young defensive players. I really like the talent in Seattle, but I think they are one more offseason away from becoming a threat to San Francisco in the division, plus they need to decide on a quarterback and commit to him. PREDICTION: OVER (8-8).
Arizona Cardinals: OVER/UNDER 7 WINS – Over (-110)/Under (-120): I think that the Arizona Cardinals will be a very good team defensively, they have several young players who I think are ready to make the leap to household names in 2012, lead by monster defensive lineman Calais Campbell. However, I expect the Arizona offense to really struggle, based on their lack of a starting quarterback. When is this franchise going to realize that it will not be any good until they can find a reliable quarterback? They paid too much for Kevin Kolb after a few average starts in Philadelphia, and to say he has been a disappointment would be an understatement, he is now in a battle for the starting job with John Skelton. I do not think either quarterback is any good, but the situation is worse because of the horrible state of the Arizona offensive line, which cannot keep either quarterback upright. If I'm the Cardinals, I kind of hope I stink this year, because the roster is loaded with talent except for quarterback and offensive line. They can grab a quarterback early in next year's draft, spend their next two picks on offensive linemen and be moving in the right direction with a solid core going forward. PREDICTION: UNDER (6-10).
St. Louis Rams: OVER/UNDER 6 WINS – Over (-110)/Under (-120) – The Rams are going to be better, because Jeff Fisher will change the culture in St. Louis, and will improve the team first and foremost in the trenches. I think quarterback Sam Bradford will be much better this season, but I worry that the offensive line will not be good enough to keep him healthy, they struggled last season and did not improve. My main problem with the Rams roster is the lack of offensive weapons, which will be a huge problem, their most talented receiver is probably rookie project Brian Quick. I think the Rams defense will be much better, the secondary alone will get a big boost with the addition of Cortland Finnegan in free agency and rookie Janoris Jenkins. The Rams drafted massive defensive tackle Michael Brockers in the first round, and although he is a project, he could quickly become a monster in the NFL. The Rams are moving in the right direction, but their roster still needs a lot of work (receivers, offensive line) before they are ready to contend. PREDICTION: UNDER (4-12).