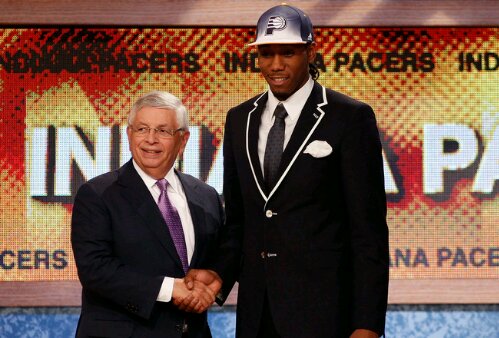 The 2012 NBA Draft is tonight and coverage begins at 7pm eastern on ESPN. We here at Sportsmasher.com have put in countless hours blogging about tonight's draft, and all of that hard work will be proven completely incorrect tonight. How should we celebrate? By getting incoherently drunk and live blogging the NBA Draft, that's how! So keep refreshing this page during the entire 2012 NBA Draft and prepare to be entertained with our drunken antics.
Some things to think about:
1) Who will wear the worst suit this year, and will it top Kawhi Leonard's disturbing suit from 2011(pictured above)?
2) Who will give David Stern the deepest and most uncomfortable crotch-to-chest hug?
3) What new words will Jay Bilas invent this year, and can any of them top "Second-Jump-Ability"?
4) Will any draft pick's girlfriend be hotter than the Washington Wizards' Jan Vesley's was during the 2011 draft, and will anyone have a more akward makeout session on national TV than Vesley? I guess this flies in Czechoslovakia…
Until coverage starts amuse yourself with all of our pre-draft work, including our final mock draft which can be found here:
2012 Final NBA Mock Draft (Version 4.0)
HERE. WE. GO!
And we are LIVE! This drunken blog currently sponsored by Svedka Vodka. I am in my drinking/blogging seat and am ready to go HAPPY NBA DRAFT NIGHT TO ALL!!!
Interesting it sounds like the Charlotte Bobcats are will trade the second pick (and 31st) pick to the Cleveland Cavs for the fourth pick, 24th pick and 33rd pick in the draft. The Cavs would get their man (Bradley Beal) second overall. The Wizards really want Bradley Beal third overall and have threatened to take Thomas Robinson third overall, but the Bobcats are calling their bluff and saying "go for it". They will take Michael Kidd-Gilchrist or Harrison Barnes at the fourth pick. Nothing confirmed yet, more to come. This trade sucks for the Wizards, Beal is exactly what they needed, I doubt they spite-pick Thomas Robinson at four. Harrison Barnes maybe? They need a shooter.
So the New York Knicks, my New York Knicks, traded their first round pick in the 2012 Draft to the Houston Rockets in February of 2010 for a broken down, washed up, Tracy McGrady. Nice trade Donnie Walsh. Maybe the Pacers should rethink hiring him. Excuse me while I refill my drink, and possibly take a shot of Wild Turkey.
Andy Katz just actually said that Jared Sullinger had "Bulging Dicks". I had a bulging dick when I saw those new Jessica Biel bikini pictures this week. Probably the easiest on air slip-up possible, but so awesome. I look forward to youtubing that clip. Fantastic.
David Stern is like heel Vince McMahon now. He just relishes the boos, taunts the fans by congratulating the Heat, calls out Jim Rome. I like the evil version of David Stern.  I want Roger Goodell to start dressing like The Undertaker.
1) New Orleans Hornets – Anthony Davis:  A+ Grade. Best player in a one player draft, Davis is not there yet, but will be a multiple time All-Star. What will be interesting is what they do at ten.
2) Charlotte Bobcats – Michael Kidd Gilchrist: B Grade.  Listen I like MKG, I just hope they do not ask him to do too much too soon in Charlotte. MKG is going to be great down the road. I wonder if he stays in Charlotte, are they trading this pick to Cleveland?
-Bobcats coach Mike Dunlap kind of looks like the bad guy from "Pet Cemetary" thoughts?
-It really sucks that the TWO New York teams do not have a draft pick until the second round, with the draft local. I hope the New York fans get drunk and surly in East Rutherford. RIOT.
3) Washington Wizards – Bradley Beal: A Grade: Perfect player, perfect fit. As I've been saying, the Wizards have a ton of athletes but no shooters, and he will open up the offense for John Wall and their other slashers. If I'm the Wizards I'm pissed off at Rich Cho, Michael Jordan and the Bobcats for messing with me for the last week and acting like Beal was going second. Take it out on each other when your teams are 4-25 in 2012-2013!!!
– So if the Cavs take Thomas Robinson here, I have to assume the trade went down.
– Also screw it. I'm no longer typing city names. And I'm only on drink number two. Pretty soon I'll stop using vowels.
4) Cavs – Dion Waiters: C Grade: Okay I like Waiters, but the Cavs left some big time talent on the board here. I am not sure Waiters is a starting two guard in the NBA. Better as a sixth man, as he showed in college, instant offense. I think the Cavs would have been better taking Barnes. I do like the fact that they kept the #24 pick. Still…seems like an odd fit with Irving.
– I'm really upset Dion Waiters did not start calling himself "Neon Dion" and start high stepping around. That sucked.
5) Kings – Thomas Robinson: B+ Grade: The Kings had been hoping that Thomas Robinson would slide to them here, and the rumor is they were trading the pick if he didn't. Well he did, and he will be a beast in Sac-Town. I like the way he fits next Boogie Cousins. If I'm the Kings, I think I try to trade Tyreke Evans while there is lots of interest in him and make them take some bad contracts off my hands.
– Note to ESPN Thomas Robinson is a great story and I respect the guy's character, but nine year old siblings he is raising do not make for riveting interviews.
6) Trail Blazers – Daimen Lillard: B- Grade: I like Lillard, but I would like him a lot more with their eleventh pick. If I was Portland I take Drummond here. I think that Drummond + whichever guard they get at #11 is better than Lillard and whichever big man they get at #11. Doubt he ever makes the All-Star team, how the hell does he guard Russell Westbrook for example?
7) Warriors – Harrison Barnes: A- Grade: Perfect player for the Warriors who desperately are on the hunt for a small forward, and got one better than the players they were considering trading for. He'll be a better pro than a college player. The Warriors need to get bigger and tougher with the #30 pick now, I'd look at Ezeli or O'Quinn. One worry, between Curry, Thompson and Barnes, the Warriors may not shoot a two next season. Barnes better use this "freakish" athleticism everyone is talking about and take it to the hole.
– After recent pictures were released I wonder if Warriors Head Coach Mark Jackson is watching this draft butt naked? Because I am…
8) Raptors – Terrence Ross: C Grade: I have been hearing Jeremy Lamb here for the last few weeks, and I like Ross more than Lamb, but I am surprised. I think that you could have gotten him later, but the Raptors did need a shooter. I'm surprised Rivers was not the pick here. Ross could be good, he is a great athlete and an excellent shooter, but he needs to get muuuuuuuch stronger. The Raptors need a point guard so bad.
– I wonder if they pull Ross aside and say "Welcome to Canada, pack a jacket" as he kicks himself for not shitting it in college so he could fall to later in the first round and end up in Miami or L.A. ?
9) Pistons – Andre Drummond: A Grade: Perfect fit for Drummond, perfect fit for Detroit. Drummond can play the five, they can slide Greg Monroe to the four, and they will both be better for it. Drummond got crushed this week, but he is still 18 years old, and I am in the camp that he will be a very good pro. Not Dwight Howard, but I think he is too skilled to fail. I think that, not right away, but maybe in five year we look back on this draft at a 23 year old Drummond and say " He fell to NINE???" The Pistons are not ready to win now, let Drummond grow up, and he will be a beast.
10) Hornets – Austin Rivers: B Grade: I like the pick, as long as he can play some point guard, because Eric Gordon is a stud (and he is a restricted free agent and they will match any offer) and he is the starting shooting guard and Alpha Dog. If Rivers can prove he is unselfish and does not dominate the ball, he could be a really good pro.
-That picture of Austin as a baby when he was laying on Doc's chest would have been a lot better if he was breastfeeding off Doc's tit.
11) Trail Blazers – Meyers Leonard: C Grade: Leonard might be okay down the road, but I think I take Drummond and Lamb over Lillard and Leonard every single time. You took a developmental big man when you could have had Drummond. I know the Blazers need a point guard, but I'm going the other way.
-I hope Joel Pryzbilla is sitting there dejected noticing that the Blazers drafted another big goofy white guy, then drops a South Park "Dey took my job!"
12) Rockets – Jeremy Lamb: B Grade: Can we please nickname Jeremy Lamb "Sleepy" like "Sleepy" Floyd? Look at his face! That nickname has not been used effectively for 20 years, DIG IT UP!!! It's so good. Jeremy, don't put on a Rockets hat, just a generic NBA hat, they are trying to trade you right now.
– If you were Jeff Van Gundy, would you trade your bald head for Ric Bucher's ridiculous weatherman haircut? I'd have to at least think about it. Bucher looks like he is a Playmobil. See Fig 1:
13) Phoenix – Kendall Marshall: C- Grade: Too early for a slow footed point guard, who I think will be a career backup point guard in the NBA. Who is he passing to in Phoenix? Terribly run organization , should have never fired Steve Kerr.
14) Milwaukee – John Henson: C+ Grade: I was told that this was the Bucks pick if he was on the board, and for once my source (empty bottle of tequilla wearing a sombrero) was right. I would have taken Tyler Zeller, as much as that pains me to say, because Henson is a better version of Epke Udoh or Larry Sanders who are BOTH on the Bucks.
– I respect Bilas for dropping the Freddy Kruger reference that he called on the B.S. Report Podcast with Bill Simmons (slow clap).
15) 76ers -Maurice Harkless: B- Grade: I think Harkless is going to be really good down the road, he needs to shoot more consistently, but I think we are three years away from some great things. As long as they trade Andre Igoudala, and I bet they do. If not there is not a fit for Harkless.
– P.S. Philadelphia sucks ass.
– Dell Demps looks and talks exactly like he is Tiki & Ronde Barber's long lost older brother. Hopefully he is a better decision maker than Tiki…
16) Rockets – Royce White: B Grade: Any time you compare anyone to Anthony Mason, I am on board, and anytime the entire town of Boston doesn't get their guy I am on board. Houston needs to trade all of these assets.
– The Mavericks are about to pick their first player under 37 years old.
17) Mavs – Tyler Zeller: C+ Grade: I call this the Brendon Haywood amnesty clause pick. Zeller will never be an All-Star, but he is a steal here, and he is mature so he will fit in well with this old ass Mavs squad which will be slaughtered by the Thunder for the rest of their life cycle. Zeller looks like a full grown version of Dewey from "Malcolm in the Middle" what the hell ever happened to that kid?
– Rumors are Jeopardy host Alex Trebek will be hanging up his Jeopardy cleats soon. I say we bring in Jay Bilas, he is just "I'm cocky because I'm smarter than you" enough to fill those giant shoes. If this happens, I need a million bucks. I'll wait by the phone.
– I know he is D-Bo in Friday, but how about Zeus from "No Holds Barred" in those Coors Light commercials with Ice Cube? See fig 2:
18) Rockets – Terrence Jones: A Grade: For what the Rockets are trying to do, gain a lot of trade assets, Jones was a great pick. And Jay Bilas is wrong, he would have been a MUCH earlier pick in last year's draft. You can still host Jeopardy though.
– Tyler Zeller is traded to the Cavs from Dallas for three draft picks. I have little to no reaction.
19) Magicians -Andrew Nicholson: Grade: D: Anytime you can rebuild after Dwight Howard by drafting a Canadian-born senior stretch four out of St. Bonnie before Jared Sullinger or Perry Jones or Tony Wroten, you have to do it. No Brainer. I wish I could say I was remotely surprised by the Magic taking the guy with the least amount of upside left in the draft, but I am not. You have to take a gamble, you are about to rebuild from the dirt up.
– Mickey Mouse blew his brains out. They should unfreeze and angry Walt Disney tonight.
20) Nuggets – Evan Fournier: Grade D: Fran Fraschilla's dick finally has some blood in it! International player! Denver has a lot of young players and should have drafted Sullinger here. He would have been a great fit, and with all of Denver's depth, they could have taken a risk. Boston should draft Jones and Sullinger and hope to strike gold with both.
– Jeff Van Gundy = Yertle the Turtle: See Fig 3:
21) Celtics – Jared Sullinger: Grade B+: If Sullinger's back is okay, which I think it will be, he could be the biggest steal in the draft in a long time. I think his floor is Paul Milsap, who I really like. He is a bruiser and will fit well in Boston. He also fits well next to K.G. who has played with a shitty version of him (Big Baby Davis) in the past. Steal. Unless he ends up like Sir Smoke-a-Lot and he needs a Back-ie-odomy:
22) Celtics – Fab Melo: Grade B+: Great draft for Boston, I really like both of their picks and I hate to say that as a Knicks fan. They have nice young guards in Rondo and Bradley, they drafted two young bigs. They are reloading after the post big three era. Impressive stuff. Luckily the Giants own the Patriots.
– Charlie Sheen should throw some homage to "The Program" and Joe Kane at the end of that commercial where he stands in front of the train and say "Just blowing off some steam…" Wasted opportunity.
23) Hawks – John Jenkins: Grade C: I hate the Atlanta Hawks, because they understand what they are, but do nothing about it. They are fine with consistently being a playoff team, but never advancing, Maybe John Jenkins gets you knocked out of the first round in six games instead of five. Nice work.
24) Mavileers (Get it?)  – Jared Cunningham: Grade C+: I like him, he is a long and explosive guard that has to fix his jumper, but I think he could make it in the NBA. Combo guard. There should be an action movie called "Combo Guard". That is why they pay me the big bucks.
– Chris Broussard punctuates sentences in the wrong spots, like Steven A. Smith, who punctuates sentences in the wrong spot, like The Reverend Jessie Jackson. Questions?
25) Grizz – Tony Wroten Jr: Grade A-: He will be fun to watch, there is only one thing he can't do and that's shoot. He is a special passer, a freak athlete and has great size for his position. Plus he's cocky, and I'm cocky in my blogging abilities, so we are very similar. You have to like the fact that Washington did not make the NCAA tournament but has two top 25 picks. Either Wroten Jr pans out and is a bigger Rondo or he is in the D-League for the next ten years, but it is low risk, so good pick.
26) Pacers – Miles Plumlee: Grade C: hahahahahaha, oh man, that is too perfect. Typical Pacers. Did the comparisons to Jeff Foster all week long make the Pacers pick Plumlee? Hansboro got lonely shooting in the weight room at 3am? Wow. He'll fit right in with the Indiana locker room I guess. I have been joking about this exact pick in my head all week, seems like the pick they would make.
– David Stern just came out to a chorus of boos like he was Vince McMahon announcing "Stone Cold" Steve Austin was fighting the Undertaker and Kane in a handicapped match in 2001. Conspiracy theorists are hilarious.
27 – Heat – Arnett Moultrie: Grade A-: Absolutely fantastic pick from Miami, Moultrie is a great rebounder and has a nice face up game. He can back up both Chris Bosh and Udonis Haslem early in his career and develop into a starter after the Heat have won two more titles. Now I'll jump out my window.
28 -Thunder – Perry Jones III – Grade A – He is like a much higher ceiling version of Jeff Green who they traded to Boston for Kendrick Perkins, and this is the right spot for him. He has to stop playing like a two guard and get more aggressive, but he is a freak. The Thunder do it right.
– Are Mark Jones (from ESPN) and Mike Woods (From Good Day New York) the same guy? See Fig. Whatever:
29 -Bulls – Marquis Teague: Grade: B: Teague is a good fit and should get some experience early, while Derrick Rose recovers from a torn ACL. He has to be better than John Lucas III though right? I know the guy plays great defense on LeBron James, but…
– The Heat traded Moultrie to the 76ers for a second round pick and a future first round pick. Remember everything I said about the Heat and Moultrie? I take it all back…
30 – Warriors – Festus Ezeli: Grade B: I called it (see earlier) and I nailed it. After drafting Harrison Barnes earlier they needed to get bigger and tougher and they did. Plus he sounds like a guest star on a Talib Kweli album.
I just poured another huge drink. Real Job will be tough tomorrow. Who gives a shit? It's draft night. It's round 2. Let's Get Weird!
31 – Bobcats -Jeff Taylor: Grade C-: Nice pick, a guy that plays the same position as their first round pick Michael Kidd-Gilchrist. I guess you can play them on the wings, they kind of counterbalance each other.
32 – Wizards – Tomas Satoransky: Grade C: I just learned that he is friend with the Czech dude they drafted last year. Then I was disappointed he didn't look like Ivan Drago. THE RUSSIAN IS CUT!
– I have never seen "Wilfred" but I think it's safe to say that I would hate any show with a talking British dog. Or Elijah Wood. But especially both at once.
33 – Cavericks ( I call them that because this pick goes to Dallas)  – Bernard James: Grade B: Great story. Not sure he ever plays pro. But he is 27 years old an did three tours overseas for our country. Much respect.
– Not a lot of bad suits tonight. How dare the youth not follow in the footsteps that Jalen Rose took in 1995?!??!?
34 – Cavericks – Jae Crowder: Grade C+: Sorry Knicks fans but our first Marquette darling is off the board, one down one to go. Too small for the way he plays, but in the shrinking, wing oriented NBA he has a shot.
35 – Warriors -Draymond Green: Grade B: Drafting Draymond Green is like hooking up with a cute chick you've been friends with for a long time, you focus more on what she's not than what she brings to the table, then you are pleasantly surprised. He does everything well but does not stand out in one individual area and sometimes that's a good thing.
36 – Kings – Orlando Johnson: Grade C: He does a lot of the things that the guys they already have do. Like Marcus Thorton. At least he is more mature than 97% of there team as a senior…
37 – Raptors -Quincy Acy: Grade B-: I was going to give him a C but then I saw the Reggie Evans beard and I was all in. Kind of the same player, and they had Reggie Evans…Deja Vu!!!! AHHHHH SAME DUDE!!!
38) Nuggets – Quincy Miller: Grade B+: I really think he will stick in this league, and while there is no doubt he should have stayed in school, he ca develop into a good one. That knee has to get right and they can afford to gamble.
39) – Pistons – Khris Middleton: Grade C: He reminds me of so many players the Pistons already have, long 3's that need to get stronger. Hopefully Drummond turns the Pistons new found "Gayboy" image around. "Badboy" was cooler.
– Do the second round commercials pay more to have the ESPN Bottom Line removed. I'm drunk and they are killing me!!!
40) Blazers – Will Barton: Grade B+: He needs to get stronger, but I thought he could become a Jamal Crawford type guard in the pros. Except he's from Baltimore, so he's probably addicted to Lacrosse and Crab Meat.
41) Blazers – Tyshawn Taylor: Grade B: The Good news is he is headed to Brooklyn and he is from Hoboken, New Jersey "The Town of Kings" the bad news is STOP TURNING IT OVER, DUDE!!!
– UPDATE: I think my apartment is haunted. Noises coming from my kitchen. Luckily I have booze muscles and am ready to throw down with the ghost.
42) Bucks – Deron Lamb: Grade B+: Shoots it, that's about it. Actually works with Brandon Jennings and Monte Ellis. Snipe, Sniper!
43) Hawks – Mike Scott: Grade B: Underrated. Will never be a starter but will play well in a reserve role. Can face the hoop for a big man, and scores.
44) Pistons – Kim English: Grade A -: If Andre Drummond can mature and draw double teams in four years, English can knock down threes, that's all he does!!!
– Holy shit, get pumped for Chael Sonnen vs Anderson Silva on July 7th. It's going to be incredible. LOVE THE UFC!!!!!!!!!
45) 76ers – Justin Hamiton: Grade C: Big white guy, needs development. Surprised he went this early, but am impressed by Philly this draft. He should shave his head and go FULL Matt Geiger!
46) Hornets – Darius Miller: Grade A: Good player and he can shoot it, plus you know Anthony Davis (his teammate) loves it, so it makes sense. Impressive draft by them.
47) Jazz – Kevin Murphy: Grade B: Shooter. Utah loves shooters. They are kind of in the same position as Houston, they have a ton of talent but need a star to take the next step.
-LET'S GO KNIIIIIIIIIIIIIIIIIIIIIIIIIIIIIIIIIIIIIIIIIIIIIIIIIIICKS!!!!!
48) KNICKS (Finally) -Kostas Papanikolaou: Grade C: I hear the is a tough ass forward and I do not hate this pick as much as the rest of you dirtbags, but we need help NOW. He plays tough D. Hot name in international circles. I know. I'm pissed too. At least Fraschilla's dick is hard. Time for another drink.
49) Magic -Kyle O'Quinn: Grade B: Good value here, he is big and should be a career backup. Please just trade Dwight Howard so everyone shuts up with all the speculation. Just trade him to the Nets. Oh crap, they have no assets. I forgot. Trade him to Houston…
50) Nuggets – Izzet Turkymlz : Grade F-: I had to pause the TV to catch this asshole's name so I hate his face. I hope he fails. You had to take a ferry to see him play, so he played in the 1800's. I hope he gets eaten by a polar bear.
51) Celtics – Kris Joseph: Grade C: I highly doubt he ever plays one meaningful minute in the NBA. I root against Syracuse but I watch them play a lot.
52) Warriors -Ognjen Kuzmic: Grade F-: I hate all you Russians because I suck at spelling. I like when you make polar bears play ice hockey and they maul the referees. Stick to that. I'd rather hear Barry Melrose-Place talk about that.
53) Clippers – Furkan Aldemir: Grade: D-: I only gave you a better grade because I may be able to turn your name into a cuss. Get eaten by a bear.
– Fran Fraschilla is so horny right now. He tried to hump Jeff Van Gundy's stool on the last break.
54) 76ers -Tornike Shengelia: Grade F—: Another reason Philadelphia is terrible, they made me pause my TV for this asshole. At least he is in the stands. Revise him to a D for that. If he scores a point in the NBA I'll cut off my left thumb.
– Remember when Monty Williams was a Knicks draft pick? Now he is coaching the Hornets…and Walter McCarty is running for president of the United States with John Wallace as his running mate. Charlie Ward is the secretary of agriculture.
55) Mavs – Darius Johnson-Odom: Grade B: Hey! It's the guy the Knicks should have taken! Instead we have..Balki Bartokomous!!!
56) Raptors – Tomislav Zubcic: Grade ABSOLUTE ZERO: Stop drafting these people. My greatest typing fears have been realized.
– Watch the Nets be the first team in an hour not to draft a crazy Russian.
57) Nets – Ilkan Karaman: Grade: Deron Williams is packing his bags: Is this a Russian version of Chris Kaman? I think it's probably an exact translation. Even Fran Fraschilla is totally stumped on this one. Ah never mind, he leads the draft in tattoos.Worst case he comes of the bench in "Sons of Anarchy Season 5."
58) Wolves – Robbie Hummel: Grade C: If his knees hold up he can shoot. If my wings get bigger I can fly.
– Two picks left. No Russians, no Russians,no Russians, no Russians, STOP!!!
59) Spurs – Marcus Denman: Grade A+: I thought the worst of my fears had been realized, the Spurs, notorious for drafting crazy-named Europeans, were on the clock. Thanks for picking someone who's name I could drunkenly type. A+.
– Kill this highlight package and announce the next piece of Eurotrash so I can stop blogging.
60) Lakers -Robert Sacre: Grade B: Because I've watched him play and it isn't a Czech who wont be in the U.S. for a decade.
– Sign priority free agents!
– GOOOOOOOO KNIIIIIIIIIIIIIIIIIIICKS!!!!